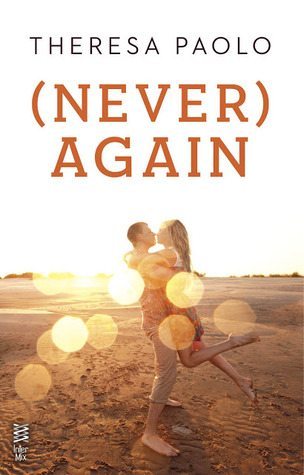 (Never) Again

by Theresa Paolo

Published by Berkley Penguin Group on October 15th 2013

ARC from Netgalley

Purchase on

Amazon
Synopsis
Just when she had finally moved on…
…He moved back.

When college freshman Liz Wagner hears her ex's voice for the first time since he moved clear across the freaking country, she does what any respectable girl would do: Dive into the girls' bathroom.

Zach Roberts—the Zach Roberts—is back. And he's everywhere Liz looks—infiltrating her friend group, buddy-buddy with her brother. It's enough to ruin college altogether. But what choice does she have but to put on a happy face and pretend he didn't leave her vulnerable and alone in a pile of emotional wreckage?

Pretending works, until tragedy strikes and the only person available for comfort is the one person she wants to stay away from. When Zach turns out not to be the jerk she convinced herself he was, but the boy she used to love, Liz needs to decide whether to open her heart again to the boy who tore it out.
You'd think that after more than a year, you'd finally be able to get over the guy who broke your heart. But no, it really isn't that easy, especially for Liz Wagner. Just when she thinks she has moved on, her first love and ex-boyfriend, Zach, comes back. Ignoring the romantic past they shared, Liz pushes away her feelings for Zach and remains aloof to him despite his efforts to be friendly.
While this was a decent story, one that occurs often in real life and many can relate to, I wasn't able to enjoy this as much as I wished I could. Not that I had many expectations, I just thought that it would be a likable, sweet read. And it was, for some parts. Sadly, there were more things I disliked than liked and I just wasn't able to appreciate the book much.
My first problem with the book was that it felt more YA than NA. While that necessarily isn't a bad thing, I just feel that Liz was rather immature. She was eighteen and in college and yet she sounded like a sixteen year old high school girl. She seemed stuck in a less mature set of mind, and maybe it's because she was but I was hoping to see her grow throughout the story and that didn't really happen for me. At what I believe was the climax of the story, there was a chance for her to develop more as a character but after.. I really didn't feel a shift in her attitude.
Aside from this, I didn't get why she just wouldn't acknowledge that she still was not over Zach. I know that most people would be in denial too, but Liz's obvious feelings practically flowed off the pages and it kept repeating itself so it got pretty tiring. I also did not understand why she kept her relationship with her boyfriend, Joe, for so long. I'm not taking Joe's side because if there was one thing I hated in the story, it was him and his sleaziness. But why keep a relationship with someone you really don't love when you're actually still in love with somebody else? The answer escapes me.
Another thing- the chemistry between Zach and Liz wasn't palpable. There were times that their conversation made me smile but they rarely made me feel anything, really. Zach was a sweet guy and I liked how he wasn't trying much to win her back, but mostly just wanted to be friends again. Unfortunately, I didn't really fall for him during the entirety of the story so I also couldn't connect to why Liz couldn't get her mind off of him.
There was one person I positively liked throughout the book and it was Liz's brother, Josh. He was charming, straightforward and protective and honestly, he would have been a better romantic interest. (Although that would have been gross because he and Liz are brother and sister haha) He was a good brother and I really liked his and Liz's dynamics as siblings- the way that he visited her, the way he gave her advice. That aspect was refreshing to read about and I truly wished I could have seen more of it.
(Never) Again sadly didn't appeal to me much. I feel that it could have been a whole lot better if Liz had been a more reasonable protagonist and if the story was less focused on her and Zach's past relationship and the feelings that remained between them. Nevertheless, I think that this book could be a good enough read for those who've gone through a broken heart like Liz's and for those who seek a lighter NA read.