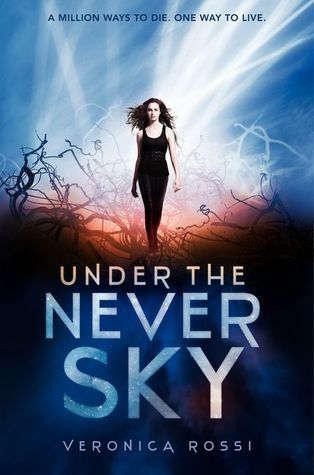 Under the Never Sky

by Veronica Rossi

Book #1, Under the Never Sky

Published by HarperCollins on January 3rd 2012

Purchased copy from Fully Booked

376 pages

Purchase on

Amazon

・

Fully Booked
Synopsis
Since she'd been on the outside, she'd survived an Aether storm, she'd had a knife held to her throat, and she'd seen men murdered.
This was worse.

Exiled from her home, the enclosed city of Reverie, Aria knows her chances of surviving in the outer wasteland — known as The Death Shop — are slim. If the cannibals don't get her, the violent energy storms will. Then Aria meets an Outsider named Perry. He's wild — a savage — and her only hope of staying alive.

A hunter for his tribe in a merciless landscape, Perry views Aria as sheltered and fragile—everything he would expect from a Dweller. But he needs Aria's help too; she alone holds the key to his redemption.

Opposites in nearly every way, Aria and Perry must come together to survive. Their unlikely alliance forges a bond that will determine the fate of all who live under the never sky.
There has been quite a lot of hype around this series and this author for a while now and I knew eventually that I would be reading it sometime. That said, I wasn't exactly dying to read Under The Never Sky already- I mean, it has taken me this long to start it. As soon as I closed the book though, I instantly felt glad that I finally joined the bandwagon.
I had a hard time getting into Under The Never Sky. The book throws a bunch of terms regarding Aria's world from the very first chapter without explaining them or giving any background so you get kinda lost. It takes a while to grasp the concept of Reverie, of the Realms. Still, I think the world-building in itself was fantastic and creatively imagined despite being a little too complex. Rossi creates a wondrous setting that has dystopian, sci-fi and fantasy elements and it's really incredible once it comes together.
She absorbed the terror and beauty of him and his world. Of every moment over the past days. All of it, filling her up like the first breath she'd ever taken. And never had she loved life more.
The story thrives on narrating Aria and Perry's ventures- her to find her mother and him to get his nephew back. Aria is a Dweller and Perry is an Outsider and since we get both point of views, we see the stark contrast in their way of life. I wasn't able to connect to both characters as much as I wanted to but I did love reading about them. I found much growth in Aria's character as she got used to life in the wild and became tougher and more resilient. Perry was the serious, intense kind of male protagonist but he's a good guy. He's the passive type of protective and kind. Definitely a likable, maybe lovable, character. I also enjoyed reading about Perry's best friend, Roar, who just lightens the story with his presence.
He let her go. She took a step back, taking in his face one last time. His green eyes. The bend in his nose and the scars on his cheek. All the tiny imperfections that made him beautiful.
I know I'll sound really trivial and cheesy but the romance was the best part of the book! Aria and Perry's relationship didn't start out smoothly. They disliked each other immensely because of the other's nature- Aria was terrified of Perry more than half the time because he was a 'Savage'. The romance was sparse but it was there nonetheless in the little things- the way she was thankful he kept saving her and the way he admired her braveness. It's believable and unhurried. When they get to that point of falling for each other, it's just absolutely romantic. The way the author puts it into words is almost poetic and I LOVED IT.
Saying Under The Never Sky was uninteresting would be a lie. The plot was packed, the story was good and the romance was real sweet. Under The Never Sky was an awesome read and I recommend it to readers who enjoy post-apocalyptic novels!
Rating: