Well, hello there darlings! I'm back from my New York trip and already well-rested enough to share the exciting experience that the past week has been. New York had always been a top destination on my travel bucket list and it was such a joy to finally step foot in the city and do as New Yorkers do.
I came in during Memorial Day weekend and my family went right ahead and toured New York as much as we could then. Travel recaps will be shared on my photo blog so head on over there if you're interested in that. (Already have a recap of my first day in NYC so far!) Meanwhile, I will talk about the awesome book events I attended while in the city on this blog, starting with this year's Teen Author Carnival.
Louisse of The Soul Sisters and ThroneofGlassPH and I met up late in the afternoon of the 26th of May around the Bryant Park area to head to Jefferson Market Library together. We arrived really early (we may have been too excited) so we checked out the YA section and envied the great titles that we never get in the local libraries here in Manila. As the start of the event approached, since we were the first few people there, we helped setup the area.
More attendees gathered downstairs so Louisse and I went there. We saw Susan Dennard and Jennifer E. Smith and chatted with them for awhile. We also bought the books we wanted to get signed at the Books of Wonder table. Finally, at 6:30 pm, the first panel started.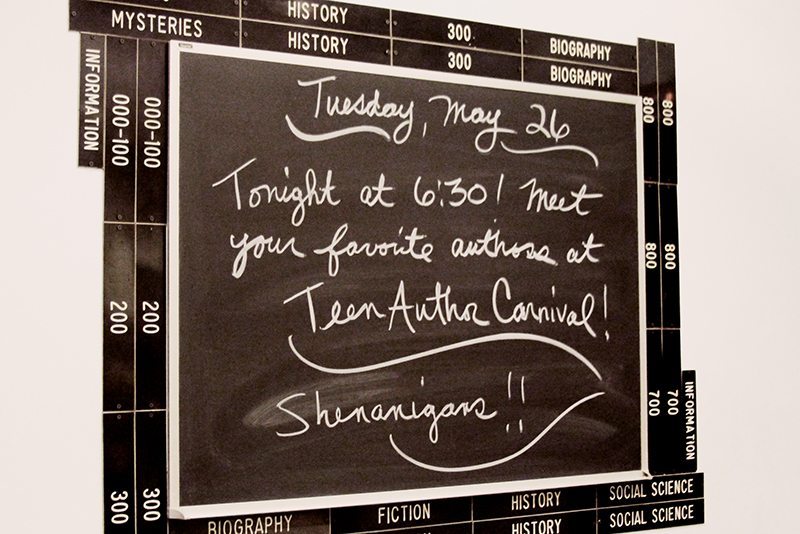 We sit in on the Hulk Smash of Emotions panel consisting of Elizabeth Eulberg, Adam Silvera, Katie McGarry, Kody Keplinger, Jesse Andrews and Tiffany Schmidt. Andye of Reading Teen moderated the Q&A with the authors.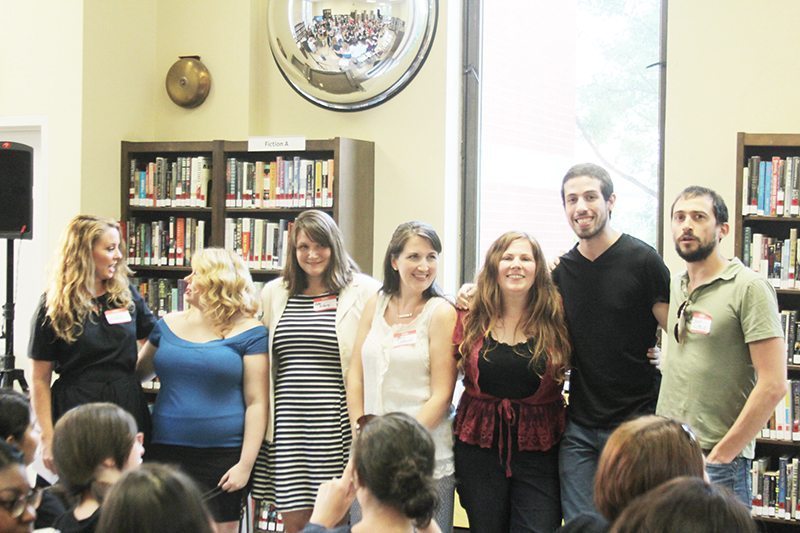 Everyone on the panel was entertaining to listen to and also informative in talking about the emotional process that goes into their writing. I personally enjoyed Elizabeth Eulberg the most (she is just as fun as the contemporary books she writes) who I thought was very hilarious.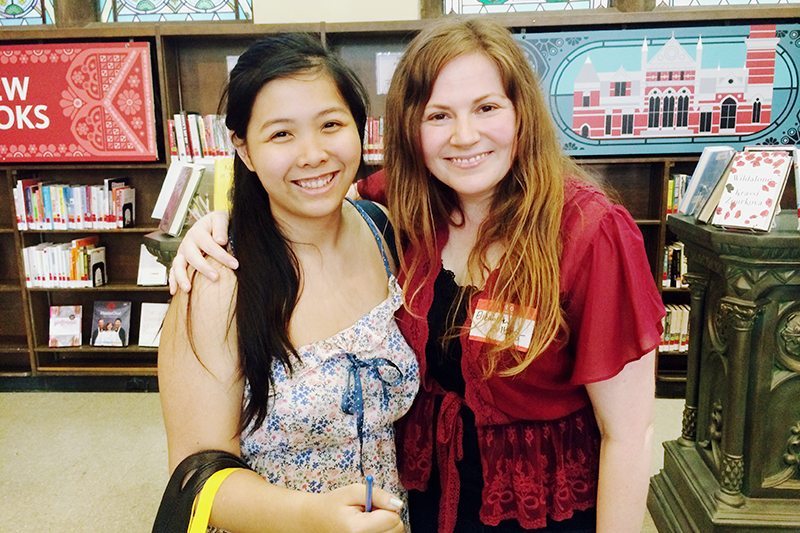 I may have stalked her after the panel to take a photo. (Please don't mind me aiming a blue pen at you like a weapon.)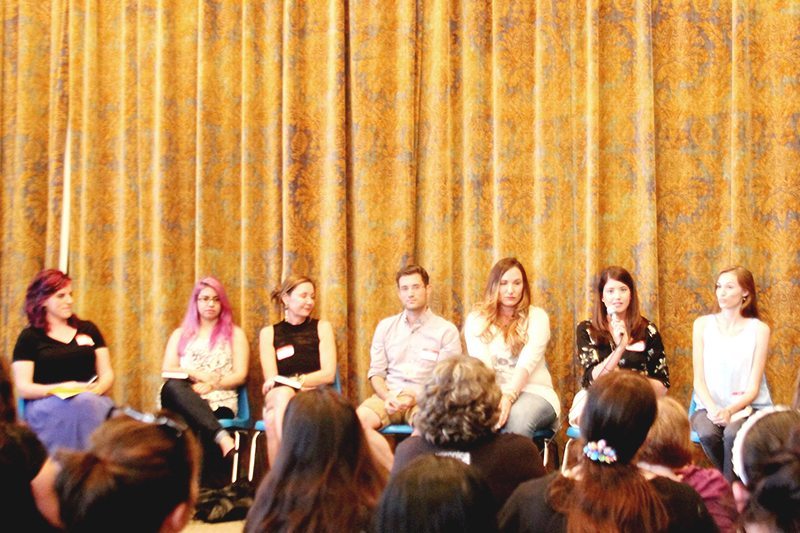 The next panel Louisse and I attended was The Road Less Traveled featuring Alexandra Bracken, Alex London. Melissa Grey, Susan Dennard, Virgina Boecker and Jennifer L. Armentrout. Claire LeGrand moderated this panel and her questions focused a lot on world building. Since all the authors in the panel had different fantastical/paranormal elements in their books, it was fun to hear and compare their different writing processes.
After that was the signing part of the event. I first lined up for Kody Keplinger who wrote one of my fave YA books ever, The DUFF. She was so nice to talk to- very chatty and friendly as she signed my copy of Lying Out Loud. I also met Leila Sales and I told her how much I loved This Song Will Save Your Life and about how my Epic Recs partner, Josephine of Word Revel, also loved it. She was very happy to hear it and I was very happy to have the opportunity to meet her.
The beautiful Rebecca Serle who is just the sweetest took the photo with Leila. I missed their panel but heard about how Rebecca fell from her chair and she joked about it with me. Next, I lined up for Katie McGarry to sign my copy of Take Me On– one of her two books that I still haven't read. I'm so excited to get into it because she had mentioned during the Hulk Smash panel that it was the book that was the most emotional for her to write.
I also took photos with some of my favourite authors to follow on Twitter: Adam Silvera and Dahlia Adler! Both of them were super wonderful and I'm so psyched I finally met them. Finally, here's my haul from the event~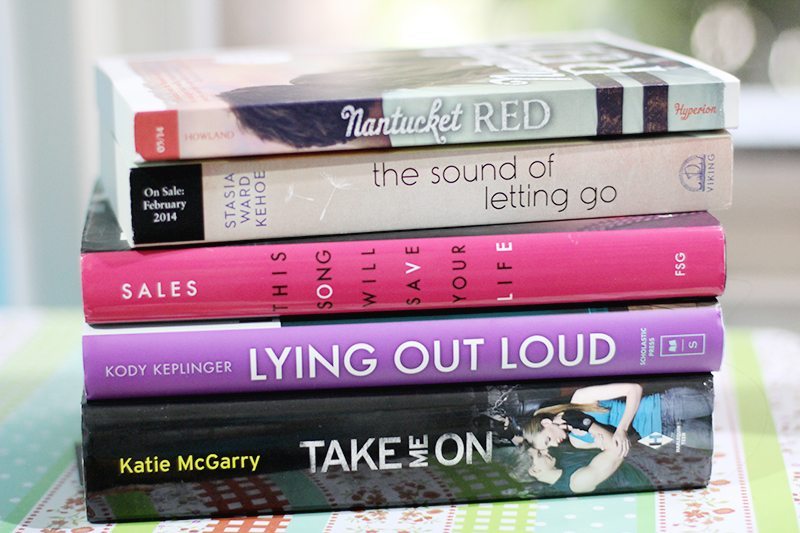 I had brought my copy This Song Will Save Your Life with me from home and only bought Lying Out Loud and Take Me On. Hardbacks are so expensive! Also, many thanks to Julie from Bloggers Heart Books for giving me her ARCs of Nantucket Red and The Sound of Letting Go at the event. They were books she'd wanted to take off her shelves that I was very happy to take in on mine.
Overall, Teen Author Carnival was fabulous. Compared to the intense and crowded signing events I'm used to in Manila, it was so chill and refreshing. Everyone had a chance to chat with their favourite authors and all the authors were so down to earth and approachable. I'm definitely thankful I was able to attend the event even just this once. Up next- my BEA recap. ;)
Were you at the Teen Author Carnival too? Which panels did you go to? Did I mention any authors you would like to also meet one day? Let me know in the comments!