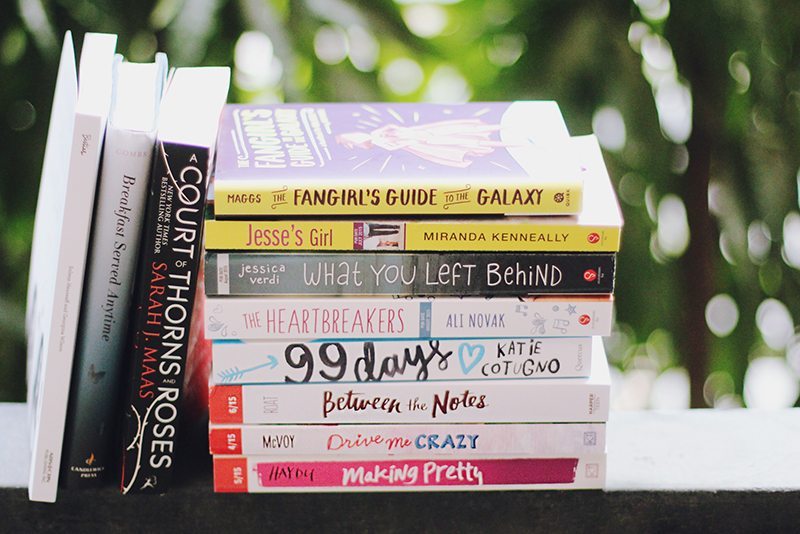 It's been a whole month since I shared my last book haul and I've got a new pile of fantastic books that I thought I'd post on the blog today. Since I've somehow acquired more than 10 books during the early weeks of May, I decided to have a separate book haul before I have my BEA/BookCon haul next week. (That one is going to be epic for sure!) Anyway, here are the books I got over the month:
Bought/Gifted
Besties by Georgina Wilson and Solenn Heussaff
Breakfast Served Anytime by Sarah Combs
A Court of Thorns and Roses by Sarah J. Maas
For Review
The Fangirl's Guide to the Galaxy by Sam Maggs
Jesse's Girl by Miranda Kenneally
What You Left Behind by Jessica Verdi
The Heartbreakers by Ali Novak
99 Days by Katie Cotugno
Between the Notes by Sharon Huss Roat
Drive Me Crazy by Terra Elan McVoy
Making Pretty by Corey Ann Haydu
Magonia by Maria Dahvana Headley (not in photo)
(Thank you, Quirk Books, Source Books, Quercus, Harper Collins and Fully Booked!)
I think I've mentioned it before but just so you know: I've kinda been on a book buying ban since March. I was doing pretty god until I broke it a few weeks ago because I was so curious about a locally published celebrity memoir featuring one of my girl crushes- Georgina Wilson! I haven't read Besties in entirety but I've browsed through it and it's pretty interesting! (Will share my thoughts on the blog when I finally read!) That's basically all I bought in the past two months so I'm still considering the book buying ban a success.
The rest of the books came in the mail- several review copies from lovely publishers (so so excited for Jesse's Girl and Making Pretty!!!), my preordered copy of ACOTAR and a dedicated copy of Breakfast Served Anytime from Sarah Combs, a dear author friend who guest posted on the blog last year. I've already read BSA and I loved it (a.k.a. you really ought to check it out/add it to your to-read)! I'm looking forward to reading everything else on the pile but I'm also quite dreading how my TBR pile will look after my next book haul. *squirms*
Have you read any of the books mentioned above? How are your book buying habits as of recent?