It's MIBF week, hooray! The Manila International Book Fair is the greatest annual book fair in the Philippines and it's on its 35th year already. It opened last September 17, 2014 and ends tomorrow. Like last year's MIBF, I decided to attend the book fair on its first day again and I shopped 'till I dropped!
How was the experience? Awesome but also exhausting. I've gone to the MIBF for three straight years now so I've come to expect this. I also went very much prepared (with the help of my experience and own reminders from last year) so I brought tote bags and wore good shoes, had a books-to-buy list and all that made shopping easier for me. There was a lot of people (although possibly not as much as during the last day of the fair) but I liked the buzz of all the bookworms around me and had a good time looking for books.
How were the booths? I mostly just visited National Bookstore and Fullybooked's booths. I didn't check out the rest of the booths as thoroughly because I didn't find them all that interesting to be honest.
Although I was able to buy several, I was a little disappointed by the lack of really good sale titles at NBS. I still ended up buying more from them than I intended though. I had to stand in line for awhile to pay for my books in their booth but the line moved along fast enough, considering the fact that everyone was hoarding so many books. I was just carrying my books around (9 of them!) then because I couldn't find a basket but the kind lady behind me in the line let me put my books in her basket so that was nice. Also, I got two tote bags from the so that's a bonus!
Fullybooked's booth was heaven. They had so many great titles I just about grabbed everything. As always, their staff was super friendly, offering trolleys to everyone, helping customers find the titles they're looking for. Their booth was pretty crowded though, especially with everyone carrying trolleys around and I had to say excuse me a lot just so I could pass and go around their shelves. Thankfully, there wasn't a line at all for their cashiers and I paid for the 8 books I was buying easily and I even got a free Fullybooked magnetic bookmark!
Did I get to hang out with fellow bookworms? I am unfortunately a lone shopper but I was able to meet Shelumiel, blogger behind Whims and Ramblings, and got to chat with him about books for awhile! Check us out, hanging with John Green.. well, his books at least: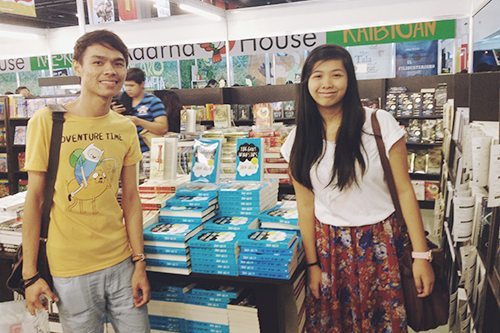 Which books did I buy? I bought a whole lot. 17 books, to be exact! Most of them I got for 20% off. I got travel guides, young adult fiction and also adult romance novels by Jojo Moyes! I've yet to read anything by her so I got her books, also so my mom could read them. Lo and behold, my awesome book haul: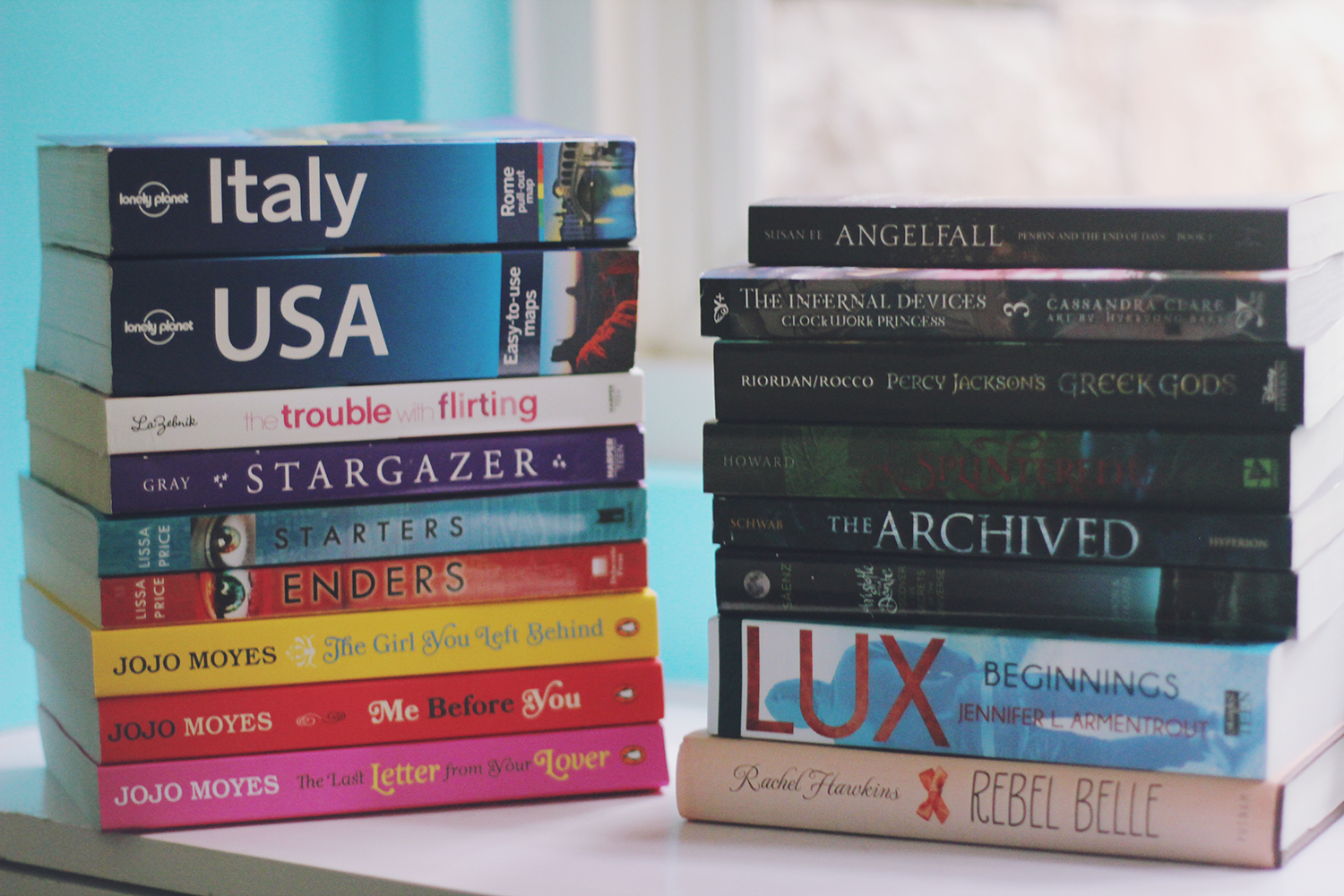 From National Bookstore
Lonely Planet Travel Guides: Italy & USA
The Trouble With Flirting by Claire Lazebnik
Stargazer by Claudia Gray
Starters by Lissa Price
Enders by Lissa Price
The Girl You Left Behind by JoJo Moyes
Me Before You by JoJo Moyes
The Last Letter From Your Lover by JoJo Moyes
From Fullybooked
Angelfall by Susan Ee
Clockwork Princess by Cassandra Clare (Manga)
Percy Jackson's Greek Gods by Rick Riordan
Splintered by A.G. Howard
Aristotle and Dante Discover the Secrets of the Universe by Benjamin Saenz
The Archived by Victoria Schwab
Lux: Beginnings by Jennifer L. Armentrout
Rebel Belle by Rachel Hawkins
Well, that's basically it for my MIBF post. Really, book shopping was my only agenda! The experience was great anyways because hello, new books. In other news, I'm gonna get to meet Jennifer E. Smith and Lissa Price tomorrow- I'm so excited!
If you're a fellow book nerd from Manila, did you attend MIBF? How was your experience and what was your impression of the event? Which books did you buy? HOW IS YOUR WALLET? For the rest of you, how was your week? Which books have you read/received/purchased recently?