Today, I attended the 34th Manila International Book Fair! Since it's my second time to take part in MIBF, I decided to share my wisdom (Ha!) on how you can make your experience an enjoyable one!
The Manila International Book Fair (MIBF) is the time of year when Filipinos of all ages and walks of life come together for the love of books. Now on its 34th year , the MIBF remains the country's biggest and longest-running book fair with the largest and most varied collection of literature. Apart from great reads at affordable prices, the MIBF also showcases special events for readers. (Source)
1. Be prepared for the madness.
The MIBF only happens once a year so it can get pretty crazy. If it's your first time to attend, I suggest you ready yourself! I've made a list of things you'll need to equip yourself for MIBF! (Ha. I just made a list within a list. *flips hair*)
MIBF Must-Haves:
» Ticket/s – You'll need these to enter! If you haven't gotten one from your local bookstore, Adarna House is giving away free tickets! You just have to print this sheet and you're ready to go!
» Money – How else are you going to buy all the awesome books?
» Tote Bag – If you're planning to hoard books, you'll need a spare tote bag to stack your goodies in. Most shops use paper bags for purchases and trust me, you do not want to experience having your books fall to the floor in the middle of an isle full of people when your paper bag gets torn. (This totally happened to me and it was downright embarrassing.) If not, bring one regardless cos you most likely will not be able to control your *grabby hands* and still end up hoarding books anyway.
» Shoes – Unless you want to have achy feet, make sure you wear comfortable shoes.
» List of books you want to buy – I strongly suggest you write a list of books, especially if you're looking to buy specific titles. It's easy to forget which you actually want when you're around so many books.
If you're armed with these, you are very much ready for a productive MIBF! But if you're aiming for something more than just productive, if you want to make it fun, do read on.
2. Go crazy.
When you get past those MIBF doors, it's pretty much impossible not to go insane! I mean, you're practically in a sea of books! SO GO DIVE IN! Unleash your inner book geek! Sniff all those paperbacks and hardbacks! Run around like a mad person with your arms raised and your tongue out! (Okay don't do that. The authorities probably won't like it.) But seriously, just go crazy!
3. Shop, shop, shop!
Isn't that what you came for? If it isn't, shop anyway! It's your opportunity to score discounted books! Grab a basket or a trolley and go buy the books you want, need and crave! Aside from the variety of books available, you can buy other stuff- maps, sheet music, bookmarks, pens, notebooks, memo pads, etc! There are so many bargains, deals and offers to choose from!
4. Bring your friends!
Going to MIBF with your friends in tow is definite way to enjoy MIBF! You'll be able to swoon over all the book beauties together! they can help you choose what to buy, when you're unable to decide. Even better, you can ask them to lend you some moolah when you run out (very likely), unless of course they run out of money as well (very likely too). But hey, you guys can get broke together! Totally fun!
If your friends can't make it (boohoo), make new ones! Approach a random person. Chances are, he or she is as bookish as you. You might even like the same books! MIBF is your chance to meet fellow book lovers! You just might find yourself a new BFF! If not, you can approach the sales people! They are oh-so-friendly! (They might even give you some free stuff if you're nice!)
5. Walk around and explore!
SMX is huge and you'll definitely need some intense walking skills to survive and find some goodies. (Look at the bright side- you're getting some exercise.) Make sure to explore MIBF. I suggest you try and visit most, if not all, the booths. But there are so many and the possibility of getting lost is very high. Check out the MIBF floor plan so you can find your way!
6. Get freebies!
We all love freebies, don't we? I suggest you watch out for giveaways. There are also contests and raffles for everyone. Test out your luck and join!
7. Take a breather.
As much as the MIBF is awesome, it's just as exhausting. If you get tired from all the book hunting, you can a.) Just stop for awhile b.) Go outside and breathe some fresh air c.) Go to MOA- which is beside SMX- find a place to settle down or maybe eat. d.) Go relax at Caffe Bene!
I'm glad I stumbled upon the latter. I was so worn out from all the walking and I was already so hungry! Caffe Bene's menu is a little pricey but it was nice to sit down and chill for a while.
8. Attend the events.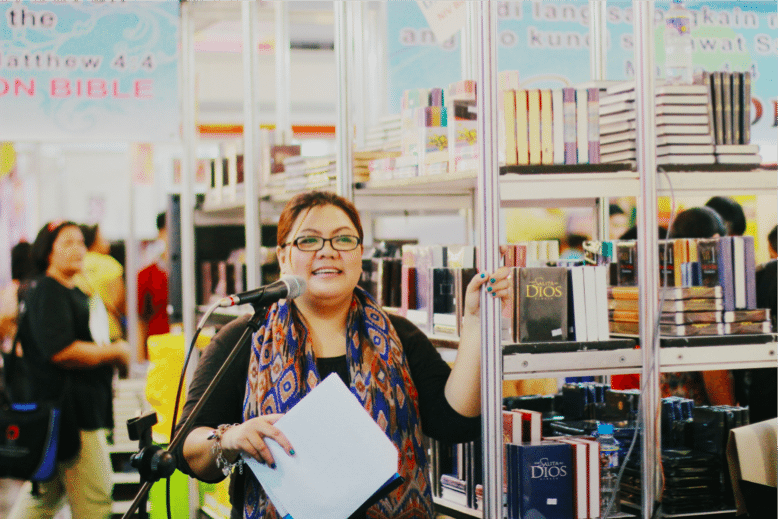 MIBF has so many events in store for us bookworms! Storytelling sessions, poetry readings, book launches, literary awards, and book signings! Check out the MIBF schedule of events here! For NBS events, click the photo below!
9. Just enjoy!

Note: I am not affiliated with MIBF or any of the shops mentioned above.
Will you be attending this year's MIBF? Have you attended before? What goodies did you get? Did you find yourself some new friends? Tell me about your experience! Or is it your first time to attend the MIBF? What are you mostly looking forward to? Was this post helpful? Do tell!
Watch out for my MIBF book haul post later!