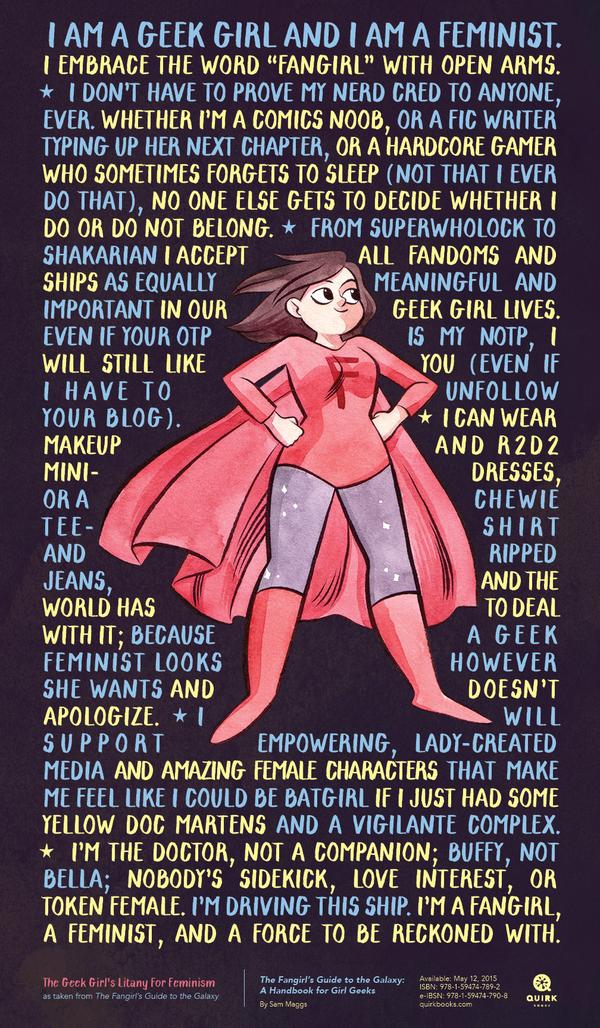 If my squee of excitement over a book about the geek culture is any indication, you should know that I totally consider myself a fangirl. Seriously. I'm over the moon that The Fangirl's Guide To The Galaxy exists and I hope you, my dear book nerds, are too! Why? Because Sam Maggs, the author of this fabulous handbook, is an awesome geek feminist. In fact, we have her on the blog today, to show off her nerd cred by sharing some incredibly nerdy music! Go on, you know you want to check it out! 

I wrote almost all of Fangirl's Guide at the Starbucks by my apartment – but I'm one of those weirdos who finds ambient café noise incredibly distracting. It's my inherent nosiness; the second two people start talking nearby, I have to pay attention to what they're saying. To avoid that, I have a gigantic playlist of lyric-free music to get me through my long writing days, and it just happens to be filled with fangirl-appropriate tunes from geek movies, TV shows, and video games. Here are ten of the songs I listened to while writing the book!
1. Pacific Rim – Pacific Rim OST, Ramin Djawadi and Tom Morello
It is impossible to listen to this song and not immediately feel pumped up. This is the kind of song that says YEAH I CAN PUNCH A MONSTER IN THE FACE TODAY. If you can punch a monster in the face, you can write a book, you know?
2. Roslin and Adama – Battlestar Galactica Season 2 OST, Bear McCreary
One of the most beautiful pieces from all four seasons of BSG, Roslin and Adama's theme is the perfect music to listen to when you're writing something a little more chill. It helps that McCreary is one of the most awesome and prolific composers in geekdom – he's also done the scores for Walking Dead, Agents of SHIELD, and more.
3. The Caster Theme – Beautiful Creatures OST, thenewno2
Keeping with the chill vibe, the main theme from Beautiful Creatures is ethereally gorgeous. Plus, the whole thing was scored by thenewno2, a British alt rock band fronted by Beatles progeny Dhani Harrison.
4. I Am The Doctor – Doctor Who Season 5 OST, Murray Gold
Murray Gold has created a lot of memorable themes during the NuWho run, but nothing sticks with me so much as the Eleventh Doctor's original music. How pumped does this get you?
5. Suicide Mission – Mass Effect 2 OST, Jack Wall
No, you're not experiencing déjà vu; this song from the most epic moment of the second Mass Effect game just sounds a heck of a lot like "I Am The Doctor." The upside? Two times the awesome pump-up music!
6. Inara's Suite – Firefly OST, Greg Edmonson
As beautiful as our favorite Companion, this brief theme from an all-too-brief show will put you in a great, calm place for writing.
7. Happy Pills – Limitless OST, Paul Leonard-Morgan
Remember this Bradley Cooper movie from 2011 about a guy who takes super-pills that make him incredible at writing? I don't blame you – but the score is great, and hopefully you can absorb some of those writing powers, too.
8. "Das Malefitz" (AKA End Credits) – Mass Effect 3 OST, Faunts
Yes, I know there's two Mass Effect songs on this list, but I played through all three installments of the game while writing Fangirl's Guide, so the two things are intrinsically tied together for me. This still brings up all sorts of intense feels for me.
9. End Credits – Serenity OST, David Newman
How can this not make you smile?
10. TRON Legacy (End Titles) – TRON Legacy OST, Daft Punk
Daft Punk's soundtrack was the best thing about this film, and this will (hopefully) make you become one with your word processor. I'm also realizing that I really like end credit music.
One last thing – though they came out after I finished writing the book, so didn't count for this list, I also highly recommend checking out "Black Tears" from Guardians of the Galaxy, "Old Friends" from Transistor, and this epic rock version of the Dragon Age: Inquisition theme!
About the Author: