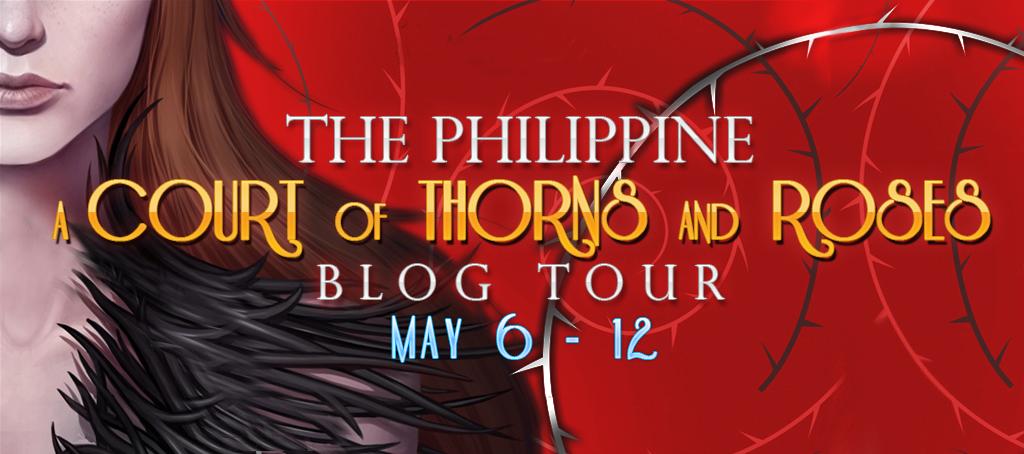 This week, Sarah J. Maas' shiny new Fantasy NA novel was released! Her Filipino fans are celebrating and I'm one of them! I'm glad to be participating in the Philippine blog tour for A Court of Thorns and Roses and I have my review to share with y'all today!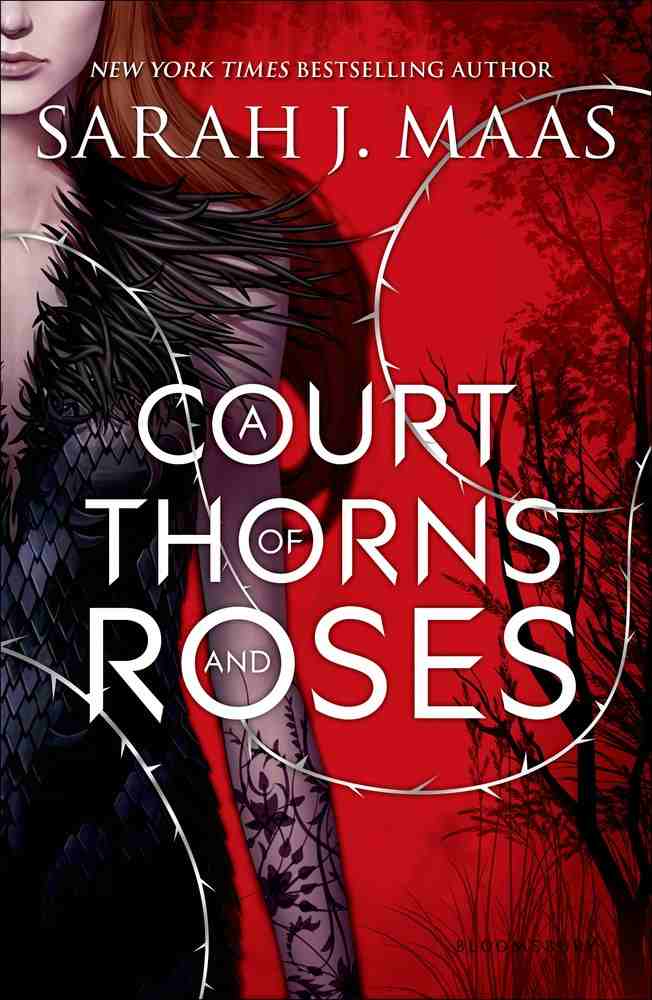 A Court of Thorns and Roses

by Sarah J. Maas

Book #1, A Court of Thorns and Roses

Published by Bloomsbury Children's on May 5th 2015

ARC from Blog Tour

416 pages

Purchase on

Amazon

・

Fully Booked
Synopsis
Feyre's survival rests upon her ability to hunt and kill – the forest where she lives is a cold, bleak place in the long winter months. So when she spots a deer in the forest being pursued by a wolf, she cannot resist fighting it for the flesh. But to do so, she must kill the predator and killing something so precious comes at a price.

Dragged to a magical kingdom for the murder of a faerie, Feyre discovers that her captor, his face obscured by a jewelled mask, is hiding far more than his piercing green eyes would suggest. Feyre's presence at the court is closely guarded, and as she begins to learn why, her feelings for him turn from hostility to passion and the faerie lands become an even more dangerous place. Feyre must fight to break an ancient curse, or she will lose him forever.
The hype for A Court of Thorns and Roses, from the moment Sarah J. Maas announced it, has been immense and pretty crazy. Not gonna lie, I was one of the many who was very eager to read it from the beginning. Maybe some of you got curious too and maybe some feel wary. Well, I'm here to tell you what all the fuss is about: THIS BOOK IS FREAKING AMAZING.
"Who wants someone covered in thorns?"
"Thorns?"
"Thorny. Prickly. Sour. Contrary."
In fact, I highly advise just skipping my rambling review and going to the bookstore to buy this book already instead. But in case you still need a little more convincing (you skeptic bookworm you) let me count off all the things I loved about A Court of Thorns and Roses.
"Magic- everything was magic, and it broke my heart."
Feyre is an inspiringly fierce protagonist. Much like Katniss, she hunts to feed her family. When she mistakenly kills a fae disguised as a wolf and another beastly fae comes to punish her afterwards, she is forced to leave her father and two sisters so they may be spared. She's admirable in this way but also in so many others. I adored her spunk and while some may try to compare her with Celaena, I think she was entirely her own. It was easy to root for her to get through the challenges set upon her way and also to find happiness and love, quite possibly with her captor, Tamlin.
"He was exactly as I'd dream he'd be."
Where do I begin to describe this man? He's beautiful- even wearing a mask. True story: I swooned. A lot. So much. Tamlin is the mysterious powerful beast who drags Feyre to the fae Spring Court. Though he forces Feyre to stay in his court, we quickly see that he does not do it out of spite. As Sarah carves out his character and his essence is revealed in the way he just kind of wants Feyre to like him and how he's there for her all the time and how he gives her those strip-me-bare gazes, you just melt. Tamlin, you guys, is a fictional character to fall in love with for sure. Between him and Feyre, the romance was just burning hot. Correction- set you on fire hot.
"Give me everything."
If you didn't know yet, Feyre and Tamlin are inspired by Beauty and the Beast and I just love the parallel with this fairytale retelling. Seriously, it was incredible. It follows the tale very closely but it still put a very fresh, earnest and thrilling spin to it. Of course, this can be attributed the brilliant writing- Sarah totally rocked the hell out of this story. I was utterly taken and I'm so dying for more.
Everything. That's what I loved about it if you haven't guessed. Feyre's braveness, Tamlin's heart, Lucien's wit, Rhys's gorgeous face, the intensity, the feels, the writing, the storytelling, the author, the book- everything. I was blown away. I think you will be too. In fact, I know it. Now, GO READ IT. *throws ACOTAR at you*
Giveaway: