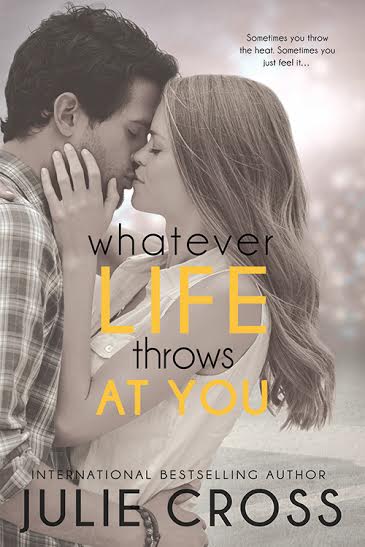 Whatever Life Throws at You

by Julie Cross

Published by Entangled: Teen on October 7th 2014

ARC from Blog Tour

320 pages

Purchase on

Amazon

・

Fully Booked
Synopsis
Life loves a good curveball…

Seventeen-year-old Annie Lucas's life is completely upended the moment her dad returns to the major leagues as the new pitching coach for the Kansas City Royals. Now she's living in Missouri (too cold), attending an all-girls school (no boys), and navigating the strange world of professional sports. But Annie has dreams of her own—most of which involve placing first at every track meet…and one starring the Royals' super-hot rookie pitcher.

But nineteen-year-old Jason Brody is completely, utterly, and totally off-limits. Besides, her dad would kill them both several times over. Not to mention Brody has something of a past, and his fan club is filled with C-cupped models, not smart-mouthed high school "brats" who can run the pants off every player on the team. Annie has enough on her plate without taking their friendship to the next level. The last thing she should be doing is falling in love.

But baseball isn't just a game. It's life. And sometimes, it can break your heart…
Julie Cross, let me love youuuuu! No seriously, Julie writes awesome books and she charmed my pants off with her Mature YA Contemporary book, Letters To Nowhere, before and she's done it yet again with her newest one, Whatever Life Throws At You.
"Life is funny sometimes… the worst possible things can get you to the best possible places."
This author gets teenagers. She knows how they act, how they are, how they feel and she definitely knows how to write them. Reading Annie Lucas went smoothly and felt natural because she was realistic and believable that I could easily put myself in her shoes. In the story, she's just moved to Missouri and is trying to accept the changes (not to mention responsibilities) that come with being the daughter of the newly-assigned pitching coach of the Kansas City Royals. That meant a new school, and new people to try and get along with- like the Royals' sexy hottttt new rookie, Jason Brody. No one ever mentioned anything about falling in love. But like baseball, sometimes life throws you scary exciting circumstances when you least expect them.
"I want this… you and me… together."
Annie was a great character, easy to like and root for. First and foremost, I just adored her relationship with her dad. It's the best kind- supportive and loving. Aside from admiring her for being a wonderful, caring daughter (at least to her dad- god knows she dislikes her negligent mother and rightfully so), I enjoyed reading her stance on being a competitive runner. (Funny thing, I know another fictional Annie who's also a runner, from Miranda Kenneally's Breathe, Annie, Breathe.) I love how Julie incorporates sports in her books- she's so fantastic at it. Baseball, of course, plays a major role here and while Annie sure doesn't play the sport, we see how being a part of the magic (somehow) turns her world upside down. It was awesome getting an insider look on the life of people involved in the Major Leagues!
"I'm always thinking about you. No matter what."
Speaking of- Jason Brody may be new to the Major Leagues himself, but the boy sure knows how throw a fastball. (And ravishing sweet words that will make any girl melt!!!!!!) Determined to keep his position in the Royals team, he works hard and does as he is told, like take hot models out to dates for publicity purposes. But in reality, the boy is simply trying his best to be a good person and to be free of his bad boy past. And that's just one of things that makes him so swoony. No seriously, I can't even begin to describe how perfect this fictional boy is. He's so honest, respectful and did I say perfect yet? Also, expert kisser. There's so many outstanding qualities to him and you'll have to read Whatever Life Throws at You to find out. But for future reference, he's my book boyfriend. Back off. (Kidding, we can share.)
"Just because I like you doesn't mean you have to be with me. I'm still here in whatever form you want me."
Anyway, the romance between Brody and Annie was just lovely and adorable to the nth level. I fell in love so many times I'm running out of fingers and toes to count. I loved how their relationship helped each of them to grow. Annie sometimes gets a little immature and bratty (a fact acknowledged in the book) so seeing her become more mature was nice. Back to the her relationship with Brody, I just loved how it flourished. There was friendship and trust between them and there was also that undeniable chemistry that just made things even more marvelously swoony.
"Anoche soñe contigo y esta mañana no me quiero despertar… me haces feliz… Me gustaria poder decirte lo que siento… Quiero decirte todos mis secretos…"
There's so much more to say about how wonderful this book was and I might not have been able to do justice but know that I loved it, especially the way it portrayed family, love and life. Seriously, Whatever Life Throws At You was an amazing read- one I wish I could devour over and over and over. NOW GO READ IT.
Giveaway: