About a month ago, I received a letter from my fave local seller of pre-loved books online, Bookbed. I actually shared a post last year from the foundress of Bookbed, KB, who had the initiative to start a fundraiser for typhoon victims by selling books for charity. And this is exactly one of the reasons why I adore Bookbed- it was run by a true blue bookworm who cares not only for her fellow readers, but the rest of her nation. In the letter she wrote me and a few others last June, she talked about how she wanted Bookbed to be more than what it was. She wanted to build a community. And she was inviting us to join her and help her work towards this vision.
My answer? Hell yes.
Earlier this month, on its 4th birthday, Bookbed was relaunched at Bookbed.org! I am proud to say that I am part of this rising community. And I hope you'll join us too! (You can sign up here.)
One of our first initiatives as the new Bookbed was the to start our #readingnation campaign. If you're a reader, blogger or author, you know very well that Filipinos are a huge part of the bookish community. We fangirl hard and we love books with a fierce passion. And we want our nation to feel that, to want to be a part of that. That's what our campaign is all about. So to start, we asked around: #whyread?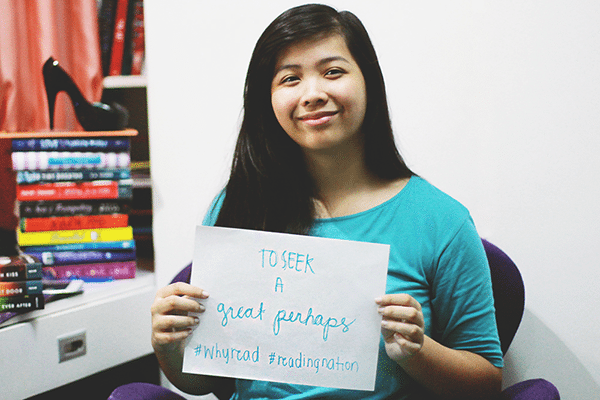 I read to seek a great perhaps. Why am I echoing a French poet's last words, you ask? I came across the line while reading Looking For Alaska (as I know most of you probably have), and at the time, it made me stop and just think for awhile.
Let me get personal with you. I used to feel really restless and stuck. I was (and still am, really) a shy, awkward girl. But then, I had about a tiny speck of exciting life experiences. (I knew I was still young but I felt like I wasn't making the most of my youth, you know?) Life was dull. When I read that line in Looking For Alaska, I remember asking myself- 'Do I seek for a Great Perhaps?' I knew in me that I did. And I still do. I first found my Great Perhaps in books. Through fictional characters and imaginary worlds. Through reality written in words. Reading books has inspired me to work on also seeking that Great Perhaps in my own life. I'm putting my trust in that person who said 'What you seek, you shall find.' And so, I will read until then and even after.
How about you? #whyread? What are your thoughts, suggestions, and comments on Bookbed's #readingnation campaign?
Visit Bookbed at our website and follow us on Twitter, Instagram, Facebook.
To join the #readingnation campaign, just answer the question "Why read?" and put it on a sign. Then, take a photo with it and upload online with the #whyread #readingnation and #bookbed.