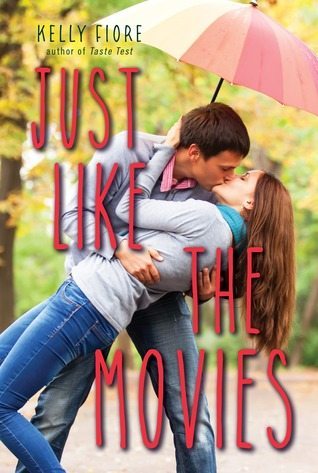 Just Like the Movies

by Kelly Fiore

Published by Bloomsbury USA Childrens on July 22nd 2014

ARC from Netgalley

288 pages

Purchase on

Amazon

・

Fully Booked
Synopsis
Pretty, popular Marijke Monti and over-achieving nerd-girl Lily Spencer have little in common—except that neither feels successful when it comes to love. Marijke can't get her boyfriend to say "I love you" and Lily can't get a boyfriend at all. When the girls end up at a late night showing of Titanic, sniffling along with the sinking ship, they realize that their love lives could—and should—be better. Which sparks an idea: Why can't life be like a movie? Why can't they create perfect romantic situations? Now they have a budding friendship and a plan—to act out grand gestures and get the guys of their dreams. It seems like fun at first, but reality turns out to be much more complicated, and they didn't take into account that finding true love usually requires finding yourself first.
Books like Just Like The Movies are meant for me to read, I swear. As expected, I had so much fun reading this book. From the plot summary alone, I kind of knew that already and I'm so glad that the story delivered exactly what I was hoping for. About two girls who decide to make their lives as cinematic and romantic as the movies, Just Like The Movies was an enjoyable contemporary YA story from start to finish!
'Have you ever wished you could fall in love like they do on screen?'
While the story plays an important role for a book to catch my attention and make me want to turn pages, it is the characters that can really anchor me and truly captivate me. Nothing beats solid protagonists that are realistic and dynamic. Just Like The Movies offered just that. We get a duo of awesome female MCs: Lily and Marijke. The two each get their own POVs in the book and I liked even more that their voices, not to mention their personalities, were very distinct.
'Falling in love means two, not one. You can't get someone to love you through sheer effort or desire.'
Marijke has everything a girl could want: she's popular, good-looking, the star of her track team, has parents who support her at every meet and the hottest guy in school is her boyfriend. Despite her perfect image, Marijke fears that she loves her boyfriend, Tommy, more than he loves her. Pressured by her parents' own perfect romance and by the challenge it takes to keep Tommy, she tries to rekindle the fire in their relationship by huge gestures of love inspired by the movies, an idea of Lily's.
'It's kind of weird to be a big part of things but not a part of things at all. At least not enough to be recognized. Most of the time, I just try to convince myself that I don't care.'
Lily is pretty much my favorite character in this book. She's sarcastic and snarky but is quite the hopeless romantic, deep inside. She's crushed on Joe Lombardi forever, but he's never noticed her. For most of high school, Lily has stayed invisible to everyone. She's the girl whose name most people don't know, the girl without a clique she belongs to. I understood her character a lot because of this as she reminded me of myself. However, when she meets Marijke at a movie theater by chance, things start to look up as they uphold their promise to help each other make their lives like the movies.
'The last aspect of the perfect movie romance: chemistry. It's the one thing that movies capture that real life has in common. It's the one thing you can't fake, because it's as certain as science.'
Marijke helps Lily to get noticed by Joe and Lily helps Marijke with her plans to romance Tommy. No matter how cheesy (and a little bit cliché) the romantic plot was, I still liked it a lot. As for the love interest, Joe was my favorite. I pretty much crushed on him the way Lily did too. Sa-woon. Tommy, however, failed to charm me until the last part. His and Marijke's relationship was a little bit frustrating but I wouldn't change a thing since their problems as a couple helped me understand Marijke, who I couldn't really connect to at first. Anyway, the romance, especially Joe and Lily's, was so delightful.
'They say you can fall in love at first sight. What about falling into friendship? Can you become BFFs over the course of a few short weeks?'
Having said that, what I really liked about the Just Like The Movies, aside from the characters, was the fact that the friendship Lily and Marijke form was given much importance. It was lovely watching their friendship grow, with Marijke being comfortable confiding in Lily and Lily learning to just be herself (her smartass, funny self) around Marijke. I just love books with positive female friendships and I was fond of seeing it in this book.
'Life isn't predictable like a movie. There isn't a formula to follow.'
If this book were a movie, it would totally be my favorite kind. Quick to devour, absolutely sweet and a completely fun read, I definitely recommend Just Like The Movies for fans of rom-coms!
Rating: