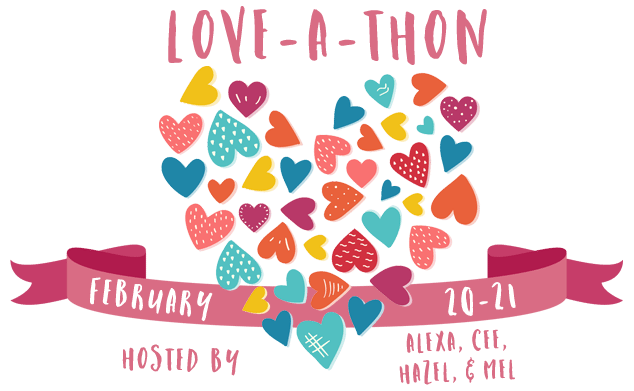 This year's event has been such a crazy fun ride. The weekend just flew by. Chatting & connecting with the community for the last two days has been so epic. So much love was given and received and that can only mean that the Love-a-Thon was a success. In fact, with almost 300 participants, I think this year's Love-a-Thon was a HUGE success.
A Million Thanks
I cannot even begin to explain how thankful I am to have been part of Love-a-Thon 2016. First of all, I'm so grateful for my co-hosts, Alexa of Alexa Loves Books, Cee of The Novel Hermit and Mel of The Daily Prophecy. I cannot express how honoured I am to be part of a team that advocates passion for books and this community.
Secondly, thank you to every single one of you joined. This event would not have been as fabulous without you bringing your A game, joining  the chats and flailing with us. Thank you, thank you, thank you x infinity.
Finally, thank you to our sponsors, who believed in this event enough to donate such amazing prizes. Check them out below!
Our Amazing Sponsors
Alicia of Awesome Book Assessment
Bloomsbury (c/o Emily Ritter)
Harper Collins
Macmillan
Merit Press
Random House (c/o Cassie McGinty)
Tor Teen (c/o Ksenia Winnicki)
Usborne Publishing
Claire LeGrand
Corey Ann Haydu
Erin Bowman
Fida Islaih
Heather Demetrios
Heidi Schulz
Jennifer E. Smith
Jodi Meadows
Joy Hensley
Lindsay Smith
Miranda Kenneally
Sarah J. Maas
Giveaway
US ONLY GIVEAWAY
prize pack consists of:
Truthwitch poster + pin
Exquisite Captive by Heather Demetrios
Forged by Erin Bowman
Catching Jordan by Miranda Kenneally
Stealing Parker by Miranda Kenneally
Things I Can't Forget by Miranda Kenneally
Racing Savannah by Miranda Kenneally
Breathe Annie Breathe by Miranda Kenneally
Jesse's Girl by Miranda Kenneally
Hello, Goodbye and Everything in Between by Jennifer E. Smith
5 to 1 by Holly Bodger
Dreamstrider by Lindsay Smith
The Pirate Code by Heidi Schulz
The Heir and the Spare by Emily Albright
Finding the Worm by Mark Goldblatt
Cassidy's Guide to Everyday Etiquette by Sue Stauffacher
The Fearless by Emma Pass
Rites of Passage by Joy N. Hensley
Riders by Veronica Ross (+ pencils & bracelets)
Defending Taylor by Miranda Kenneally (ARC)
INTERNATIONAL GIVEAWAY
prize pack consists of:
Ice Like Fire by Sara Raasch
Dumplin' by Julie Murphy
Red Queen by Victoria Aveyard
Hook's Daughter (+ signed bookplate) by Heidi Schulz
Her Treasures (e-book) by Fida Islaih
Identity Crisis by Melissa Schorr
Half in Love with Death by Emily Ross
The Yearbook by Carol Masciola
The Fearless by Emma Pass
Unlovely by Celeste Conway
Am I Normal Yet? by Holly Bourne
Finding the Worm by Mark Goldblatt
Cassidy's Guide to Everyday Etiquette by Sue Stauffacher
'Til Next Time
Again, thank you so much for joining Love-a-Thon! Do click the button below to let us know what you'd like to see for next year's event. We look forward to hearing your comments!
Did you enjoy the event? Are you joining us for Love-a-Thon 2017?