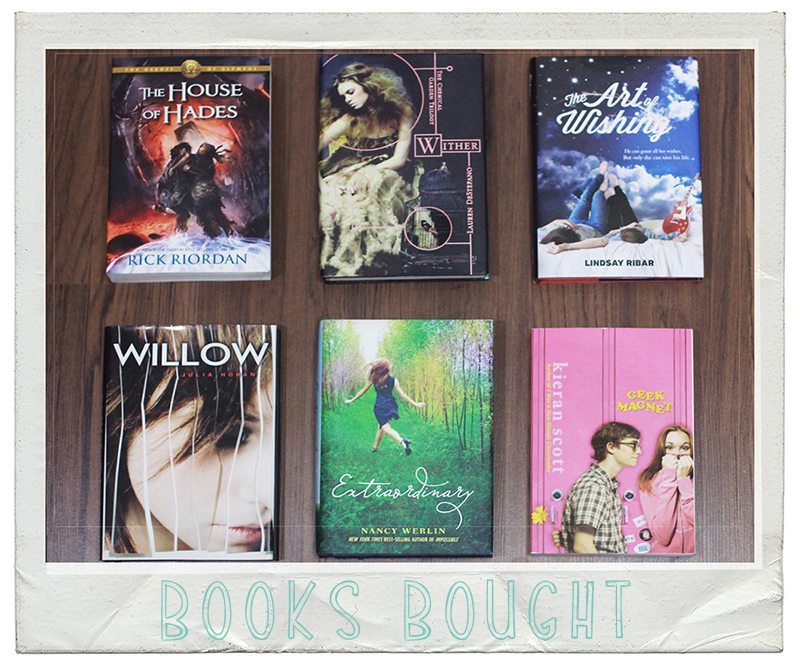 Rick Riordan – The House Of Hades
Lauren DeStefano – Wither
Lindsay Ribar – The Art Of Wishing
Julia Hoban – Willow
Nancy Werlin – Extraordinary
Kieran Scott – Geek Magnet

Remember how last week I said I was going to control my book buying? (x) Well, it's like some unknown force is telling me 'No, Hazel, you need to go buy books' because our local bookstore, Fullybooked, announced a super discounted sale! Would you believe I got a hardback copy of Wither, Extraordinary, and Willow for about Php100 ($2)? And Geek Magnet was just Php50 ($1) so I grabbed it without second thought! Ahh, I swear- I just can't resist sales! (The sale is still ongoing and I'm so tempted to go back again.)
House of Hades was released this week (x) and I got a copy as soon as it was out! I'm already done reading, actually. IT WAS HELLA AWESOME, you guys. I've been looking for a copy of The Art Of Wishing ever since I read Jen's review. So when I spotted it at the store, even though it wasn't on sale, I just had to buy. I actually received some book mail this week too but I think I'll reserve them for next week's haul instead!
What awesome books did you get this week?



Did you enjoy reading this post?
Subscribe now to receive fabulous freebies and get the latest bookish reviews and features straight into your inbox.