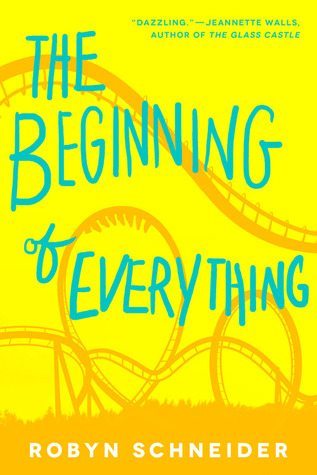 The Beginning of Everything

by Robyn Schneider

Published by Katherine Tegen Books on August 27th 2013

Purchased copy from Fully Booked

335 pages

Purchase on

Amazon

・

Fully Booked
Synopsis
Golden boy Ezra Faulkner believes everyone has a tragedy waiting for them—a single encounter after which everything that really matters will happen.

His particular tragedy waited until he was primed to lose it all: in one spectacular night, a reckless driver shatters Ezra's knee, his athletic career, and his social life.

No longer a front-runner for Homecoming King, Ezra finds himself at the table of misfits, where he encounters new girl Cassidy Thorpe.

Cassidy is unlike anyone Ezra's ever met, achingly effortless, fiercely intelligent, and determined to bring Ezra along on her endless adventures.

But as Ezra dives into his new studies, new friendships, and new love, he learns that some people, like books, are easy to misread. And now he must consider: if one's singular tragedy has already hit and everything after it has mattered quite a bit, what happens when more misfortune strikes?
The Beginning Of Everything, also known as Severed Heads And Broken Hearts, is an amazing book- a beautifully written prose that will sure take your breath away. With great narration and an excellent voice, it tells a story of personal tragedies and aftermaths.
When I contemplate on why I loved this book so much, all arrows point to Ezra Faulkner. Ezra was your quintessential golden boy- played a sport, had a trophy girlfriend, was admired and loved by everyone. He was living the life of a high school king until catastrophe strikes, leaving him to walk the hall of shame with a crippled knee and a stupid cane. As he struggles through his senior year, he rediscovers himself, along with old and new friendships. Ezra was realistic in the way that he (like majority of teenagers) searched constantly for a sense of belonging. Suddenly a misfit, he no longer knew who he was, unable to comprehend who he wanted to be. I loved that we see his vulnerabilities and I thought that it was told in such an honest-to-God manner. And it doesn't hurt that Ezra was also sharp and full of wit. In fact, that's another reason in the long list of why Ezra Faulkner is awesome.
"There's a word for it," she told me, "in French, for when you have a lingering impression of something having passed by. Sillage. I always think of it when a firework explodes and lights up the smoke from the ones before it."
"That's a terrible word," I teased. "It's like an excuse for holding onto the past."
"Well, I think it's beautiful. A word for remembering small moments destined to be lost."
Cassidy, the enigmatic new girl, had our protagonist completely enamored. Radiating riddles, intelligence and shrewd skepticism, she was a puzzle for Ezra. That wasn't the case for me, as I managed to figure her out. Still, as she and Ezra fall in love, we see how much they fit. Their romance was sweet and I found myself wishing for more. But alas, this wasn't a love story but a story of finding out what living truly means. Another important component of this book was friendship. I really really enjoyed Ezra's budding camaraderie with the 'nerds'. Their banter and 'extra-curricular activities' were extremely amusing. The pop culture references and puns- those were a joy to read. Toby, who was Ezra's best friend way back and the one who brings him into their group, was wonderful, magnificent and all kinds of marvelous. First of all, he's a fantastic friend, accepting Ezra with open arms and making him feel right at home with his group of friends. Second, he's honest, frank and straight forward. He tells things the way he see them and he doesn't hold back, calling Ezra a crappy friend when he's being one. Third, he is ultimately funny and just… you cannot help but love him.
"I still think that everyone's life, no matter how unremarkable, has a singular tragic encounter after which everything that really matters will happen. That moment is the catalyst- the first step in the equation. But knowing the first step will get you nowhere- it's what comes after that determines the result."
I do think that the characters in the story were a large part of the reason why I was smitten by this book. Even Ezra's dog was fun to read about! Seriously. Aside from the characters though, the inspiring message that The Beginning of Everything really pulled heartstrings. It leaves you thinking, pondering, and reflecting about your own life- and those, I think, are the best kind of books. The Beginning of Everything had me in awe and I deeply admire Robyn Schneider for coming up with such a profound novel that will surely appeal to young hearts.
Rating: