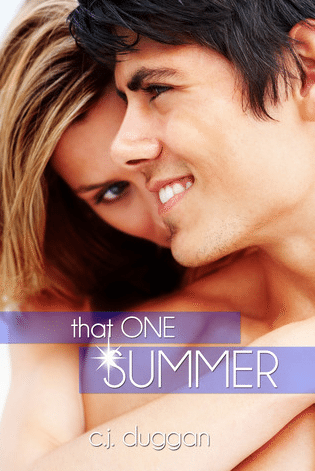 Title: That One Summer (Summer #3)
Author: C.J. Duggan
Publication: Published December 17th 2013
Format: eARC
Source: Xpresso Book Tours
Genres: New Adult, Contemporary, Romance
Goodreads / B&N / Amazon
Synopsis: 

As the countdown to the new millennium begins, there is one thing everyone agrees on: no one wants to be in Onslow for New Year's Eve. That can only mean one thing: road trip!

No longer the mousey, invisible, shy girl from years ago, Tammy Maskala is finally making up for all those lost summers. A new year with new friends, which astoundingly includes the bossy boy behind the bar, Chris Henderson.

She likes her new friends (at least most of them), so why does she secretly feel so out of place?

After chickening out on the trip, a last-minute change of heart sees Tammy racing to the Onslow Hotel, fearing she's missed her chance for a ride. The last thing she expected to meet was a less-than-happy Onslow Boy leaning against his black panel van.

Now the countdown begins to reach the others at Point Shank before the party is over and the new year has begun. Alone in a car with only the infuriating Chris Henderson, Tammy can't help but feel this is a disastrous start to what could have been a great adventure. But when the awkward road trip takes an unexpected turn, Tammy soon discovers that the way her traitorous heart feels about Chris is the biggest disaster of all.

Fogged up windows, moonlight swimming, bad karaoke and unearthed secrets; after this one summer nothing will ever be the same again
Review:
I gotta say- no one does Aussie NA like C.J. Duggan. Having enjoyed reading the two other Summer books before this, I was very much looking forward to That One Summer. Duggan does her romance so very well and makes you swoon a helluva lot. That One Summer did not disappoint- Chris and Tammy's love story was real romantic!
"If I'd had to choose perfect, I would have just chosen you."
Truth be told, I was wary of Tammy as the main character for That One Summer. I wasn't sure how she'd sit with the whole gang, as she was not originally part of it. I was surprised that she was anxious about being out of place herself and I felt for her then. Tammy Maskala's voice was very natural and easy to read. While I can't say I downright loved Tammy, I liked reading about the Onslow gang through her eyes.
Another thing about this series is that the male cast is seriously GORGEOUS. I don't even care that a marvelous species such as the Onslow Boys cannot ever be real or sensible. The Onslow Boys have grown on me and I love them so. Sean Murphy was my absolute favorite but I was flabbergasted by just how much I ended up liking Chris Henderson too. Chris is the moody, broody, responsible one in the group and he's often dismissed as a tight ass. I did not expect his sweet, sexy and smirky side but seeing it shine through in That One Summer was thoroughly fun.
"You know that nice for me means 'absolutely beautiful', right?"
Humor and flirty witticisms are a guarantee with the Onslow boys and That One Summer had much of it. Looking back now, I must've looked like an idiot smiling to myself while reading this book. Summer or not, That One Summer was a delecatable read!
Rating: