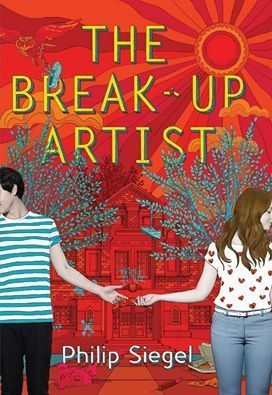 Title: The Break-Up Artist
Author: Philip Siegel
Publication: April 29th 2014 by Harlequin Teen
Format: eARC, 319 pages
Source: Netgalley
Genres: Young Adult, Contemporary, Realistic Fiction
Goodreads / The Book Depository / Amazon
Synopsis:

Some sixteen-year-olds babysit for extra cash. Some work at the Gap. Becca Williamson breaks up couples.

After watching her sister get left at the altar, Becca knows the true damage that comes when people utter the dreaded L-word. For just $100 via paypal, she can trick and manipulate any couple into smithereens. With relationship zombies overrunning her school, and treating single girls like second class citizens, business is unfortunately booming. Even her best friend Val has resorted to outright lies to snag a boyfriend.

One night, she receives a mysterious offer to break up the homecoming king and queen, the one zombie couple to rule them all: Steve and Huxley. They are a JFK and Jackie O in training, masters of sweeping faux-mantic gestures, but if Becca can split them up, then school will be safe again for singletons. To succeed, she'll have to plan her most elaborate scheme to date and wiggle her way back into her former BFF Huxley's life – not to mention start a few rumors, sabotage some cell phones, break into a car, and fend off the inappropriate feelings she's having about Val's new boyfriend. All while avoiding a past victim out to expose her true identity.

No one said being the Break-Up Artist was easy.
Review:
The Break-Up Artist caught my attention even before I read it. The mere title had me intrigued and excited. Pre-reading, I already thought that the concept was very clever but only when I immersed myself in this story did I discover exactly how fantastically clever and awesome this book was.
The main character, Becca, breaks up couples for a hundred dollars via Paypal. She plans elaborate schemes in secret and she does her task well. When she's asked to break up the ultimate powerhouse couple of their high school, the inseparable SteveandHuxley, Becca is faced with the biggest challenge of her career as The Break-Up Artist. Even if it means having to endure her ex-bestfriend, Becca is determined to complete her mission- for the sake of all singletons.
Finding a suitable guy to date is a study in Darwinism. Survival of the hottest.
Just a few chapters in, I already found myself liking the protagonist a lot. Becca had a convincing voice and it didn't hurt that she was witty and funny- traits that I always look forward to and hope to see when reading a contemporary such as this one. True to her anti-romance job, Becca is a cynic herself. I enjoyed reading her skeptic attitude when it came to love and I liked that it was realistic as well as reasonable.
Becca's sister, Dianne, went through a terrible heartbreak and Becca was the one to witness it and be the one to help her sister pick up the pieces. Also, Huxley, her former BFF, dumped her for a guy. So yeah, I found Becca's 'love sucks' mentality to be believable. Also, I liked how her backstory and the subplot with her sister moved the story to an emotional direction. All that said, neither Becca nor her story is without flaws. Even when I wasn't a fan of Becca or her actions, I found most of them to be honest still.
Whenever somebody wants to get out of a relationship, but they don't want to say the real reason, they use the love excuse. How can such a strong feeling just go away? It's not a cold.
I'm saying it right here, right now: The Break-Up Artist is not a romantic story. It does tackle romance, but in a completely different and refreshing way. Not to get all too personal, but I was a Becca back in high school and maybe even now that I'm in college. No, I don't split couples for a hundred dollars but like Becca, I'm a singleton- a singleton that sometimes does feel inferior to those who are in a relationship. Thus, I was able to really relate to Becca and also appreciate the story's theme.
Love isn't always perfect- sometimes it's just an archetype, sometimes it hurts really bad, sometimes it's only pretend. But when it's real, whether it's a romantic kind of love or the love of a friend- it's worth it. With a unique plot and a relatable narrator, The Break-Up Artist is definitely worth reading!
Rating: