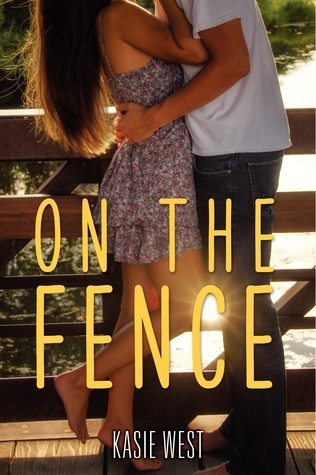 On the Fence

by Kasie West

Published by HarperTeen on July 1st 2014

ARC from Edelweiss

296 pages

Purchase on

Amazon

・

Fully Booked
Synopsis
For sixteen-year-old Charlotte Reynolds, aka Charlie, being raised by a single dad and three older brothers has its perks. She can outrun, outscore, and outwit every boy she knows—including her longtime neighbor and honorary fourth brother, Braden. But when it comes to being a girl, Charlie doesn't know the first thing about anything. So when she starts working at chichi boutique to pay off a speeding ticket, she finds herself in a strange new world of makeup, lacy skirts, and BeDazzlers. Even stranger, she's spending time with a boy who has never seen her tear it up in a pickup game.

To cope with the stress of faking her way through this new reality, Charlie seeks late-night refuge in her backyard, talking out her problems with Braden by the fence that separates them. But their Fence Chats can't solve Charlie's biggest problem: she's falling for Braden. Hard. She knows what it means to go for the win, but if spilling her secret means losing him for good, the stakes just got too high.
Kasie West does it again! It's really amazing to me how this author continues to write such wonderful stories and never fails to make me fall in love each time. On The Fence, her second contemporary novel, is something to be excited about as it delivers just the right amount of swoons and feels.
Charlie has grown up in a house full of testosterone.. err, boys. Between her dad and her brothers, Charlie lacks a female figure in her life and is thus less feminine than most girls. She's considered to be one of the boys and what with her affinity to sports, she feels more comfortable hanging out with them anyway. Plus, she can't stand girls who wear bejeweled shirts and can't fathom wearing makeup. That is until she finds herself forced to get a job and working in a clothing store was her only option.
"Sometimes we expect more than people are capable of giving at the moment."
While I can't say that I was able to really connect with Charlie's character or that we had much in common, I found Charlie easy to understand. I was taken with her strong personality, her athleticism and her relationship with the people around her. It was so nice to read a book where the heroine had such firm family ties. I admired Kasie West's honest portrayal of Charlie's relationship with her dad and siblings. I really liked reading about Charlie and her brothers who were awesome guys, if not a little overbearing. I was especially fond of Gage, who was outright hilarious.
Beneath Charlie's tough persona, she's also a little vulnerable. She's a little clueless when it comes to female friendships which was sort of amusing. It was delightful to see her get in touch with her chic side. Charlie also struggles with nightmares and grief over her mother. This, I think, made the story slightly more emotional and sensitive compared to West's earlier books. While I found this aspect touching, I wished it had more prominent and seemingly more crucial.
"I don't know how to get over it."
"You can only go through it."
What with Charlie unable to sleep at night, she finds comfort in her fence chats with Braden, her neighbour and childhood friend. During their infamous fence chats, they discuss things they normally wouldn't talk about during the day, alongside a game of "I know you better than you know me" where they stated facts about each other. The latter was completely cute and adorable- they were my fave parts of the book. It really proved that the two knew each other so well, thus making me root for them even more.
Braden, undeniably Charlie's main love interest in the story, was a cross between stoic and sweet. He and Charlie were sometimes hot and cold which was a little aggravating. He's not always agreeable but I loved the sense of familiarity that Charlie felt with him. Their relationship was very believable. I swooned a lot, especially towards the end.
"It almost feels like we're floating just outside of consciousness and we can say whatever we want, and in the morning, like with dreams, it just slowly melts away."
Overall, On The Fence was a fantastic YA novel. I thought it was unique and highly enjoyable. There's a small Caymen cameo which I thought was fabulous and clever of Kasie West. Basically, this book comes highly recommended for anyone who's looking for warm fuzzies and a quick lovely romance read!
Rating: