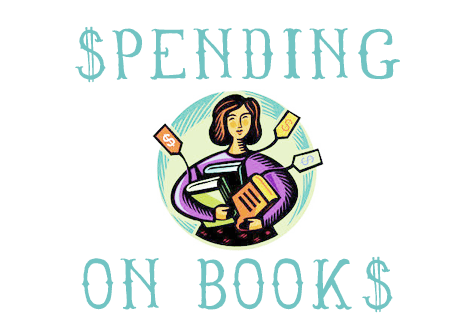 Here comes a topic I've been wanting to discuss on the blog for sometime now: bookish expenditures! You guys know I love buying books- as proven by my usual book haul posts. And I know you guys love book shopping just as much. Digging deeper into our book buying tendencies, I was wondering: how do bookworms spend on books? Yep, I'm asking how not how much. Because we all know the answer to that is A LOT.
Allowance & Budgets
Right now, I'm an eighteen year old college student and my weekly school allowance comes mostly from my parents. I know that some people are already making money for themselves by working part-time jobs at my age, but that's not the case for me. However, I do have my design shop business and that's where a big part of my budget for books comes from, aside from the money I save from my allowance. A break down of how I budget my money to make way for my bookish expenditures would probably be like 35% books, 50% food & necessities and 15% other things I buy!
Bookish Expenditures
The real reason I wanted to discuss bookish expenditures is because I'm quite keen on mine to the point that I have a record of the money I've spent on books. I only started jotting down and calculating my spendings on books because I spent too much last year and earlier this year too and I ended up with no savings at all for a month. My mom noticed this and pretty much tried to impose a book buying ban on me (but I keep breaking it of course- sorry, mom!). I guess keeping a spending record is my way of monitoring and possibly controlling my book buying.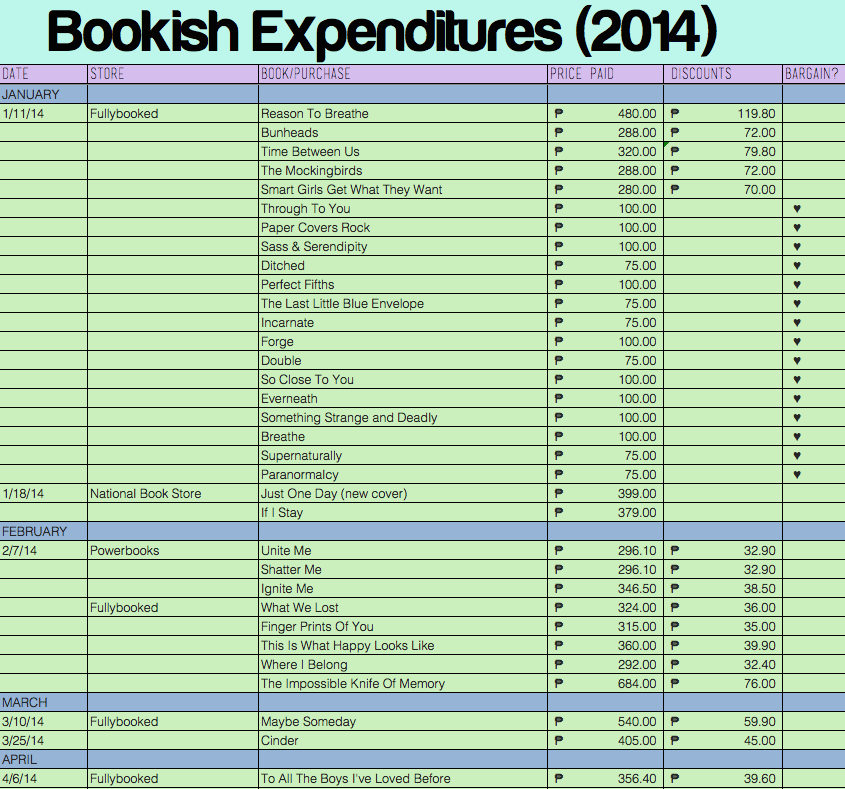 My bookish expenditure organizer/record! Click photo to open bigger version.
So how do I record my bookish expenditures? I use an excel organizer that I've customized (with pretty colors and everything of course!) and keep account of the physical books I've bought per month, where and when I bought them and how much I got them for. I also make a note of the discounts I get (through my bookstore discounts cards or through sales) and which books I bought for cheap bargains.

Summaries of expenditures and savings! Click photo to open bigger version.
On the right side of my organizer, I have a summary of expenditures where I monitor my total spendings per month as well as the whole year. I also mark down how many books I've bought throughout the year as well as how many of them are bargain books. I also calculate how much I've saved through book sales and discounts.
(Not in the records: Ebooks – I pay for these through my mom's credit card so it's not exactly taken from my allowance; Books I purchased for giveaways – this goes under my blog expenditures so I don't count them since they're not books I bought for myself.)
Spending Habits
As you can see from my records, I've bought less books (compared to January) throughout the rest of 2014. There are several reasons why: a) My TBR pile is already too crazy. I want to chop it off before I buy more books. b) I really don't have much space in my shelves anymore. c) I feel guilty when I'm at the bookstore (see first bullet) and end up buying nothing as of recent. d) I'm saving up for next month because MIBF!!! 5) The books I really want to buy are not available at my local UGH.
Other notes on my spending/book buying habits as seen observed from my records:
I have a tendency to only spend on books when I get good deals – I love sales. I really do.
I rarely buy books online – The wait is so long and I'm dubious whether my package will arrive in a good condition. Besides, I love book shopping at my local bookstores!
A lot of the books I've spent on are for the book signings I'm attending – Not that I didn't intend to buy those books whether or not the authors were doing a signing here. But yeah, take all my money, National Book Store! (I love them so much for bringing so many awesome authors here and I would gladly spend all my cash to buy books so I can attend their signings.)
I spend more on paperbacks – Okay, you can't see that on my organizer since I haven't added a column to monitor this but you can observe the prices. The 300-500php ones are paperbacks while the rest are hardbacks. Since I'm a cheapskate, I prefer spending on paperback copies rather than hardbacks. I only buy hardbacks when a) There's no copy in paperback and I'm dying to read. b) I reaaaaally love the author. c) But mostly reason a!
How about you? Do you budget your money for buying books? Do you keep a record of your bookish expenditures? How do you spend on books- any sort of notable habits?


Did you enjoy reading this post?
Subscribe now to receive fabulous freebies and get the latest bookish reviews and features straight into your inbox.