Hi everyone! Today, I'm interviewing Jennifer Echols, author of the recently released novel, Biggest Flirts! I highly enjoyed this book and am so excited to get to ask Jennifer all about it. If you're curious which superlative title Jennifer holds for herself, do read on!
The Author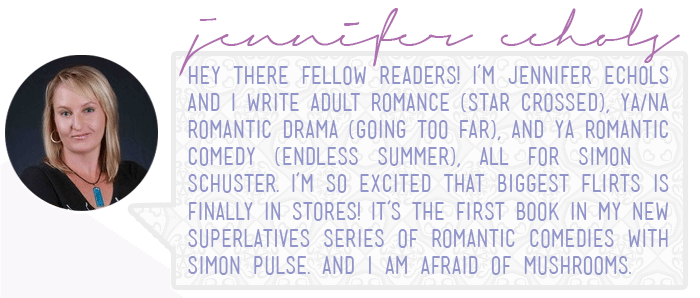 Writer loves
Starbucks beverage – skinny vanilla latte. I'm all about the skinny.
Local bookstore to visit – The huge chain Books-A-Million is based in my hometown of Birmingham!
Romance novel – Pride and Prejudice by Jane Austen!
Fill in the blanks
Of all the books I've ever written, I'm closest to… The Boys Next Door and the sequel, Endless Summer, because Lori is the heroine most like me, and these books are set on the lake where I grew up.
If I were to try a different genre, it would be… romantic suspense. I've just turned in a proposal for one of these, so cross your fingers for me!
My most embarrassing author moment was when… I introduced myself to my idol, Jennifer Crusie. Only the lady was not actually Jennifer Crusie, but Jennifer Crusie was standing behind her and heard the whole thing.
The Book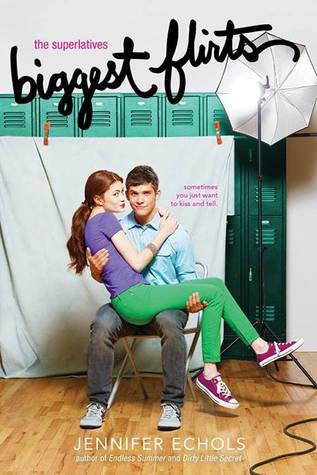 I love love love the idea of Superlatives? How did you come up with it?
Yearbook titles like Most Athletic and Best Looking were a big deal at my high school.
I enjoyed how extroverted Tia is! She is a really vibrant character. Would you say that you're quite like her? Why or why not?
I am absolutely as unlike Tia as I could possibly be. I had a great time writing a character who would do the opposite of what I would do in just about every situation.
You always have hot male leads- from hot to holy hell, where does Will come in? What did you like most about him and what makes him different from your former male leads?
Oh, gosh, thanks! I try. ;) Will is a genuinely nice, caring person for whom everything in the universe has suddenly gone terribly wrong. What I love most about him is that, though he's reserved and quiet, he's a great dancer and will actually dance in public. That's a confident guy! And the hottest thing about him, imho, is that he is head over heels in love with Tia, absolutely smitten.
If you were to get a superlative title of your own, what would it be and why?
I was actually elected Most Academic (read: Biggest Nerd) and Most Likely to Succeed!
Dedication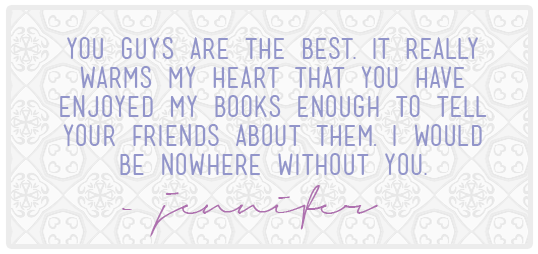 We are more than happy to tell our friends and the whole world about how we enjoy your books! Thanks for the lovely interview, Jennifer! Book nerds, don't forget to add Biggest Flirts to your to-read shelves! Looking to follow Jennifer? Check out her website, Twitter, Facebook and Goodreads!
Wanna win BIGGEST FLIRTS? Enter the giveaway below: