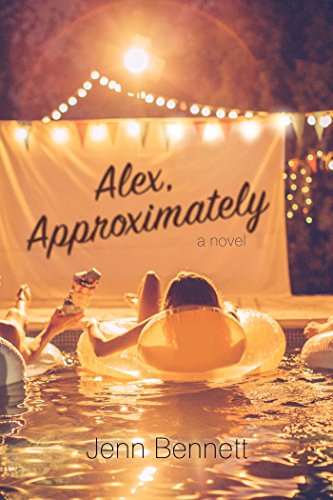 Alex, Approximately

by Jenn Bennett

Published by Simon Pulse on April 4, 2017

Genres: Contemporary, Romance

Purchase on

Amazon
Synopsis
The one guy Bailey Rydell can't stand is actually the boy of her dreams—she just doesn't know it yet.

Classic movie fan Bailey "Mink" Rydell has spent months crushing on a witty film geek she only knows online as Alex. Two coasts separate the teens until Bailey moves in with her dad, who lives in the same California surfing town as her online crush.

Faced with doubts (what if he's a creep in real life—or worse?), Bailey doesn't tell Alex she's moved to his hometown. Or that she's landed a job at the local tourist-trap museum. Or that she's being heckled daily by the irritatingly hot museum security guard, Porter Roth—a.k.a. her new archnemesis. But life is whole lot messier than the movies, especially when Bailey discovers that tricky fine line between hate, love, and whatever it is she's starting to feel for Porter.

And as the summer months go by, Bailey must choose whether to cling to a dreamy online fantasy in Alex or take a risk on an imperfect reality with Porter. The choice is both simpler and more complicated than she realizes, because Porter Roth is hiding a secret of his own: Porter is Alex…Approximately.
Alex, Approximately was good. Not the best, not a new favorite, but it was good enough to finish. It's a book that I would recommend if you were looking for something to read while waiting for another book. (Though I did like it more than other YA romance books I've read).
The rundown: Bailey, also known as Mink, is a film fanatic. Online, she meets a fellow film lover by the name of Alex, who we know is her new coworker Porter. The fun of it is when and how they're going to figure that out. (And oh, is it a doozy). Add in a Tragic Backstory for both, "Artful Dodger" tendencies, the beach, good food, and you get Alex, Approximately. Approximately, at least.
I personally relate to Bailey in being an "Artful Dodger." No spoilers, but Bailey's character growth was one of the best things about AA. Another one of the best things was Porter: hot surfer nerd, like this kid is a science geek on top of being a film geek and if there's any way to my heart it's through nerd talk. Also, I love couples who (lovingly) bicker with each other. (Looks at all my enemies-to-lovers ships). What a nice trope.
If you've heard about AA, you've probably heard of it referred to as a modern, YA retellling of the movie "You've Got Mail." I wanted to watch the movie, but I haven't had time recently. I'll probably end up live tweeting it, though. (From what I've heard, it's… what it says on the tin).
So Alex, Approximately has a main couple with great chemistry, good development and great characters, it just didn't really get me invested in the characters or the plot past finishing it. That's purely a personal thing and I know many other people read it and absolutely loved it, I just didn't.