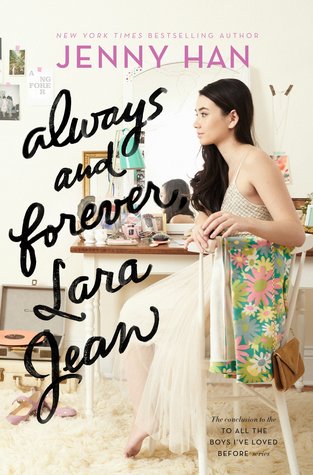 Always and Forever, Lara Jean

by Jenny Han

Book #3, To All the Boys I've Loved Before

Published by Simon & Schuster on May 2nd 2017

Finished copy

Purchase on

Amazon

・

Fully Booked
Synopsis
Lara Jean's letter-writing days aren't over in this surprise follow-up to the New York Times bestselling To All the Boys I've Loved Before and P.S. I Still Love You.
Lara Jean is having the best senior year a girl could ever hope for. She is head over heels in love with her boyfriend, Peter; her dad's finally getting remarried to their next door neighbor, Ms. Rothschild; and Margot's coming home for the summer just in time for the wedding.
But change is looming on the horizon. And while Lara Jean is having fun and keeping busy helping plan her father's wedding, she can't ignore the big life decisions she has to make. Most pressingly, where she wants to go to college and what that means for her relationship with Peter. She watched her sister Margot go through these growing pains. Now Lara Jean's the one who'll be graduating high school and leaving for college and leaving her family—and possibly the boy she loves—behind.
When your heart and your head are saying two different things, which one should you listen to?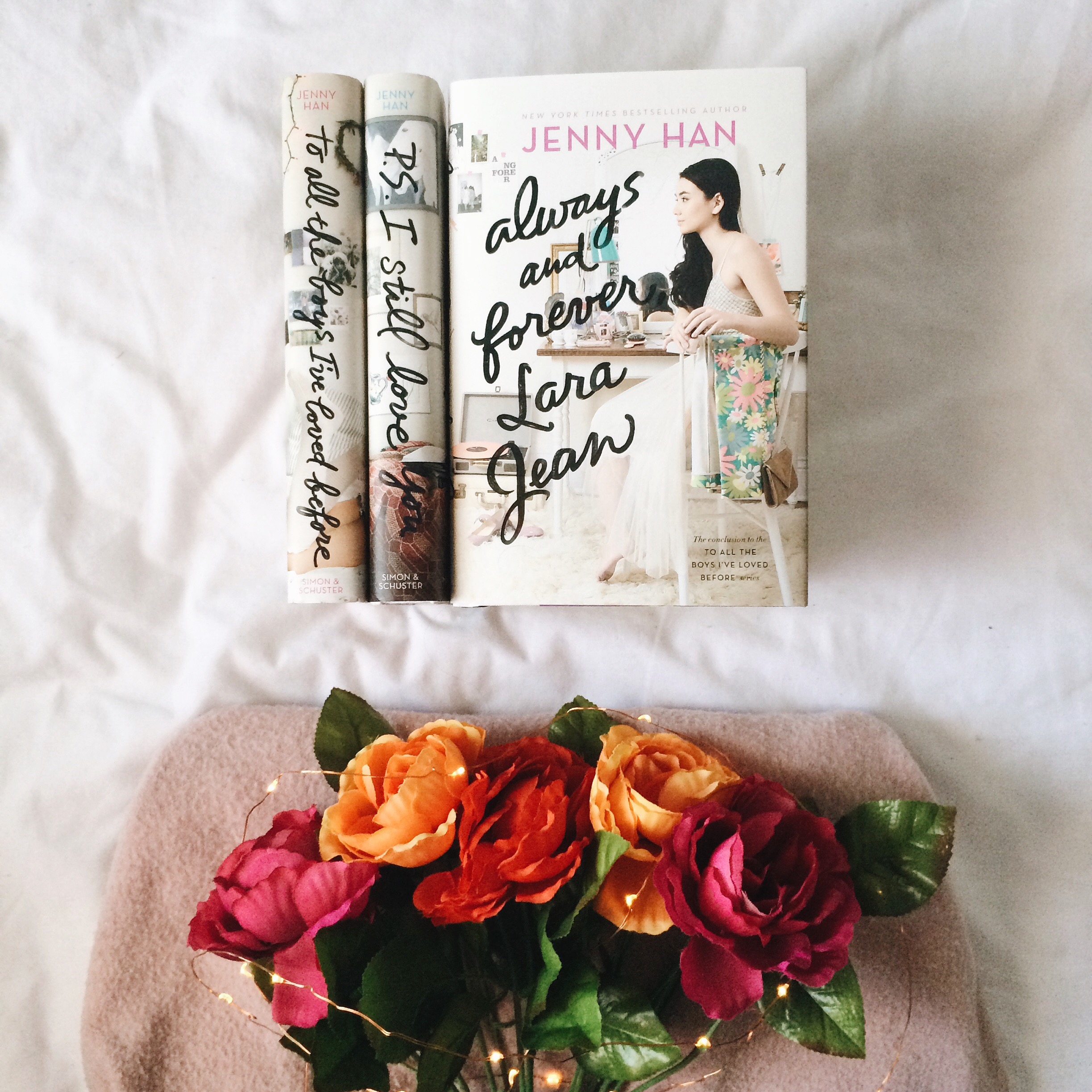 "One day all of this will be proof, proof that we were here, proof that we loved each other. It's the guarantee that no matter what happens to us in the future, this time was ours."
When I first heard Jenny Han was writing another Lara Jean book, I was SO unbelievably happy!!! It was great as a duology, so I was not expecting to hear that we were getting one last hurrah with the Song girls and of course, Peter K. At first, I was a little hesitant  because I was scared something bad would happen between Lara Jean & Peter, but Lara Jean's stories are just so close to my heart that my excitement surpassed my hesitations by a mile. That being said, I delayed reading it for as long as possible! I reeaaallly wasn't ready to say goodbye. But I finally read the conclusion to Lara Jean's story and wow, what a bittersweet ending it was.
Always and Forever, Lara Jean was such a delightful read from start to finish. It's definitely my favourite out of the 3!! It filled my heart with so much joy that I just couldn't stop smiling sometimes. One thing I really liked about this book, aside from Lara Jean and Peter K's adorableness, was Lara Jean's character development. In the first book, she was a bit childish and didn't really know how to be independent without her sister, Margot, but I found her more sure of herself and less dependent in this one. It was like our little Lara Jean was growing up. :') I really enjoyed seeing her find herself and who she is apart from her relationship with Peter.
"Being vulnerable, letting people in, getting hurt . . . it's all a part of being in love."
Even though it was supposed to be a duology, no words can describe how happy I am Jenny Han changed her mind and wrote this wonderful story as a last hurrah for us fans. It was such a great and lovely conclusion to Lara Jean's stories. I may have cried a few times just because of how damn adorable Peter K and Lara Jean are. They were just sososo cute and sweet in this one that I couldn't stop smiling and hugging my book because THEY WERE JUST THAT CUTE. 😭 Also, can we talk about Peter's yearbook message to Lara Jean??!! I DIED AT THAT PART. You can tell how much I fangirled over them from my Goodreads updates haha 😍

Side note: I also learned that I've been mispronouncing her name this entire time!!! I've always pronounced it as Laura, but apparently it's Lar-uh as in it rhymes with car. My mind was blown.
Anyway, I would just like to say how much I loved the ending. Even if it did make me cry, it left me happy and full of love and nostalgia. When I read those last words, I immediately wanted to reread the whole trilogy again because I was in denial of it being over for real this time. I cried for the ending of my favourite characters and the fact that this was our last goodbye. I could read about Lara Jean and her family and Peter forever, but I'm really satisfied with the way Jenny ended it. Although, if by any chance in the future Jenny would write another one, I definitely wouldn't say no. 😉
I will always be thankful to Jenny Han for writing about Lara Jean and her wonderful world. I'm so sad to say goodbye, but like the saying says, all good things must come to an end. Thank you Jenny Han for a trilogy that I will treasure forever. 💕
Have you guys read Always & Forever, Lara Jean? What did you guys think of it and the wrap on this wonderful trilogy?