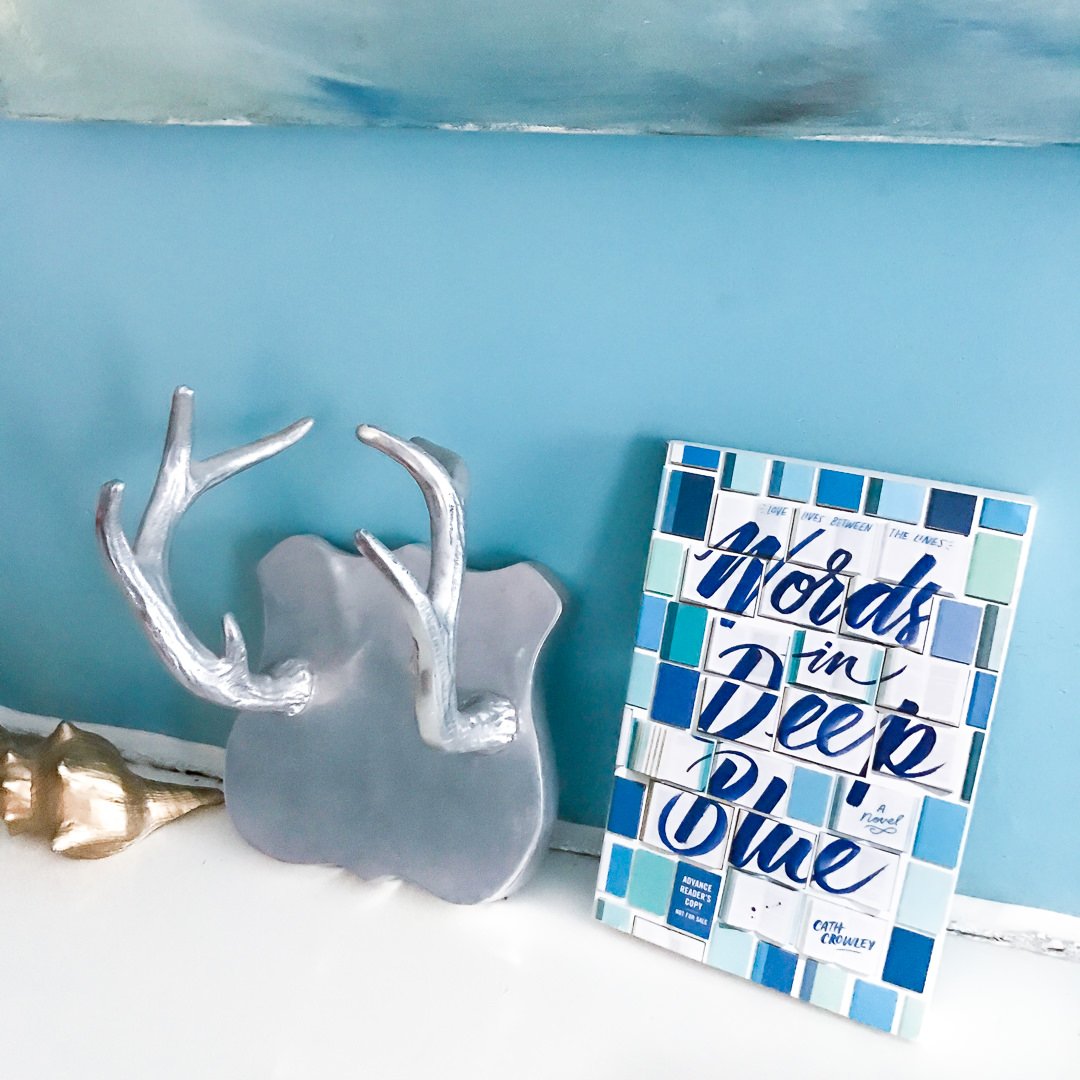 Words In Deep Blue by Cath Crowley
Letter left between pp. 190 and 191 (US Advance Reader's Copy)
June 6, 2017
Marking found on p. 191

"Sometimes science isn't enough. Sometimes you need the poets," he says, and it's in this moment, this exact moment, that I fall in love with him again.
Dear Cath Crowley,
You've been my favorite ever since reading Graffiti Moon and A Little Wanting Song. I found both books lovely and funny and it's rare for books to be those two things at the same time but your writing makes it seem so effortless, and I can only hope every book I come across in the future are as special as the books you've written.
Marking found on p. 237

I love books in a way that's beyond logic and reason. That's just how it is. I love them the way those people in the Letter Library love them. It's not enough to read, I want to talk through the pages to get to the other side, to get to the person who read them before me. I want to spend my life hunting them, reading them, selling them. I want to serve customers and put the right book in their hands… I want it all. And I want it to go on forever. And if it can't, then I want it right up to the very last second. And I want a girl who wants me the same way. Dust and all.
I must admit, though I love all your books with equal immensity, my love for Words In Deep Blue is quite unique. In this one, I fell in love with your words about words and fell in love with your book about books. As a passionate reader, I can't help love reading about characters who love reading. But the way you write about the way words affect us readers felt so incredibly genuine and I was just in awe of the way you expressed a reader's love for books through this novel of yours. I loved your literary references and (as someone who's a fan of active reading) loved the idea of writing in books. In fact, I wrote on Words In Deep Blue a lot, underlining my favorite passages, drawing hearts whenever the romance in your book made me swoon and marking the scenes where your characters made me laugh.
Marking found on p. 158

Surely she can't be even a little bit in love with Greg now. What is there to be a little bit in love with? … Love's insane. But surely it's not fucking insane.
There was an unbelievable amount of swooning and laughing on my part, actually. Now that I think about it, the amount of swooning and laughing may be quite believable, considering I read a Cath Crowley book. How do you do it though? How do you write such amazing banter? How is it possible that dialogue between characters can be so witty and amusing in one moment then so tender and touching in another? You never fail to amaze me with the way you inject the perfect amounts of humor and love in your books and in Words In Deep Blue especially.
Marking found on p. 174 

"I love lying here with you, under the books," he says. And then we fall asleep.
It was also breathtaking to read about your characters, whose voices jump right off the pages from the very start. I know Rachel and Henry are fictional characters but their thoughts and emotions feel so real, so alive. I also adore your supporting characters very much! In fact, I would happily read a novella or companion book about George and Martin. Just saying. Speaking of George, I loved the sibling relationship between her and Henry. It was very confusing wanting an older brother like Henry and also wanting a romantic interest like Henry. Obviously, I am quite fond of him, even when he was wallowing in misery for the wrong girl.
Marking found on p. 84

There should be a disconnect button you can push when someone leaves: you've fucked me over; therefore I no longer love you. I'm not asking for the button to be connected to an ejector seat that removes them from the universe, just one small button that removes them from your heart.
What made me most emotional though was reading about Rachel's grief after losing her brother Cal. Although I'm no swimmer, I related to Rachel's love for the ocean and her struggle with knowing that what she loved took a beloved from her. I lost a very good friend of mine to the sea, and though it's been a few years, there's still an ache in my heart when I think about how young she was and when I think about what her future could've looked like. But the way you wrote about Rachel's loss and how she came to terms with Cal's death eases the ache. Like you said, it's life that's important.
Marking found on p. 258

We are the books we read and the things we love. Cal is the ocean and the letters he left. Our ghosts hide in the things we leave behind.
Your stunning story has moved me so much and all I want is to grow up and write like you. You're one of my YA heroes and I hope I can meet you one day and tell you in person how beautiful your words are.
Thank you for this extraordinary book. Thank you for inspiring me to start my own letter library, to believe in the power of words, and to treasure life.
From the bottom of my bookish heart,
Hazel
PS: Encouraged by Howling Books' Letter Library, I want to share the pages of my favorite books and what I've circled or underlined on them. I want to share the notes I've written in the margins and leave letters for people to read. Although there's an existing virtual Letter Library based on Words In Deep Blue, I'm making my own version here at Stay Bookish and starting a recurring series where I share my letters and markings for books I've read that are very special to me.
Have you added Words In Deep Blue to your TBR? What is your favorite Cath Crowley book?