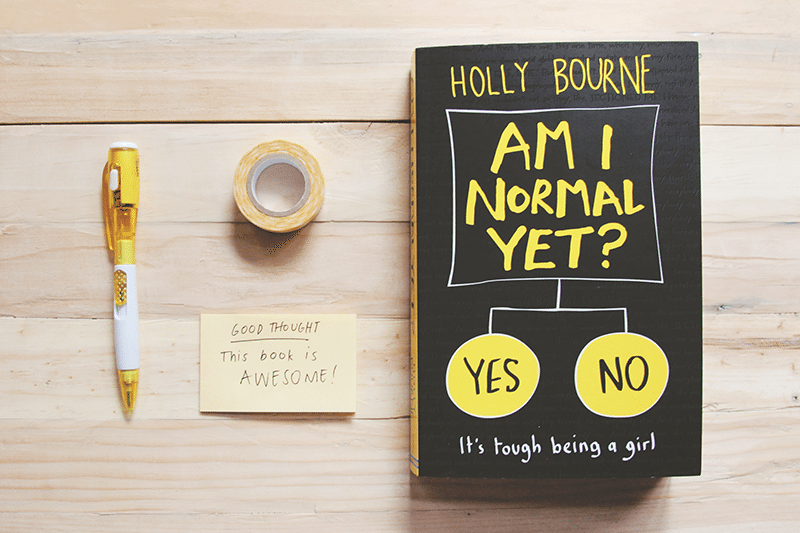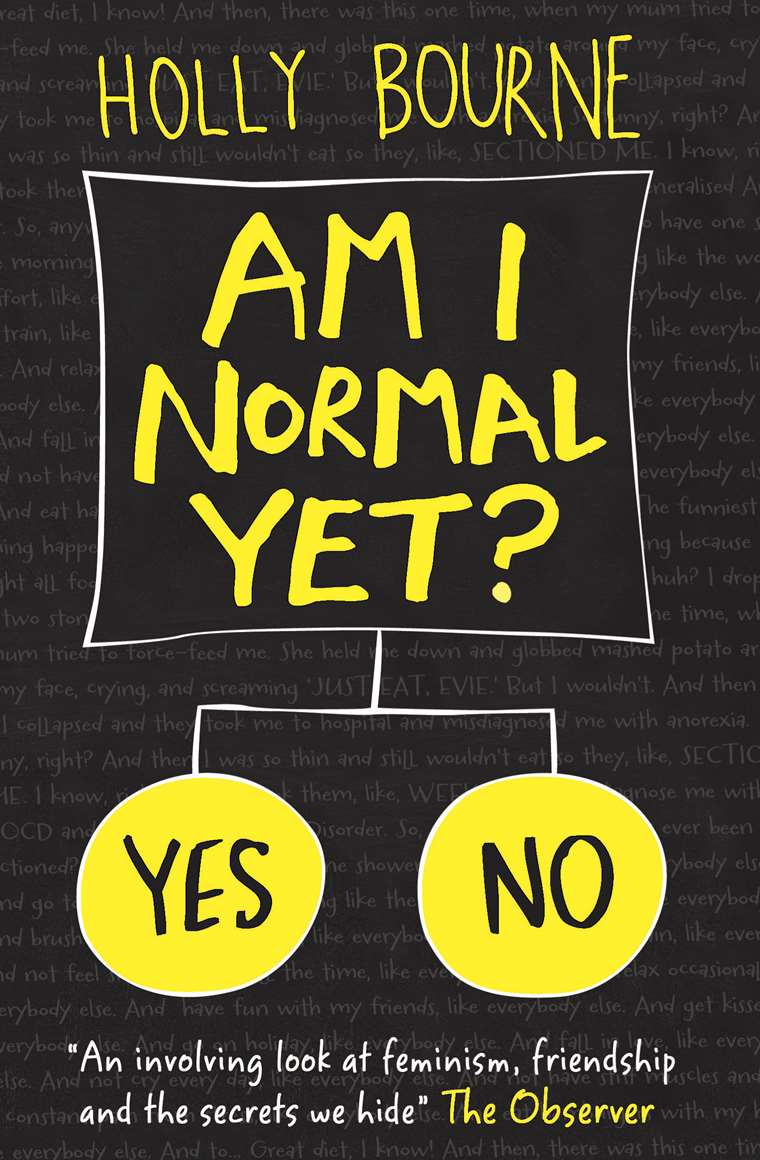 Am I Normal Yet?

by Holly Bourne

Book #1, The Normal Series

Published by Usborne on August 1st 2015

Finished copy from Publisher

434 pages

Purchase on

Amazon

・

Fully Booked
Synopsis
All Evie wants is to be normal. She's almost off her meds and at a new college where no one knows her as the girl-who-went-crazy. She's even going to parties and making friends. There's only one thing left to tick off her list…

But relationships are messy – especially relationships with teenage guys. They can make any girl feel like they're going mad. And if Evie can't even tell her new friends Amber and Lottie the truth about herself, how will she cope when she falls in love?
It isn't my first time to read a Holly Bourne book and Am I Normal Yet? definitely won't be the last. Holly Bourne keeps it real with her books and her characters and it's truly admirable how she executes these honest stories that shed light into these interesting perspectives about humanity. With the first book in Bourne's girl power trilogy, we're introduced to the fabulous Spinster Club and to Evie's story.
"Being a spinster means you're not afraid to look at society and say loudly, 'I don't agree with this, this is wrong.'"
Evie craves for normalcy. Suffering from OCD and anxiety, it's understandable why she wants to do normal girl things- go to college, make friends, have fun at parties, and maybe even find a boyfriend. Normal or not, life just isn't easy and people are complicated and Evie's story evoked that so well. We see her struggle with her mental illness and being in Evie's mind space truly helped me understand OCD better or how someone with anxiety grapples through everyday challenges.
"Suddenly, after fighting for so long, your brain gives up and erodes in on you, spiralling your thoughts into monsters who seize the city and tell you nothing is going to be okay ever again. That this is your new life now. Fear, and pain, and confusion."
I also really liked how the book included Evie's recovery diary entries, good vs bad thoughts notes, worry outcome surveys and action plans. They're great additions that further allow the reader to connect to Evie's thought processes. I haven't read as many mental health stories as I'd like but I think Am I Normal Yet?'s portrayal was one of the most eye-opening and realistic I've come across. Still, even if you've never experienced anxiety or OCD, you can still relate to Evie and the rest of the characters.
"Solidarity. That's what girls need more of. Solidarity."
Another thing I loved about the story is the friendship Evie finds with Amber and Lottie. Together these three make up the Spinster club- a feminist group that values female friendships and is all about being yourself. I love how the bond and support between these girls were so much more important than the boy drama. Am I Normal Yet? could not be further from a romance and I was more than happy with that. Instead, it's about loving yourself and being honest and open to the people who love you. No doubt after reading this, you'll be pump your fist and cheer for feminism and announce yourself a Spinster through and through.
"Everyone's on the cliff edge of normal. Everyone finds life an utter nightmare sometimes, and there's no normal way of dealing with it. There is no normal. There's only what's normal to you."
Am I Normal Yet? was a powerful read. There were moments that made me laugh way loud and made me punch-the-wall angry and just achingly sad but at the very heart of it all was a memorable story of the truth about normal, the value of family and friendship and the importance of holding on to the good thoughts even through the bad days.