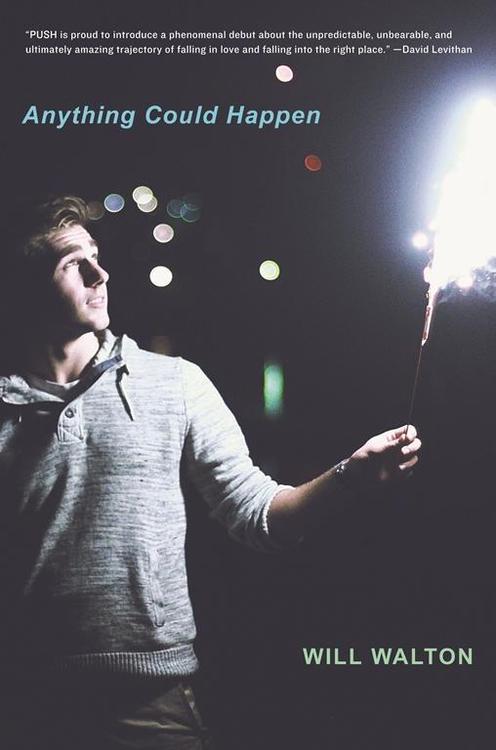 Anything Could Happen

by Will Walton

Published by Push on May 26th 2015

ARC from Publisher

282 pages

Purchase on

Amazon

・

Fully Booked
Synopsis
When you're in love with the wrong person for the right reasons, anything could happen.

Tretch lives in a very small town where everybody's in everybody else's business. Which makes it hard for him to be in love with his straight best friend. For his part, Matt is completely oblivious to the way Tretch feels – and Tretch can't tell whether that makes it better or worse.

The problem with living a lie is that the lie can slowly become your life. For Tretch, the problem isn't just with Matt. His family has no idea who he really is and what he's really thinking. The girl at the local bookstore has no clue how off-base her crush on him is. And the guy at school who's a thorn in Tretch's side doesn't realize how close to the truth he's hitting.

Tretch has spent a lot of time dancing alone in his room, but now he's got to step outside his comfort zone and into the wider world. Because like love, a true self can rarely be contained.

ANYTHING COULD HAPPEN is a poignant, hard-hitting exploration of love and friendship, a provocative debut that shows that sometimes we have to let things fall apart before we can make them whole again.
If the title of this book reminded you of that Ellie Goulding song you heard multiple times on the radio (or if you're like me and love her music, put on your fave playlist that's forever on repeat), let me confirm your thoughts. The song Anything Could Happen actually does play a role in the book. Which I found awesome. In fact, there are several awesome things that me fall for this debut!
"I let go of his hand. The rest of me held on."
Tretch Farm struggles with being in love with his straight best friend, Matt, and on top of that, the weight of keeping his true self from others. Yes, this is a coming out story but it's also about Tretch seeing said bestfriend like somebody else, realizing that the girl at the bookstore has crush on him, dealing with a school bully and finding out some sad family news over Christmas. All this and much more occurs through winter break in the small town Tretch lives in- and with this series of events, it did feel like anything could happen, you know?
"There's sickness, and there's sadness. But the thing is, there's love, too. I try never to forget that."
Anything Could Happen falls on the younger side of YA and while I tend to not read many of those, I loved reading this one because it was done so well. I found Tretch to be such a compelling character- he was so charming and his interactions with his family and the people around him just confirms his kind, sweet soul. Moreover, his voice was just so refreshing and authentic. It speaks to a reader's heart- the young, old, and especially those who've experienced unrequited love or the frustration of figuring out who you are and who you want to be.
"What you do after a goodbye- that's like the punctuation at the end of it all, and it can be either a period or a question mark."
I know not everyone's a fan of pop culture references but I think the ones in this book made the story very modern contemporary and relatable to its young audience. I have to admit I adored Tretch more for being a huge Taylor Swift fan! I mean how can you not love a boy who dances to 'I Knew You Were Trouble' and makes up dance moves for pop songs? I just loved this particularly cute quirk of Tretch!
The Farm family dynamics were also wonderful. I really loved Tretch's close bond with his brother and parents. It was so touching! And his friendship with Matt? So realistic and honest. You'd expect the mood to be sort of angsty but it surprisingly isn't. I love how the book is positive even when things aren't going easy. Reading this one was like listening to that song that never fails to make you smile wistfully.
"You'll find that to live is to gather the good things."
I truly believe Anything Could Happen is an inspiring, heart-warming coming-of-age story. Tretch's experiences and discoveries about himself and just life in general is brimming with hope of good things to come. I'm watching out for more from Will Walton for sure!