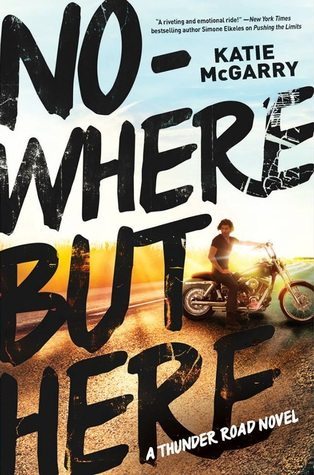 Nowhere But Here

by Katie McGarry

Book #1, Thunder Road

Published by Harlequin Teen on May 26th 2015

ARC from Publisher

496 pages

Purchase on

Amazon

・

Fully Booked
Synopsis
An unforgettable new series from acclaimed author Katie McGarry about taking risks, opening your heart and ending up in a place you never imagined possible.

Seventeen-year-old Emily likes her life the way it is: doting parents, good friends, good school in a safe neighborhood. Sure, she's curious about her biological father—the one who chose life in a motorcycle club, the Reign of Terror, over being a parent—but that doesn't mean she wants to be a part of his world. But when a reluctant visit turns to an extended summer vacation among relatives she never knew she had, one thing becomes clear: nothing is what it seems. Not the club, not her secret-keeping father and not Oz, a guy with suck-me-in blue eyes who can help her understand them both.

Oz wants one thing: to join the Reign of Terror. They're the good guys. They protect people. They're…family. And while Emily—the gorgeous and sheltered daughter of the club's most respected member—is in town, he's gonna prove it to her. So when her father asks him to keep her safe from a rival club with a score to settle, Oz knows it's his shot at his dream. What he doesn't count on is that Emily just might turn that dream upside down.

No one wants them to be together. But sometimes the right person is the one you least expect, and the road you fear the most is the one that leads you home.
When it comes to Katie McGarry books, I just can't get enough. This much is true. Maybe it's how she keeps coming up with one sexy bad boy after another or maybe it's because the romance in her books never fails to get my heart pumping. It's for the same reasons that I totally enjoyed Nowhere But Here for sure.
"I will her to look away, but she doesn't and I'm secretly proud the girl won't back down. I hate this connection. I crave this connection."
Another thing with Katie McGarry books? There's always a dangerous edge to it. This time we've got a motorcycle club. Our heroine, Emily, having thought that her biological father, the club's most-respected member, abandoned her as a child, never acknowledged them as family. On the other hand, Oz, has always considered the club, Reign of Terror, his family and cannot wait to join them. Unfortunately for him, his first task to prove that he's worthy of becoming an official member is to protect a very reluctant and distant Emily, who hadn't expected her supposed quick visit will become an extended stay that will change the truth she's always known and allow her to get to know the bad boy with the good heart. Oz's dream may be compromised by the fact that he and Emily can't help but be magnetized towards each other.
"The club has never been a herd… At it's heart, it's about the individual's search for freedom."
Now if you think a book about a motorcycle club isn't for you, I urge you to think again. For me, the concept of The Reign of Terror- the familial way it treats its members and even its suspenseful rivalry with another club- was one of the things that hooked me in. Sure, I've read about gangs before but this club maintains a kinship that was totally respectful and breaks the typical notion of unreasonably violent bikers. The members of The Reign of Terror had rules and traditions aside from living a wild exciting life. It was fun to read about and made for a unique story!
"This is your family … If you learn to love us then you will forever have our love in return."
I need to mention how much I grew to really like the characters. At first I honestly thought that the only thing they had going for them was how strong their chemistry was (which really was remarkable and totally sizzled) as well as how supposedly gorgeous they both are (yeah that's great and all but there's a point that you roll your eyes to the heavens) but I was proved wrong. As the plot moved forward and shit happened, their characters became more realized and we see Emily and Oz for who they are, fears and all, and also who they're becoming as their characters, especially their relationships (most of all Emily with her biological father and his family), flourish. Both characters felt genuine and that made me swoon even more for the romance.
"The world is made of multiple pieces. All of them alongside each other, sometimes never touching. Coexisting, yet not. How many of us live our entire lives in a single bubble? Maneuvering in what we believe is a forward direction  when it's only in a circle among the same type of people… Maybe the world isn't so black and white. Maybe there's room for shades of gray."
Overall, Nowhere But Here was one hell of a ride. Fans of Katie's Pushing The Limits series will no doubt enjoy the first of her most recent Thunder Road series and will be craving for more. I know I am. So looking forward to the next books!