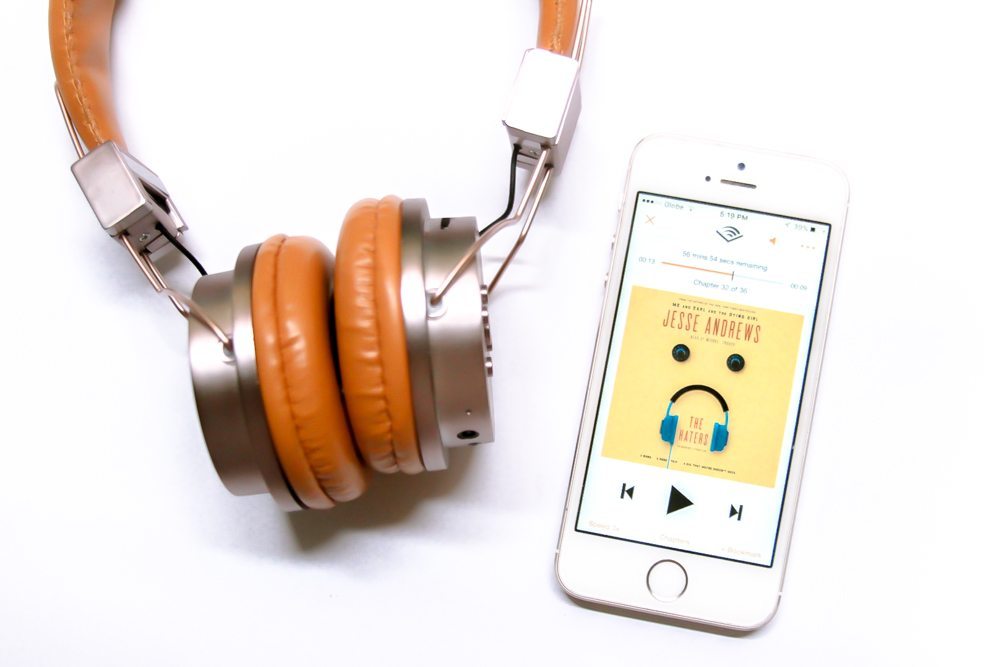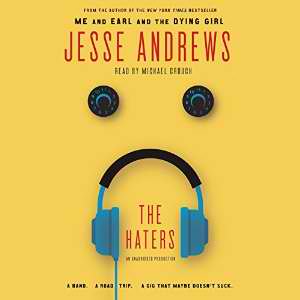 The Haters

by Jesse Andrews

Published by Listening Library on April 5th 2016

Audiobook from Audible

Purchase on

Amazon

・

Fully Booked
Synopsis
From Jesse Andrews, author of the "New York Times" bestselling "Me and Earl and the Dying Girl" and screenwriter of the Sundance award-winning motion picture of the same name, comes a groundbreaking young adult novel about music, love, friendship, and freedom as three young musicians follow a quest to escape the law long enough to play the amazing show they hope (but also doubt) they have in them. Inspired by the years he spent playing bass in a band himself, "The Haters" is Jesse Andrews s road trip adventure about a trio of jazz camp escapees who, against every realistic expectation, become a band.

For Wes and his best friend, Corey, jazz camp turns out to be lame. It's pretty much all dudes talking in Jazz Voice. But then they jam with Ash, a charismatic girl with an unusual sound, and the three just click. It's three and a half hours of pure musical magic, and Ash makes a decision: They need to hit the road. Because the road, not summer camp, is where bands get good. Before Wes and Corey know it, they're in Ash's SUV heading south, and The Haters Summer of Hate Tour has begun.

In his second novel, Andrews again brings his brilliant and distinctive voice to YA, in the perfect book for music lovers, fans of "The Commitments" and "High Fidelity," or anyone who has ever loved and hated a song or a band. This witty, funny coming-of-age novel is contemporary fiction at its best."
Although I've never read Jesse Andrews's Me, Earl and the Dying Girl, having attended a panel of his at an event before and having adored the adaptation of his novel, I felt like he was a writer with a sense of humor and a writing style that I could enjoy. Knowing that his latest book had a band/music aspect, I was psyched to start listening to the audio version of The Haters.
However, as much as I enjoyed Michael Crouch's narration of the story and liked the general idea of The Haters, I found myself feeling at odds about it.
The Haters is… funny but crude
Jesse Andrews speaks boy humor very well. He really does. And at first, I did find myself snorting and haha-ing as I realized that the narrator Wes was pretty witty. Unfortunately, this didn't last very long. A girl can only take a handful of dick jokes in one novel and pretty soon it just gets old and gross. Fans of sexual gags might find a hilarious novel in The Haters, but for those who aren't, let this be a warning flag.
Another funny aspect is the irony of a band coming together because of how much they hate bands. Music lovers will easily recognize the contemporary band references listed in the book that Wes and his best friend hate on. Their quirky habit of hating on bands is what solidifies their friendship. This pretty much makes up the music facet of the book, alongside jazz camp and going on a band tour. Admittedly, I was hoping for more–to read about making music in a vivid way that makes me want to jump inside the pages just to listen to it–so I was kind of let down.
It's realistic but ridiculous
On a positive note, Wes and Corey read like genuine teenage guys with their respective voices. They had distinguishing personalities and contrasting backgrounds, not to mention a peculiar friendship dynamic. They were regular boys, kind of immature, especially with their inexplicable talent of coming up with too many dick jokes. I wish I could say the same for Ash, the girl they meet at camp, who manages to captivate Wes. I wasn't all that fond of her character but I appreciated that she wasn't a certain trope (although some might argue she gives off a Manic Pixie Dream Girl vibe), just kind of angry and sad, as most young adults sometimes are.
Unfortunately, these three together in an SUV on the highway is a recipe for disaster. I was soooo excited for the road trip part of the book. On that same note, I was soooo disappointed. The trio get themselves into a lot of stupid situations and that's okay because that happens but I just didn't understand the point of the plot at all. Although I liked that Wes, Corey and Ash had to face the repercussions of the crap they got into, the character development just felt inadequate for me to agree with the book's coming-of-age label.
It's compelling but futile
All this said, I do admire the way The Haters had quite an interesting narrative. Despite all my qualms, I kept listening to the audiobook. The plot, ridiculous as it was, moved at an engaging pace. I just wish the ending wasn't done so hastily. Instead of a momentous conclusion, the last few minutes of the book felt offbeat, lacking the voice that hooked me initially.
I guess I had certain expectations for The Haters, mostly to laugh out loud and be moved. While on some small degree those may have been met with a few good scenes/lines, on a larger scale, I wasn't all that impressed or over the moon.
Have you read The Haters? Or Jesse Andrews' debut novel for that matter? Are you a fan of books with music and bands?