Synopsis
The year is 2380, and the graduating cadets of Aurora Academy are being assigned their first missions. Star pupil Tyler Jones is ready to recruit the squad of his dreams, but his own boneheaded heroism sees him stuck with the dregs nobody else in the Academy would touch…

A cocky diplomat with a black belt in sarcasm
A sociopath scientist with a fondness for shooting her bunkmates
A smart-ass techwiz with the galaxy's biggest chip on his shoulder
An alien warrior with anger management issues
A tomboy pilot who's totally not into him, in case you were wondering

And Ty's squad isn't even his biggest problem—that'd be Aurora Jie-Lin O'Malley, the girl he's just rescued from interdimensional space. Trapped in cryo-sleep for two centuries, Auri is a girl out of time and out of her depth. But she could be the catalyst that starts a war millions of years in the making, and Tyler's squad of losers, discipline-cases and misfits might just be the last hope for the entire galaxy.

Nobody panic.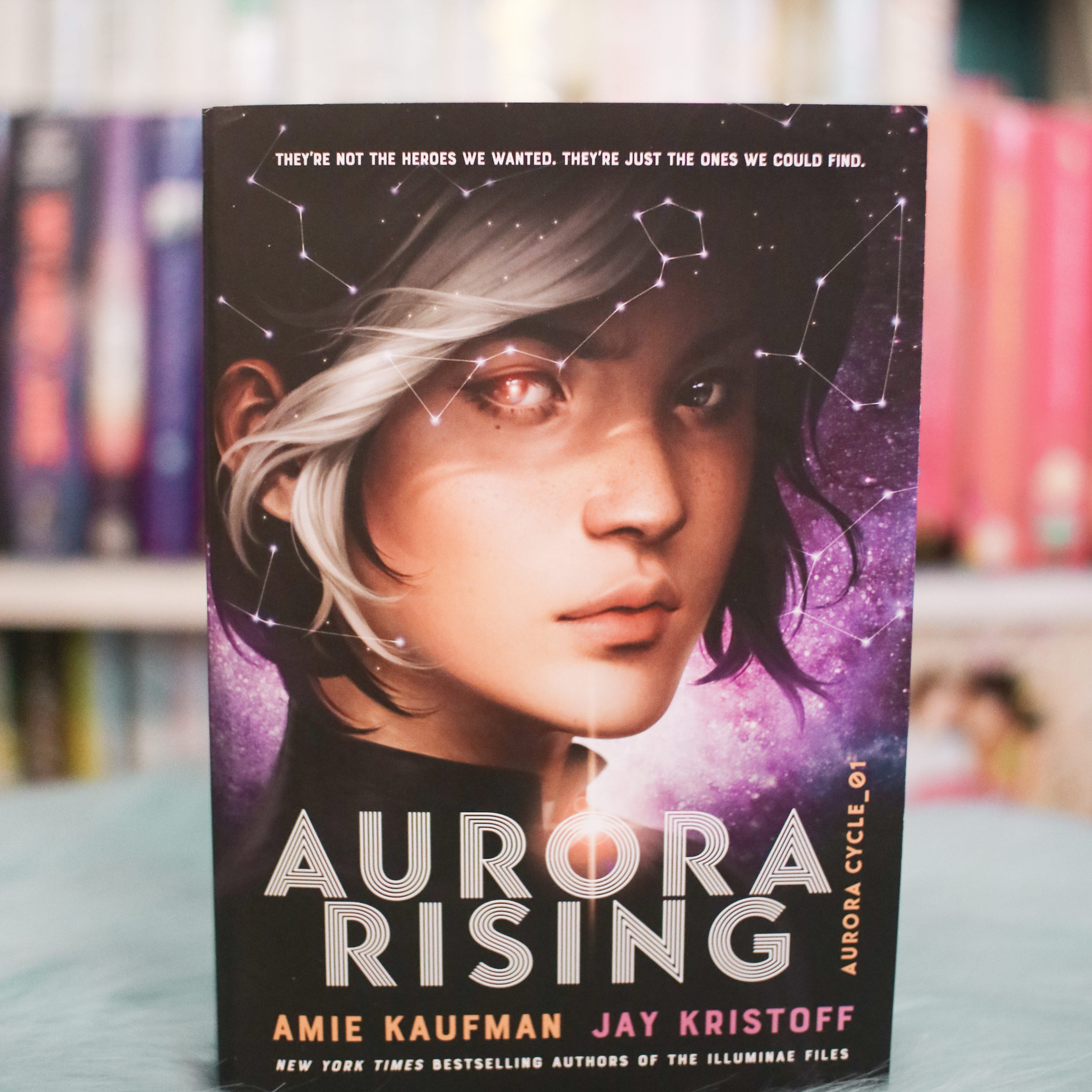 It's official: I will read anything set in space if it's written by Kaufman & Kristoff. After how much I loved their Illuminae Files series, I wondered if Aurora Rising would manage to be just as thrilling and enjoyable, especially since it's mostly written in typical novel prose (with scattered informative notes) compared to the entirely dossier-styled writing in the authors' earlier series. But despite not having the cool format I'd grown to love, Aurora Rising proved to be just as fun and compelling.
"We the Legion," he says. "We the light," Scarlett replies. "Burning bright against the night," we say in unison."
As expected from the authors, the voice in their newest book shines and indulges us with many witticisms. From a uniglass with an attitude to a sassy gearhead to a pair of hot-and-they-know-it twins, Aurora Rising is easily another entertaining sci-fi series readers will happily follow through the Milky Way. Squad 312 may be made up of misfits and discipline cases, but they're all so charming in their own way.
Aurora Legion's Squad of Misfits
"Almost every particle in the universe was once part of a star," she says softly. "Every atom in your body. The metal in your chair, the oxygen in your lungs, the carbon in your bones. All those atoms were forged in a cosmic furnace over a million kilometers wide, billions of light-years from here. The confluence of events that led to this moment are so remote as to be almost impossible." She puts her hand on my shoulder. Her touch is awkward, as if she doesn't quite know how to do it. But she squeezes gently. "Our very existence is a miracle."
Firstly, there's Tyler, the Alpha leader with heroic tendencies and surprisingly, a lot of faith in unexplainable things. I usually love me a Goldenboy like him especially when they come with lady-killer dimples like Tyler does but I have to admit I was more enamored with Finian and his smart-ass quips as well as Kal the stoic, hawt space elf with anger management issues. What I really liked about the Aurora Rising male protagonists, most of all Fin, though is their queerness. Fin, in particular, keeps on expressing attraction to both Jones twins and I just couldn't help but agree with him so much. There's also a scene with Tyler and Kal that was so particularly amusing I honestly wanted to ship them.
"The only places I fit are the places inside my head," she continues. "It is as you said, sir. I do not understand people." She looks around the bridge. "But I believe of all the places I have not fit, I fit here a little better."
I think many readers will find the female characters relatable in different ways. There's Cat, the tomboy Ace pilot, who's pining over Tyler, her best friend since childhood. There's Auri, who rightfully feels completely out of place, having lost the life she knew and her family after being in cryo for 200 years. Personally, I felt like I was on the same wavelength as Zila, who spoke little and didn't get people. I also really admired Scarlett's character. Even though she was the "Face" and the cool popular girl, she felt like the caring older sister.
"She might never miss an opportunity to give me a hard time, but I know my sister would follow me to the edge of the galaxy if I asked. If blood is thicker than water, Scar and I are practically concrete."
Of course, there were hints of blossoming romances and I'm so so excited to see my ships get closer in next books. But most of all, I really enjoyed the squad dynamics: mainly the Jones Twins' bond and both Fin and Zila warming up to the group when they've always felt like they were on the outside.
"Do moons choose the planets they orbit? Do planets choose their stars? Who am I to deny gravity? When you shine brighter than any constellation in the sky?"
Aside from growing invested with these awesome characters' story arcs, Kaufman & Kristoff excels in building their story's galaxy with unique planets. Meanwhile, the plot with Auri and her mysterious circumstances keeps you wondering and gives interesting enough threads that leave you knowing there is much more to unravel while also providing lots of action as well as a heist for an ancient artifact.
Overall, Aurora Rising is a wonderful start to an exciting new series. Fans of Kaufman & Kristoff's Illuminae Files are in for another epic intergalactic adventure.
Quotables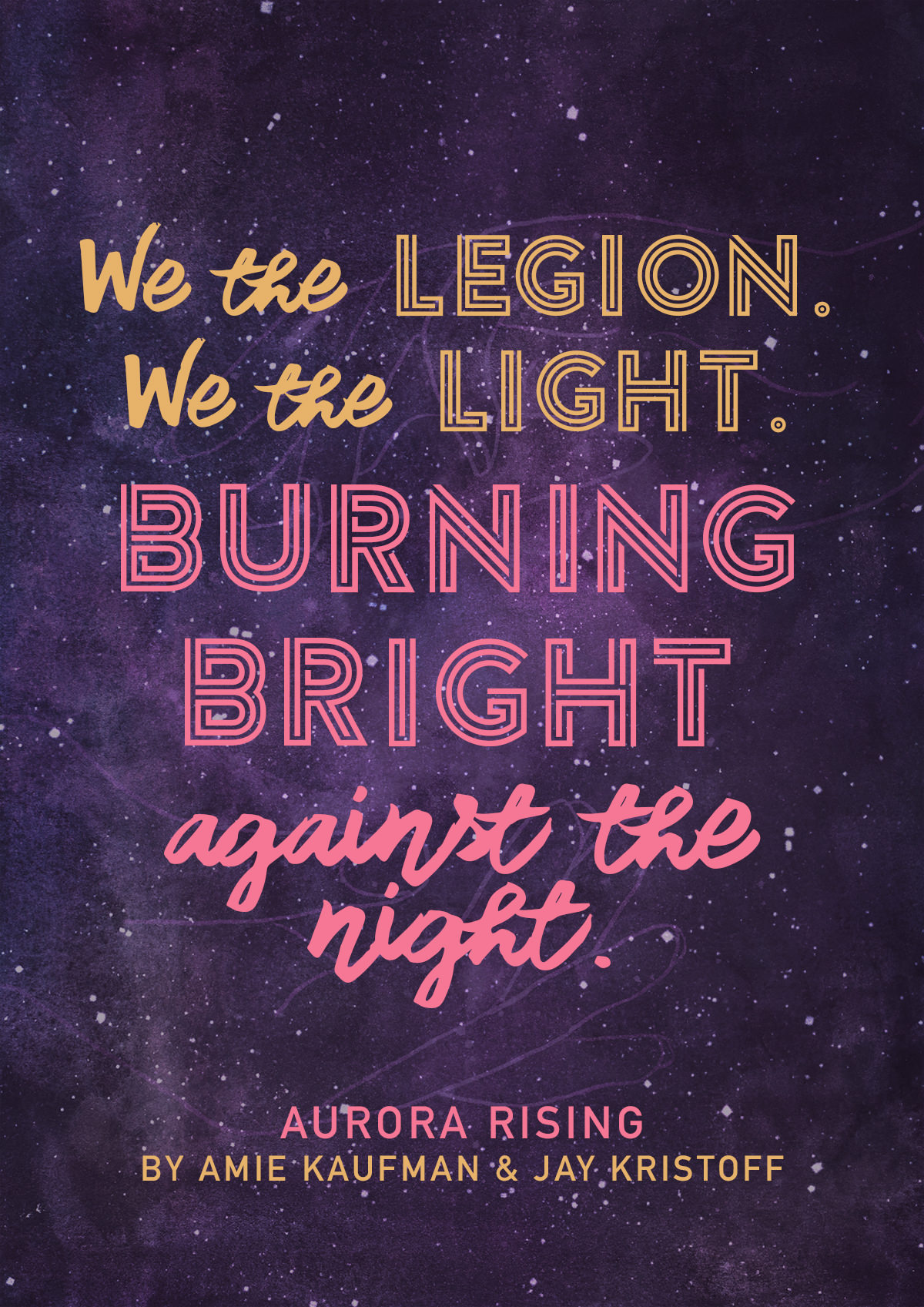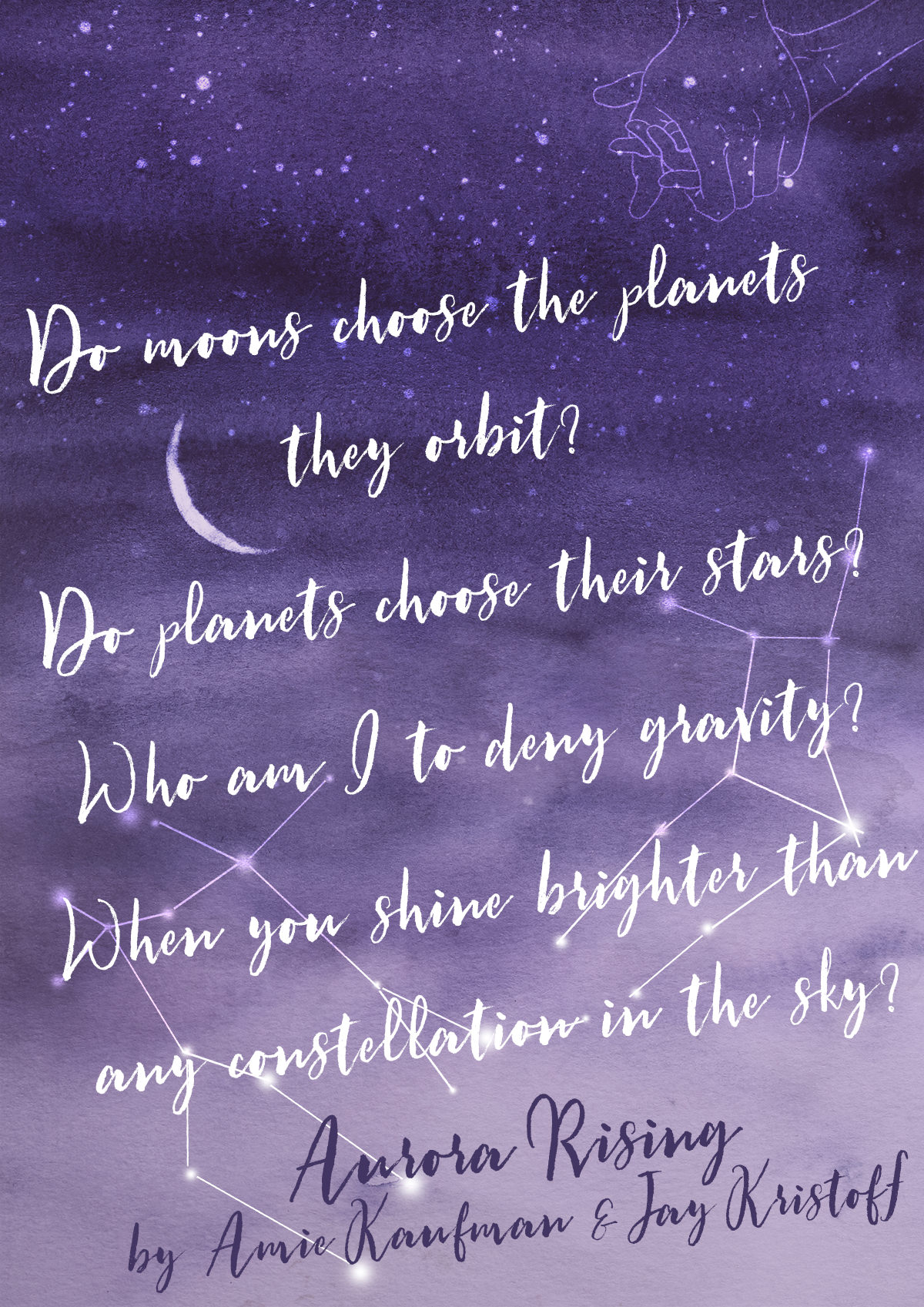 Is Aurora Rising on your TBR?