I'm happy to announce that for a second time this year, I'm going to be on a panel about book blogging! At Book Expo America 2015, I was one of the speakers for a panel about designing book blogs and it was such an unforgettable experience. I'm so glad I get to do a local event this time and talk about anything and everything book blog related!
Join me, Kai of Amaterasu Reads, Jesselle of The Lifelong Bookworm and Kate of The Bookaholic Blurbs for a talk about Book Blogging 101 on November 28, 2015 at Fully Booked ATC, courtesy of Southville International School and Colleges.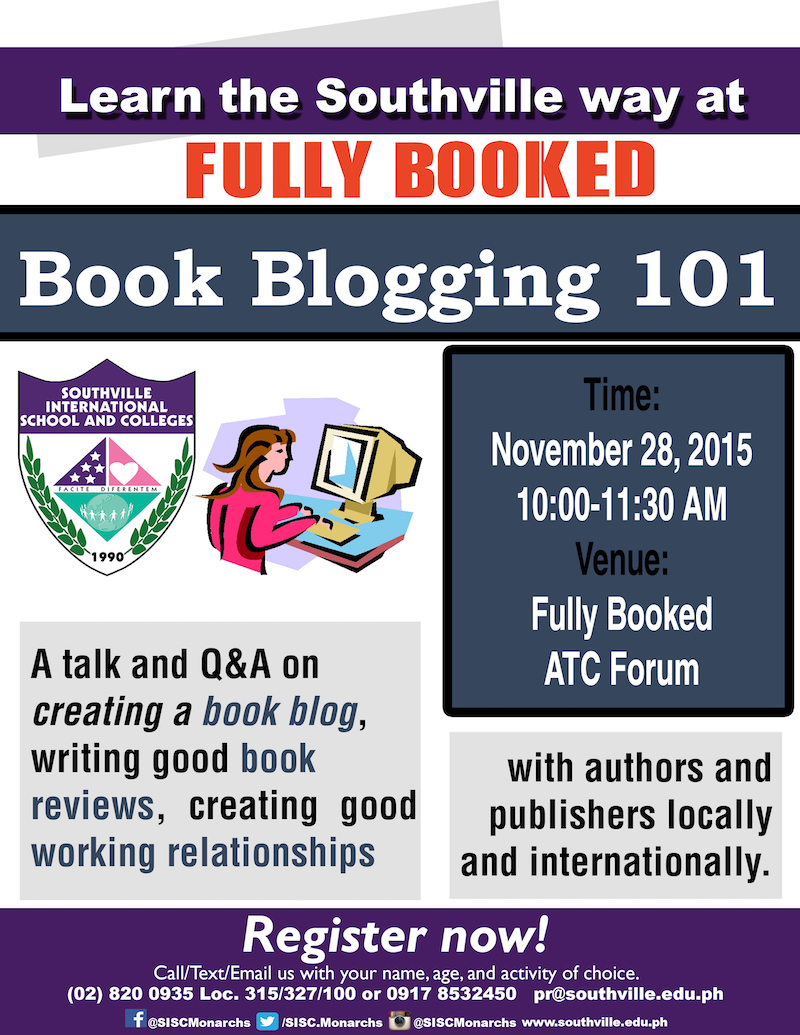 All four of us have been blogging for several years and we want to share our experiences and knowledge with you so you can rock your book blog! If you aren't convinced, let me list down a few reasons why you should attend the event!
You want to create a book blog – You've been lurking around the book blogging community and you've finally realized you want in. YAY you! We'll help you kickstart an awesome one with some tips!
You want to write great content – Do your reviews or posts need some oomph? We can teach you ways for your content shine!
You have some questions about book blogging – Wondering how to design your book blog or how to connect with publishers? We'll answer whatever it is you're curious about.
You want to meet book bloggers – I don't know about you butI want to meet every single one of my readers and fellow book bloggers. This would be a fun event to connect and get to know each other!
You live around the area – Seriously, what have you got to lose? You can visit Fully Booked's lovely ATC branch and learn stuff about book blogging!
You like to join free public events – THIS TALK IS 100% FREE! You won't be required to pay a single cent, promise. Also, this is open to everyone, not just SISC students. As long as you're interested in books and blogging, you're more than welcome to join.
I really hope to see you guys there! For additional info on the event, you can read Jesselle's post on the SISC blog or visit Fully Booked's website.
Will you be there? Have any questions? Let me know in the comments!