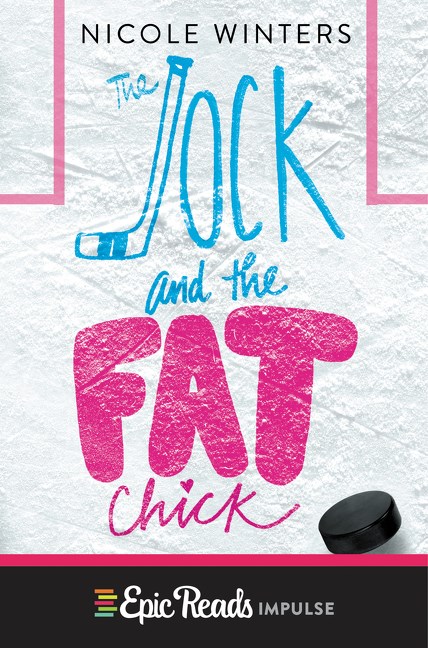 The Jock and the Fat Chick

by Nicole Winters

Published by Epic Reads Impulse on October 13th 2015

ARC from Publisher

250 pages

Purchase on

Amazon
Synopsis
No one ever said high school was easy. In this hilarious and heartwarming debut, one high school senior has to ask himself how much he's willing to give up in order to fit in.
Kevin seems to have it all: he's popular, good looking, and on his way to scoring a college hockey scholarship. However, he's keeping two big secrets. The first is that he failed an assignment and is now forced to take the most embarrassing course ever--domestic tech. The second is that he is falling for his domestic tech classmate, Claire.
As far as Kevin is concerned, Claire does have it all: she's funny, smart, beautiful, and confident. But she's off-limits. Because Kevin knows what happens when someone in his group dares to date a girl who isn't a cheerleader, and there's no way he is going to put himself—or Claire—through that.
But steering clear of the girl of his dreams is a lot harder than Kevin thought…especially when a cooking project they are paired together for provides the perfect opportunity for things to heat up between them outside the classroom….
Epic Reads Impulse is a digital imprint with new releases each month.
The Jock And The Fat Chick sounded exactly like a contemporary romance book that I could enjoy. I'm all for opposites attract stories and I was more than happy to read about girls with different body types. I was hoping for something like The DUFF but I was a little letdown.
Don't get me wrong- it's an okay book. A good enough read. But I didn't feel strongly about it. Didn't feel much about it at all.
The book is told from the jock a.k.a. Kevin's point of view and his voice was realistic for a teenage boy. He's by all means likable, good-looking and funny, but definitely flawed. Being an athlete who runs with the popular crowd, he's conflicted about the fact that his best friend and hockey teammates completely disrespect 'fat' girls.
"I think only a jerk would nail a girl he isn't into just because he can."
Even more so when he finds himself falling for Claire, a girl with a voluptuous body in the domtech class he's forced to take. She's a talented cook who seems interested in Kevin and they grow closer as they work on their meal project. On this note, I really found the romance dreary. There was nothing special about it that made me really root for Kevin and Claire. His initial crush on her was cute sure but the romance felt contrived and too fast-paced.
As for Claire, I just couldn't connect with her character. Which is so weird because I should be able to identify with her, being a 'fat chick' myself. As much as I adored the fact that she was a girl with curves and was confident about it (no body image issues here), I just felt like I was knowing her character on the surface. I wish I'd gotten her POV as well so that I could get deeper into her story.
"I'd never considered a lot of things until I met Claire. Whenever I'm around her, I find myself trying different foods and taking more chances in the kitchen. I like the discovery of new tastes and sensations."
What I liked most about this book was the food aspect. Claire sure knew how to work a kitchen! I like her chef parents and wish I could have dinner with their family because hello, amazing food and dessert. I also liked seeing Kevin learn how to cook for himself and become a healthy eater.
Overall, I found The Jock And The Fat Chick satisfying, although not as much as I hoped it would be. It could have done better with much more character depth and a more interesting, less predictable romance. However, if you're looking for something easy or quick to read and like food and cooking, maybe give it a shot.