Recently, I shared a recap of my first day at BEA and also my epic BEA 2015 haul and it was awesome. (Hey, I'm allowed to brag.) Day 2 was just as fun but I was actually able to take more photos that day and the next so be prepared for all the fabulous BEA snapshots coming your way. I only hope you feel like you were there too if you weren't.
BEA Day 2
On Thursday morning, the shuttle finally came on time although it waited for more passengers so it left just a little past 7am. Jamie of The Perpetual Page Turner (who I met during Day 1 while lining up for the Another Day galley drop) was also on the shuttle and she introduced me to Allison of Good Books and Good Wine. Unfortunately, they needed to be at the Harlequin breakfast so we weren't able to chat anymore when we arrived at the Javits.
I found Louisse at the line for the exhibit hall with DJ of LifeinFiction/DJ Writes (who I actually first met at the Teen Author Carnival) and we had a fabulous time chatting about books while waiting for the show floor to open. When it finally did open at 9am, although some people were yet again in a mad rush to line up for Passenger, I decided to just walk briskly.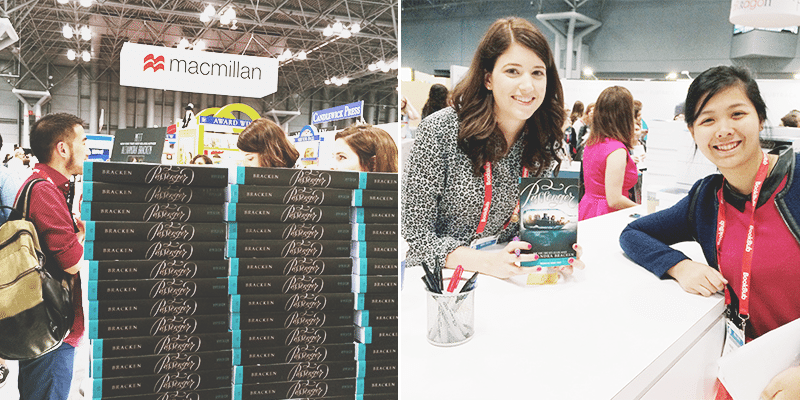 I still got a spot for the signing and funnily enough, my number for Alex Bracken's signing was the same with Susan Dennard's from the day before. At the line at the Disney booth, I met and got to chat a bit with Pili from In Love With Handmade and Brittany from Please Feed the Bookworm. When it was my turn at the signing, I took a photo with the lovely Alex Bracken after she signed my copy of Passenger!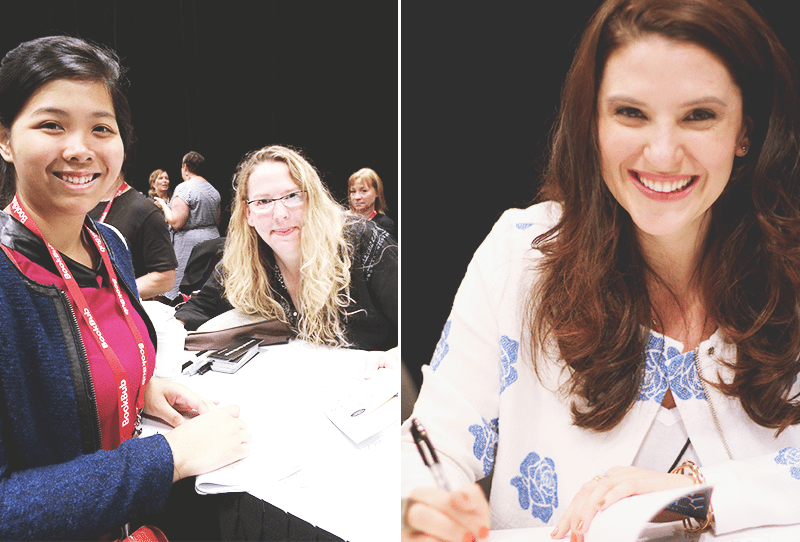 From there, I hightailed it to the autographing area. I lined up for A.S. King's signing and I really didn't know what to say to her because I haven't read her because I haven't read anything by her yet. (I Crawl Through It shall be my first A.S. King read!) It was so nice to meet her though as I've heard many amazing things about her books. I also lined up for the Truly Madly Famously signing and it was so so nice that Rebecca Serle remembered meeting me at TAC! She is such a sweetheart!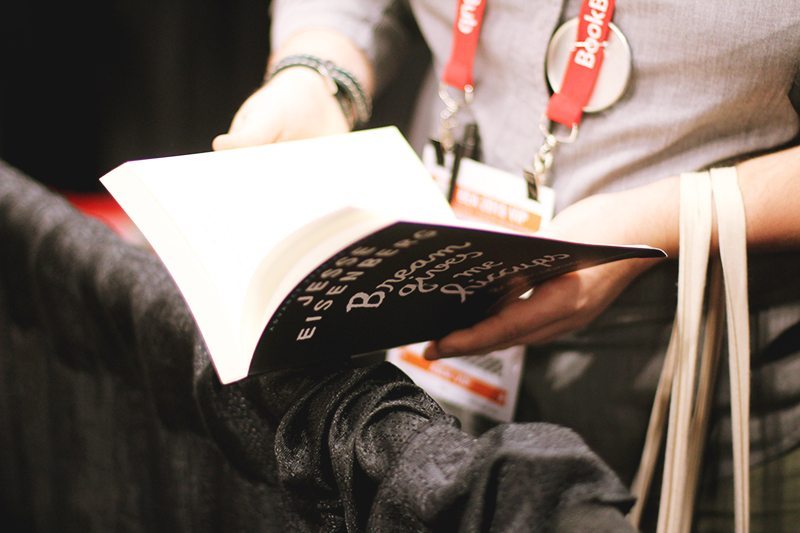 I wanted to line up for Jesse Eisenberg's signing for his upcoming book, Bream Gives Me Hiccups, but I completely forgot that it was ticketed so I ended up just roaming around the show floor again.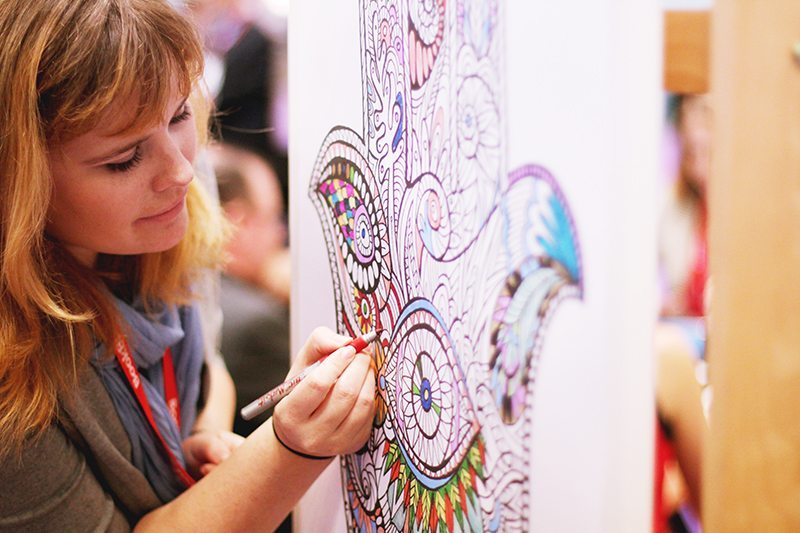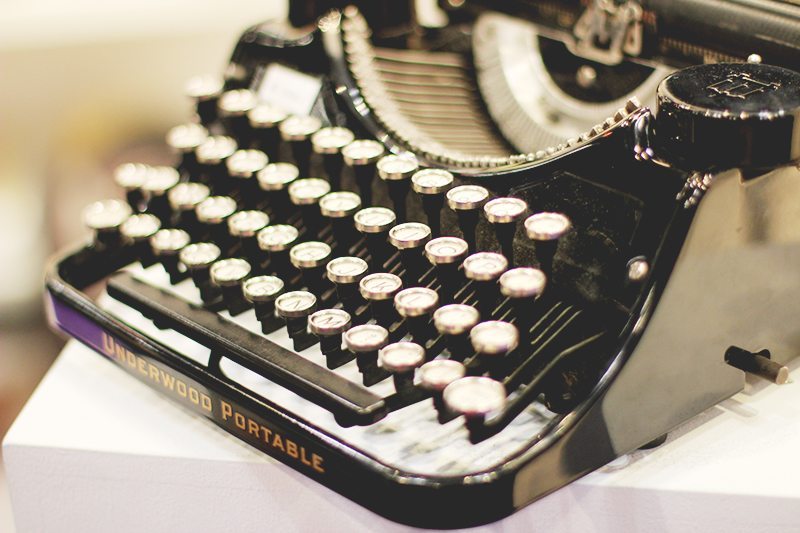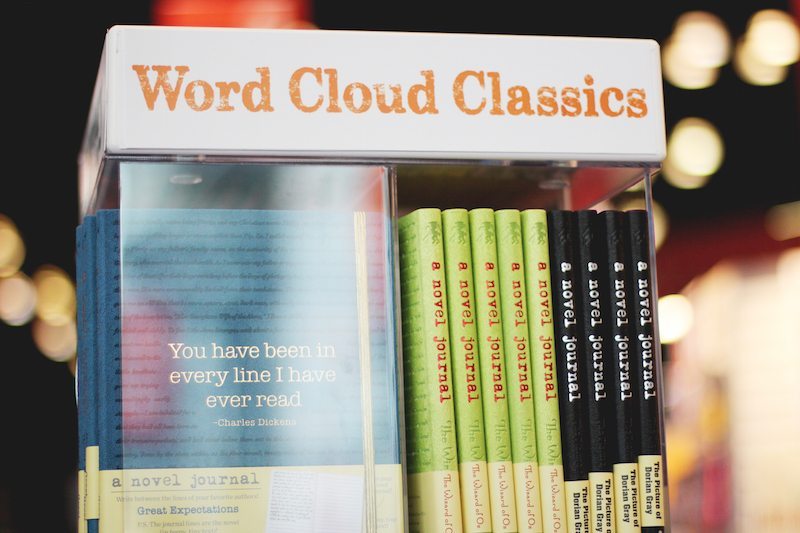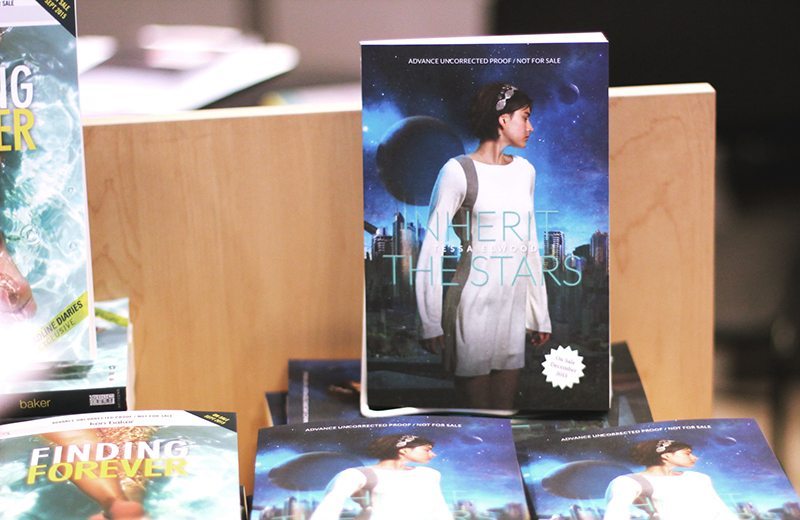 I eventually went back to the autographing area to line up for Kate Scelsa's signing for her debut novel, Fans of the Impossible Life, which I'm just super excited about. She was so wonderful and I loved her hair!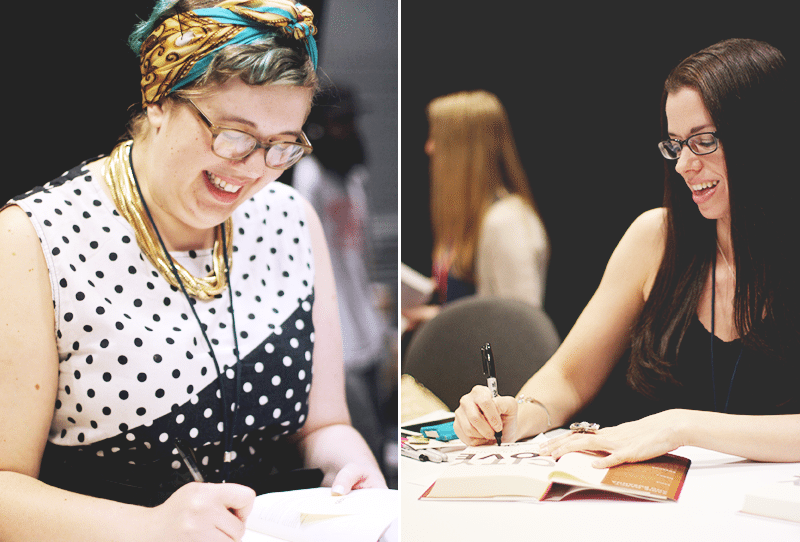 The line for Sara Raasch's table was unfortunately closed after that but thankfully, Susane Colasanti's signing wasn't over yet. I was one of the last people to get City Love signed and I got to chat with Susane and thanked her for participating in my spring event last year and when I told her my blog's name, she was like, "I love Stay Bookish!" That just made me so happy.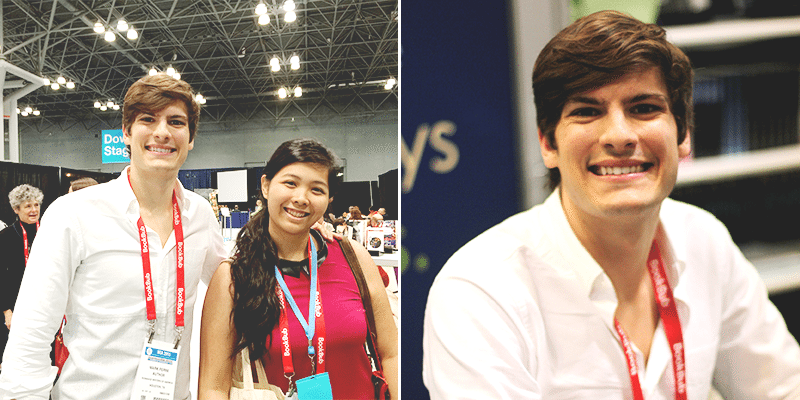 I headed to the Romance Writers Association booth after that for Mark Perini's signing after that. I was excited about his and Julie Cross's book, Halfway Perfect, ever since I first heard about them working on it like two years ago. Unfortunately, the signing was over but I still got to meet Mark and aside from looking pretty dashing (whatever this is my blog I am shameless) he was just such a friendly guy. He signed a little post card for me and I told him I couldn't wait to read Halfway Perfect.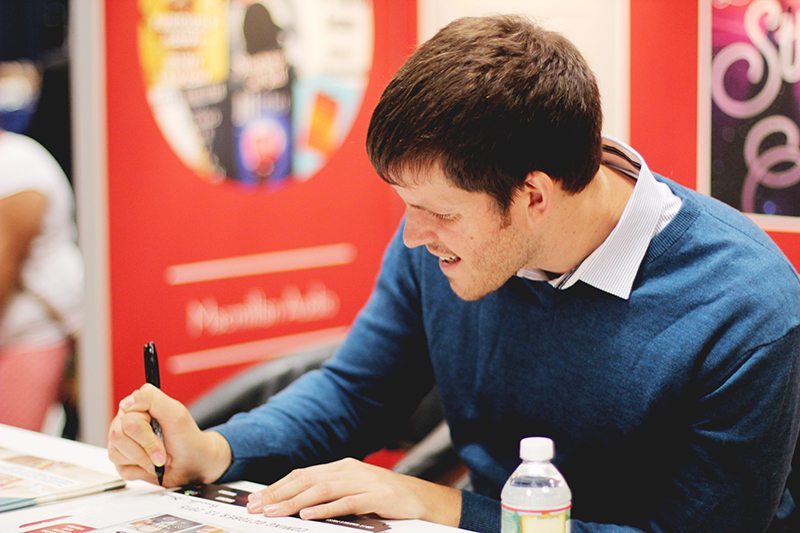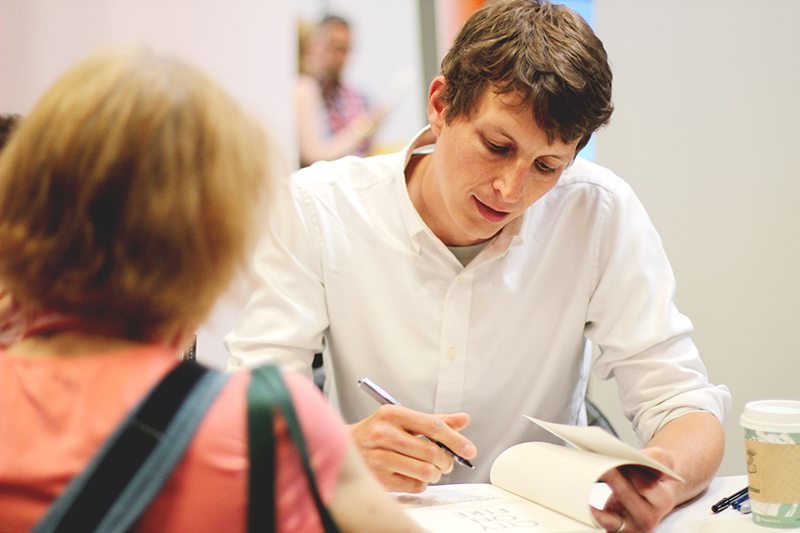 Yet again, I roamed around the show floor and took pictures. I spotted Brandon Stanton, who was signing posters of Humans of New York, Garth Risk Hallberg, the author of City On Fire (a highly buzzed book at BEA), Lee Child and Mitch Albom!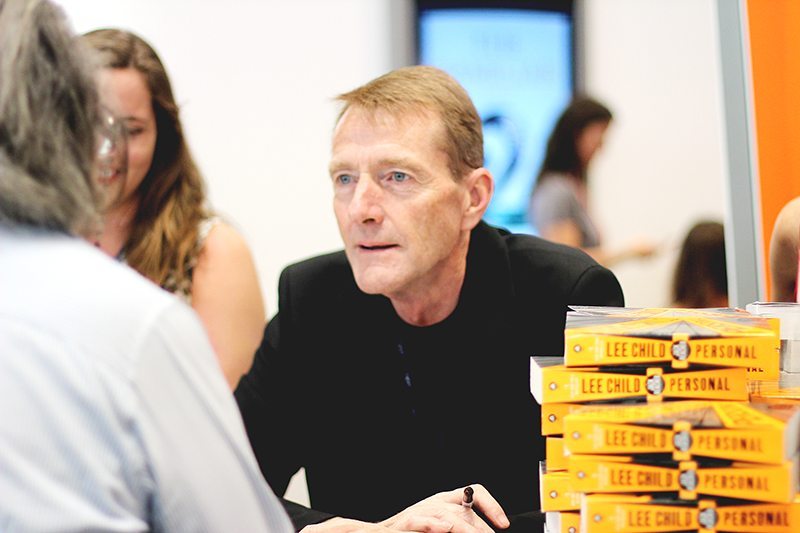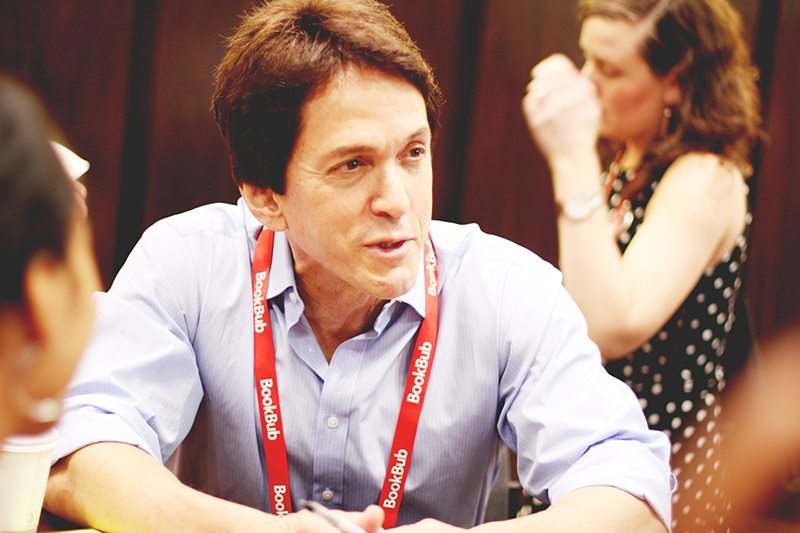 In the afternoon, I lined up at the LBYR booth for Libba Bray's Lair of Dreams signing. That line was so VERY long and I'm glad I got a good spot and didn't have to wait long. When I met Libba, I told her I was a Filipino fan and how much I loved her Gemma Doyle series (one of the best YA Historical Fantasies I read way back). She was so excited to hear so and she was just completely adorable as she posed with Lair of Dreams for me. "I want to be mysterious," she said. She was so hysterical and so was her awesome publicist, who even photobombed me and Libba. This is just the cutest photo ever: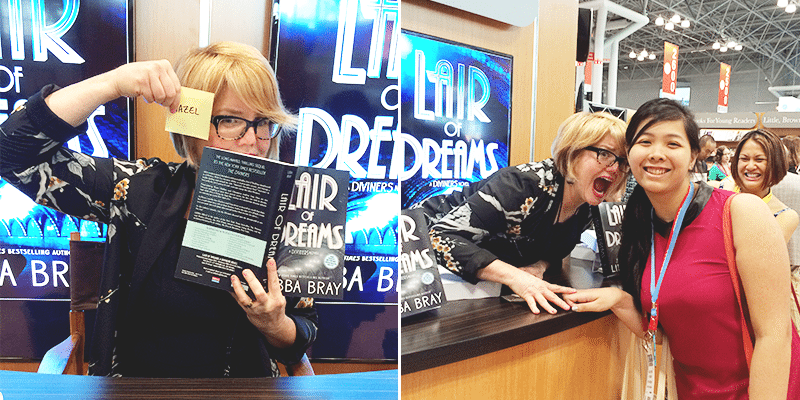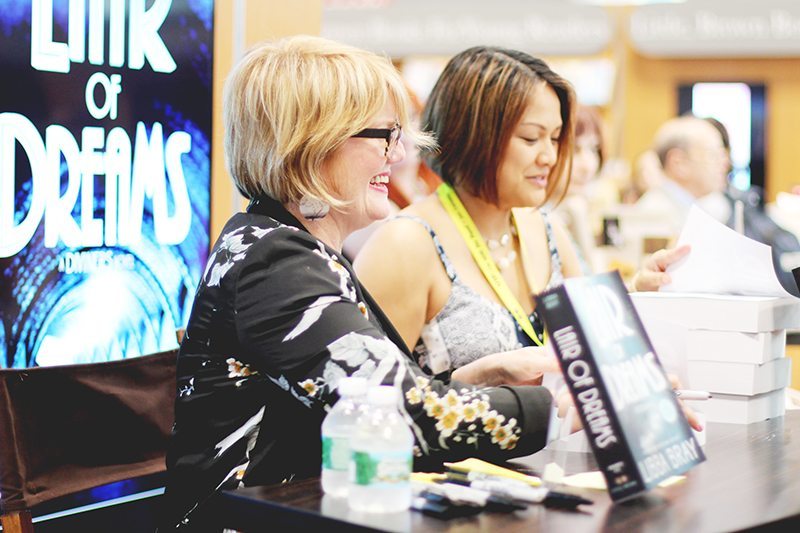 Since the tote bags I was carrying were growing heavy with all the books, I went downstairs to leave the books in my luggage (I finally brought one) at the bag counter. When I came back, I dropped by Julianne Moore's signing but didn't line up anymore and instead just took photos of her. It's pretty fantastic, seeing a hollywood celebrity up close.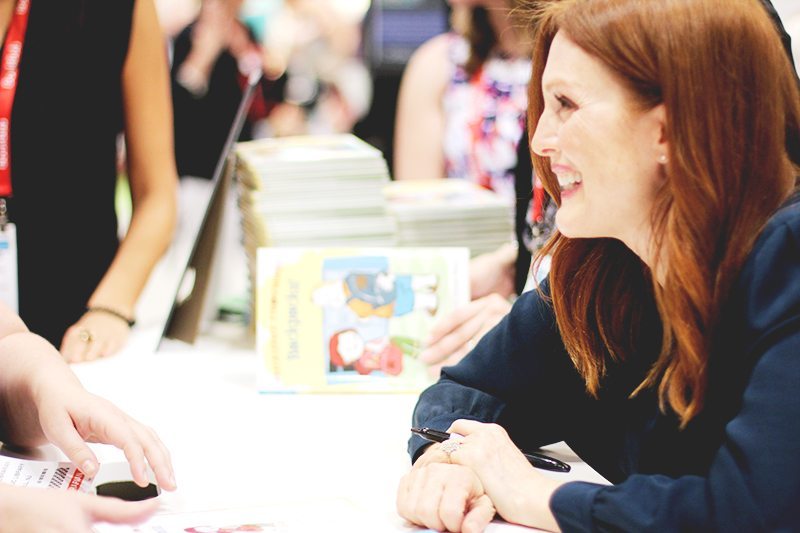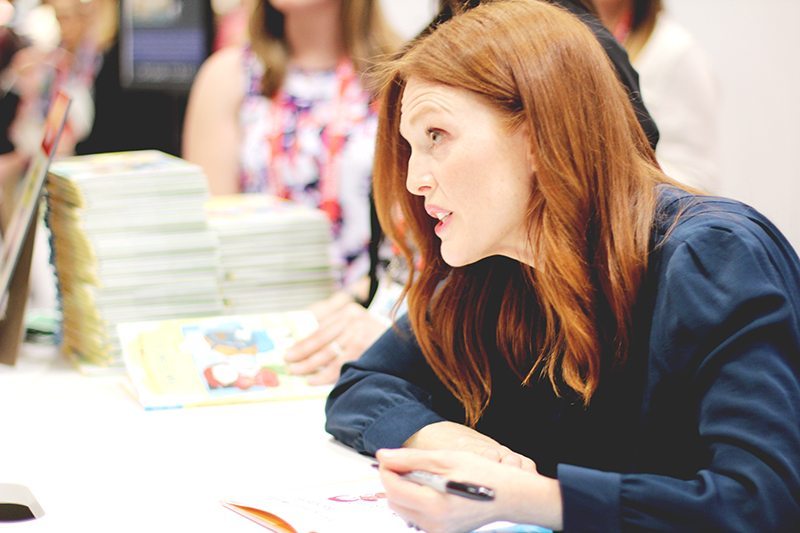 I then went back to the Disney booth and the line for samplers of Magnus Chase was already very long. I didn't line up again (but later on was still able to grab a sampler) and instead checked out who was around. Some awesome bloggers posed with their Magnus Chase goodies for me. Look at Jon of Bookish Antics looking very fierce: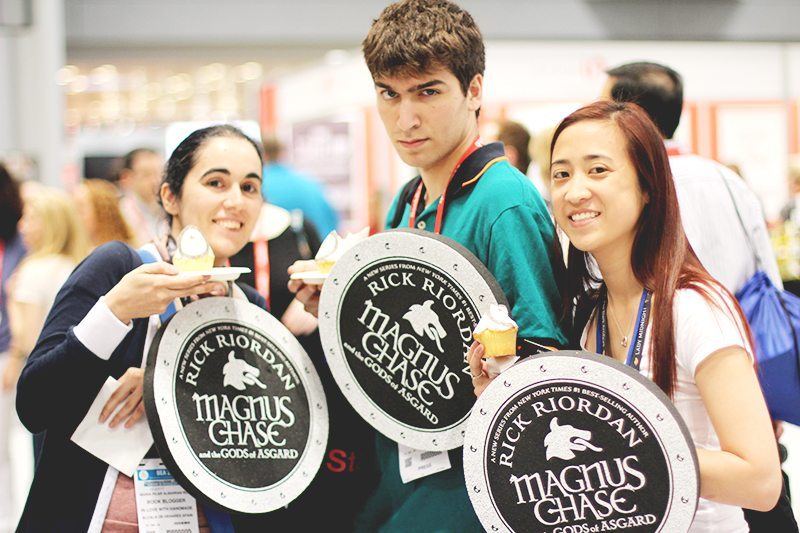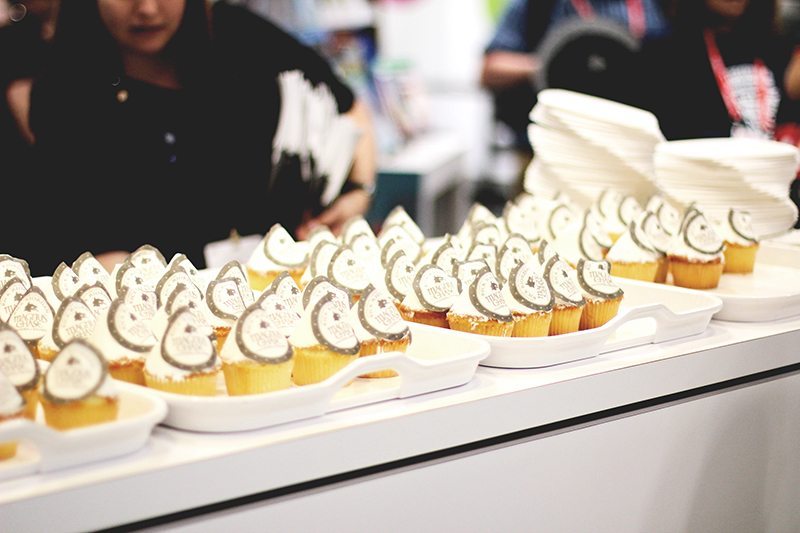 I also chatted up two amazing vloggers, Christine of PolandBananasBooks and Jesse of JesseTheReader, who were also in line at the Disney booth. They were very nice despite me coming onto them so randomly and they were surprised to hear I was from the Philippines. Jesse asked me what I was up to and I told them I was just looking around and chilling out. I gave them my cards and Jesse took a photo of me and Christine and Christine took a photo of me and Jesse. Even though people usually have a hard time using my camera, it was all great since both of them were used to using DSLRs for their vlogs. Jesse told me he loved my lens and I told him how much I loved using it. (The next day, we ran into each other again and it was so cool they recognized me and said hey.)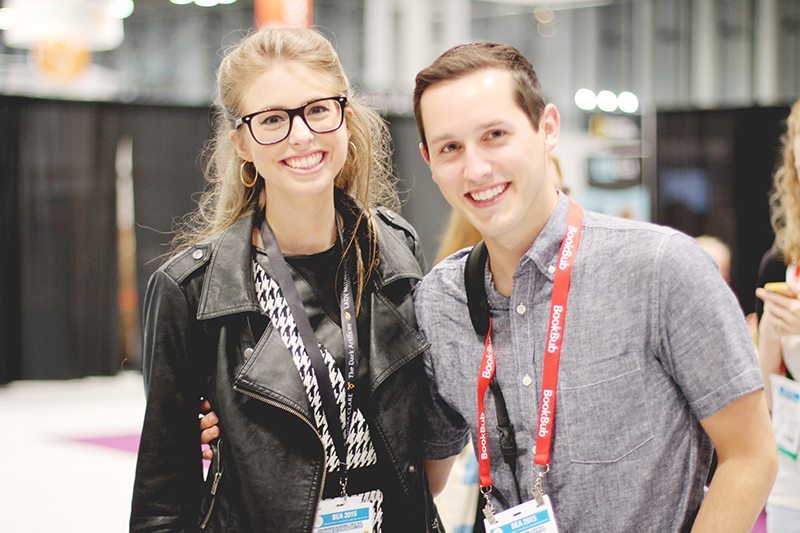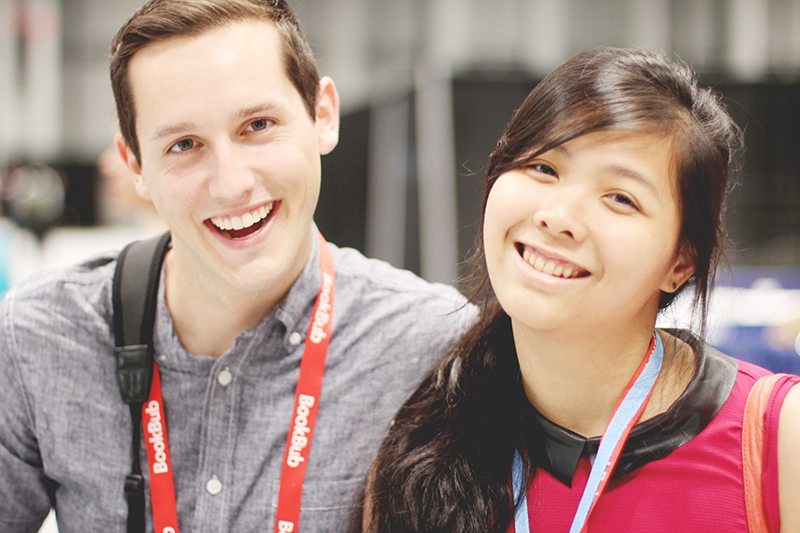 I decided to go to Will Walton's signing after, which was probably the greatest decision I made through BEA because that's how I met David Levithan. I'd seen him around the booths earlier but was too shy to say hi then so I'm just going to assume that it was kismet that he was at Will's signing, handing out post-its casually. I took a photo of him with the post-it he wrote my name on which I honestly had every intention of framing but unfortunately lost it.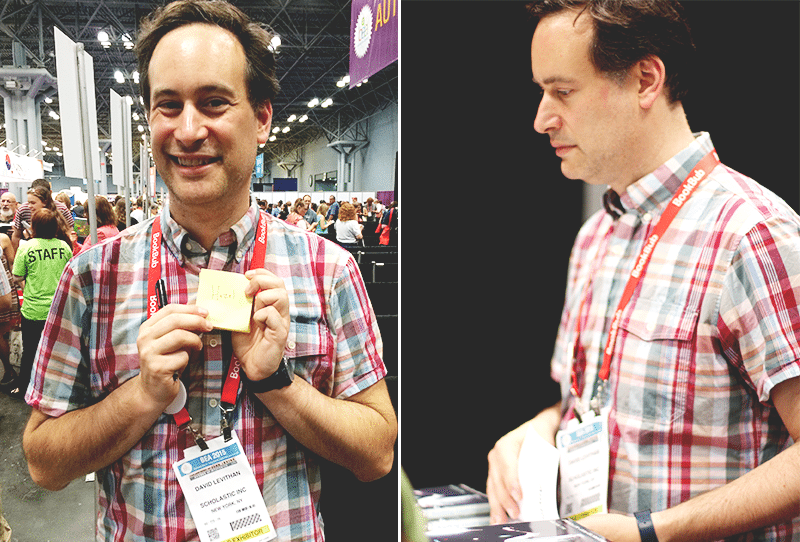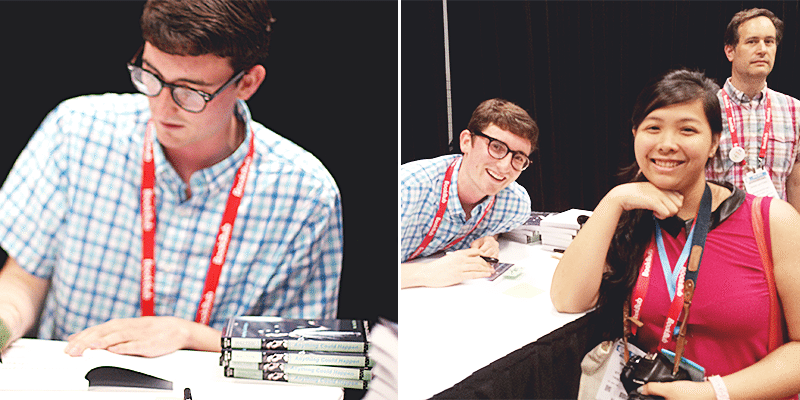 The line moved forward and I got to meet Will, who was so kind and friendly. I told him I was looking forward to reading Anything Could Happen (which at this point I had already read and really liked! It was the first book I picked up from my BEA pile actually) and he told me that he was so glad to hear it and really hoped that I liked the book. Then he gave me a bookmark with dance steps to the Anything Could Happen song + a Taylor Swift playlist. How awesome is that? And how awesome is it that David Levitan incidentally photobombed us? Best photobomb ever.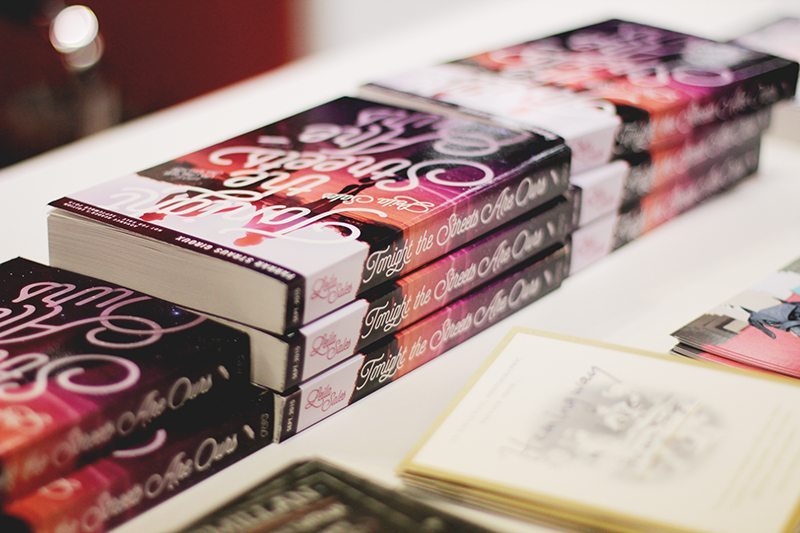 Then I went to the Macmillan booth for the Tonight The Streets Are Ours galley drop. That book is seriously gorgeous. I also got a ticket for the Fairest signing and I just have to say that Macmillan was amazingly organized at BEA this year.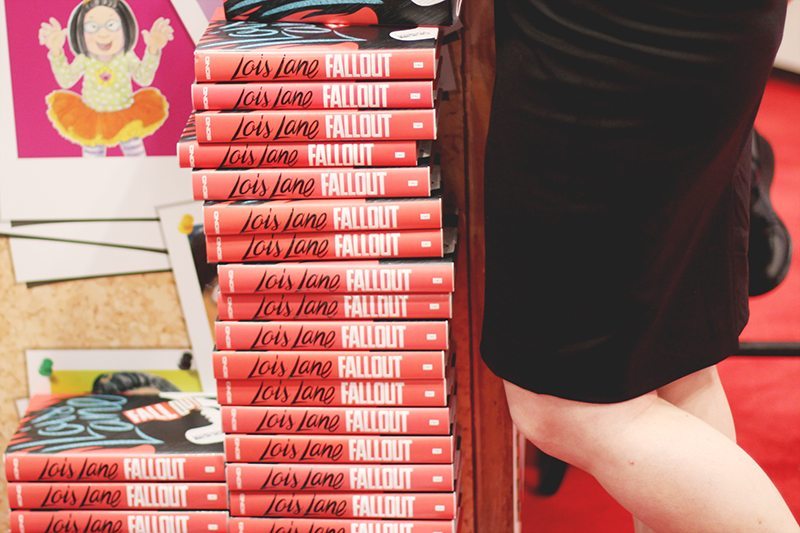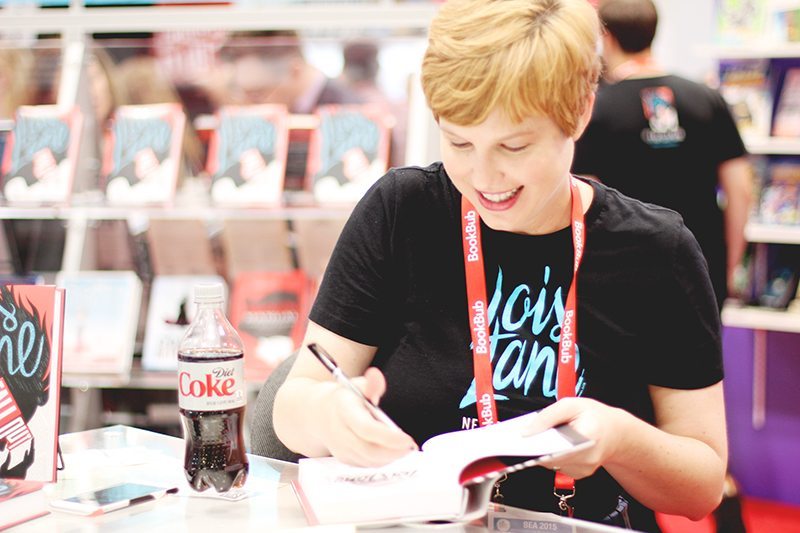 I attended Gwenda Bond's signing for Lois Lane: Fallout which has a very awesome cover. The publicists at Capstone were really friendly too and it was so nice to chat with them.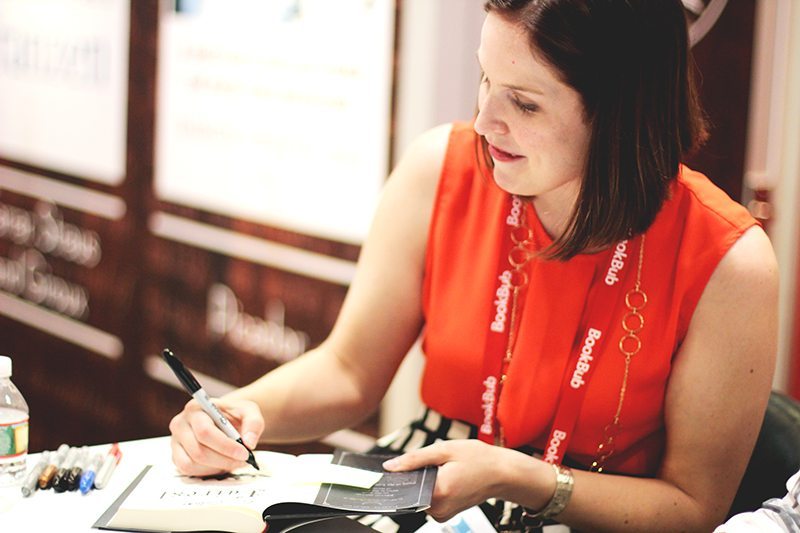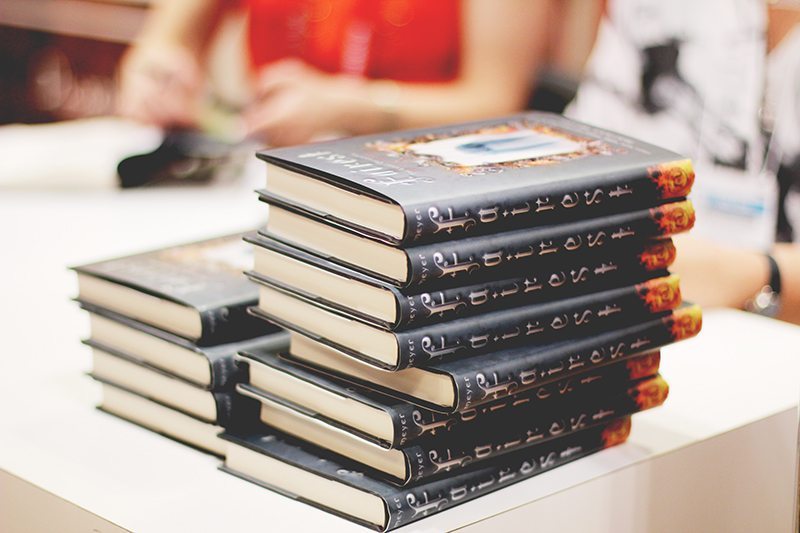 Marissa Meyer's signing for Fairest was one of the last few things on my agenda that day. I still haven't read her books (soon promise!) but it was so fantastic to meet Marissa, who was super sweet! She told me she was looking forward to hopefully coming to the Philippines soon.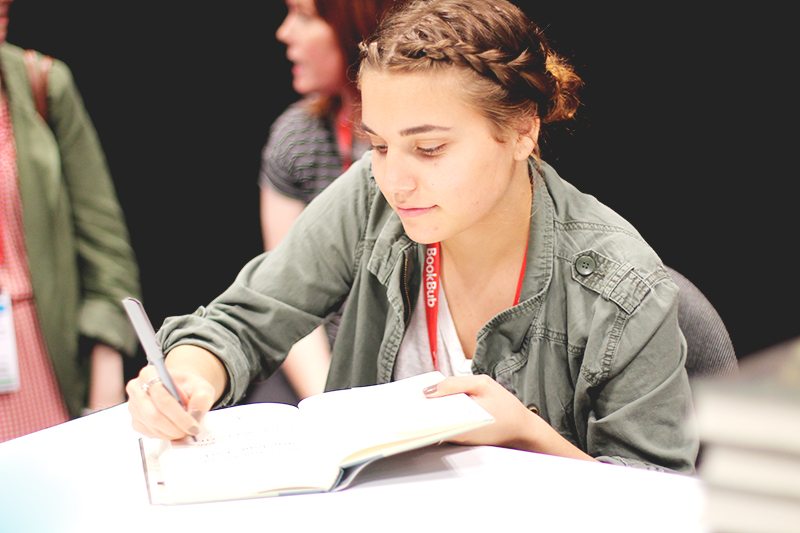 I checked the autographing area to watch out for other authors who were still signing and saw Paige McKenzie was so I was one of the last people she signed The Haunting of Sunshine Girl for. She was very sweet and had awesome braids. I headed downstairs where Louisse and I swapped stories of how the day went (at least for those parts we weren't by each other's side) and then we took the shuttle together. And that was it for Day 2! As thanks for bearing with my long recap (there's more tomorrow, can you believe it?), here's a chance to win the signed copy of The Haunting of Sunshine Girl that I mention awhile ago: