Finally, we have the last segment of my adventures at BookExpo America 2015! It was fantastic and writing these recaps (which turned out to be fun too) have immortalized my experience so I know I definitely won't forget it! Now let's wrap this up with a run through of Day 3 and an amazing giveaway!
BEA Day 3
The morning of the last day was the least crazy, at least for me. I even snagged a ticket for Meg Cabot's signing without having to line up at all. Louisse and I sat down and looked through the daily show guide while we waited for the floor to open again. Here is Louisse at Day 3 of BEA. (Left photo – Can you tell it's been a crazy past couple of days?)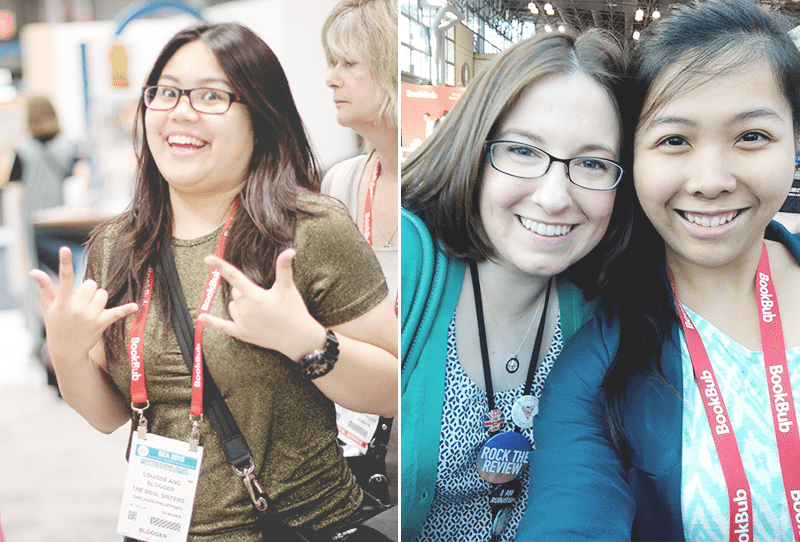 I also met Nikki of There Were Books Involved then. Although we weren't didn't get to chat much, we were able to take a successful selfie together. (I cannot be trusted with selfies. I screw them up 99% of the time.)
When the show floor opened, I lined up for Black Widow while Louisse got us copies of Soundless by Richelle Mead. This has been our arrangement for the first two days of BEA- always multitasking and reserving spots for one another and it was so helpful for both of us. Seriously, if you're going to BEA, having a buddy is a must.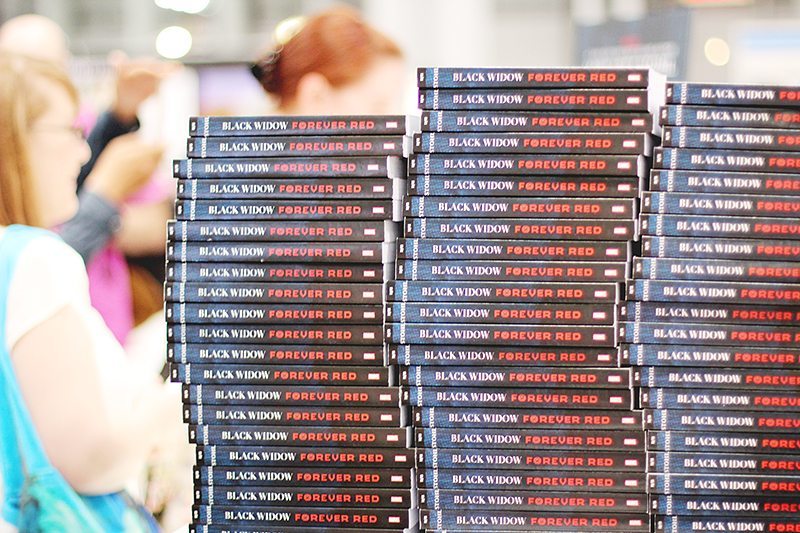 Anyway, Margaret Stohl signed Black Widow for us and I showed her a picture of me and her together when she was in the Philippines and she told me I had looked familiar. She told me to send her regards and I told her I was looking forward to reading her new book.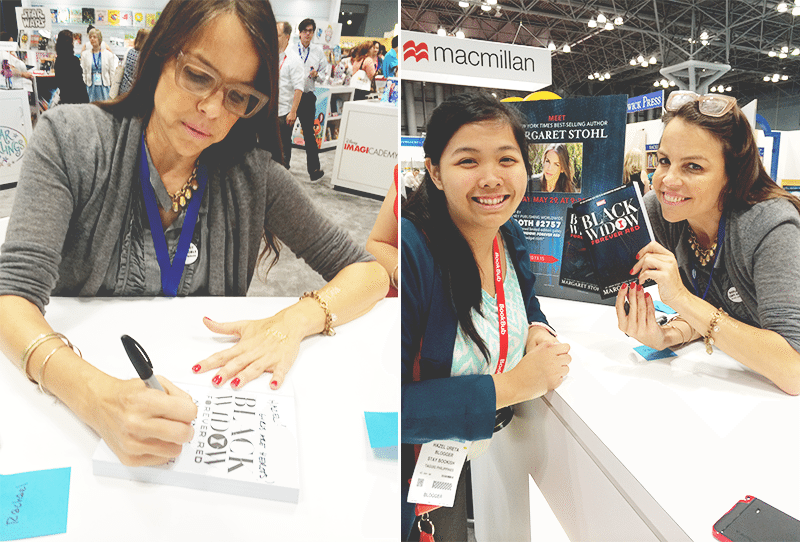 Next, Louisse and I stood in line for Kim Liggett's Blood and Salt signing. Virginia Boecker was around and we said hi and told her we'd been at her panel at TAC. She was friendly to us and agreed to take a photo with Louisse. Finally, I met Kim and when I introduced myself (just my name), she instantly recognised me and we hugged. She is seriously the loveliest and I was so excited I got to meet her then and also that I have a copy of her debut novel, which I've been looking forward to reading since hearing about it!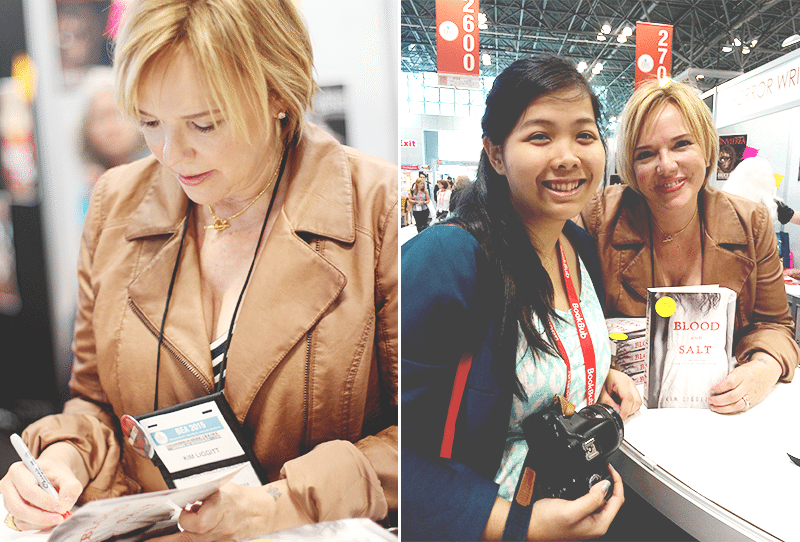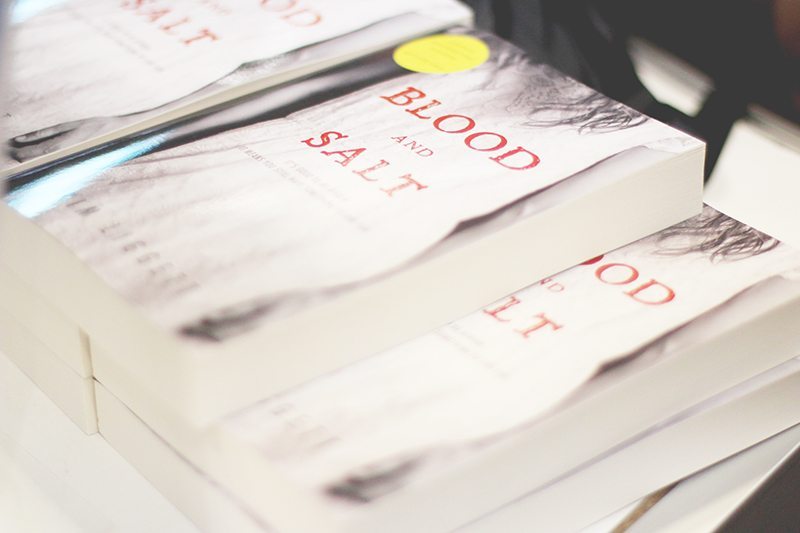 At the autographing area, the line for Abbi Glines's signing was pretty packed. She's the author who introduced me to New Adult so it was really great to meet her. I can't wait to read her latest upcoming title- Until Friday Night!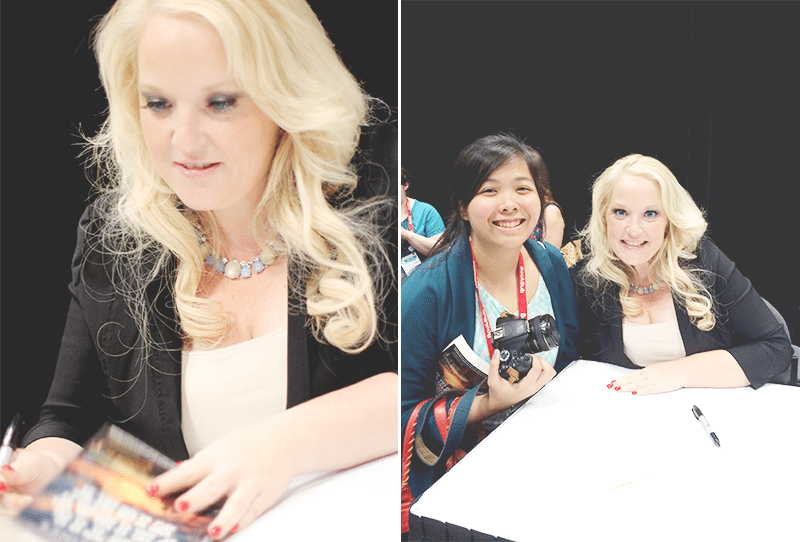 Louisse and I headed back to the Disney booth and look who we spotted there: Alexa of Alexa Love Books, looking lovely as usual, E. Lockhart, creeping at A Whole New World ARCs, and Disney publicist with the awesome hair.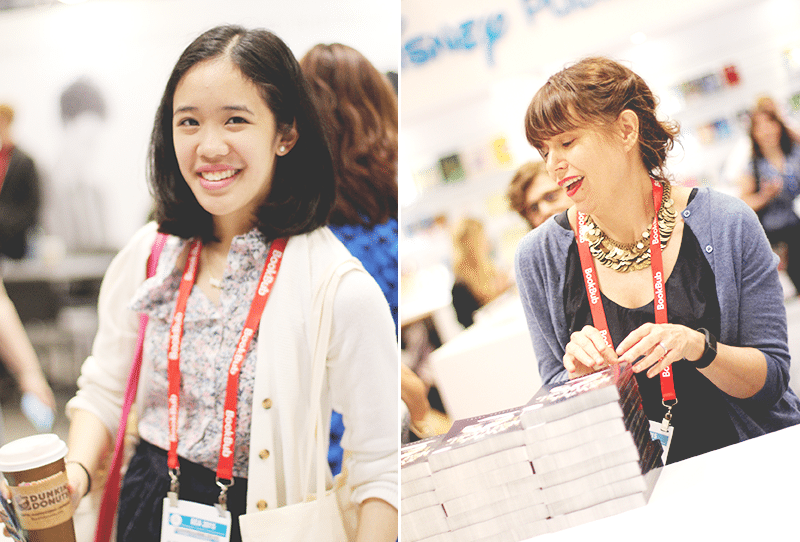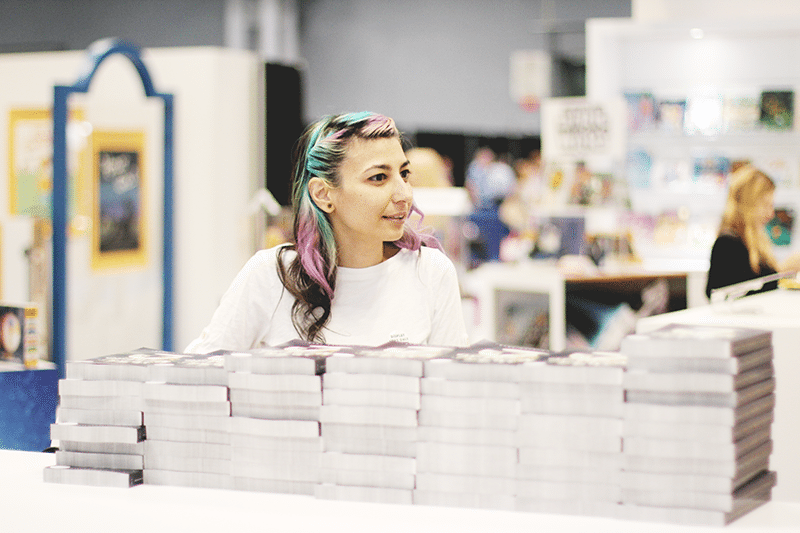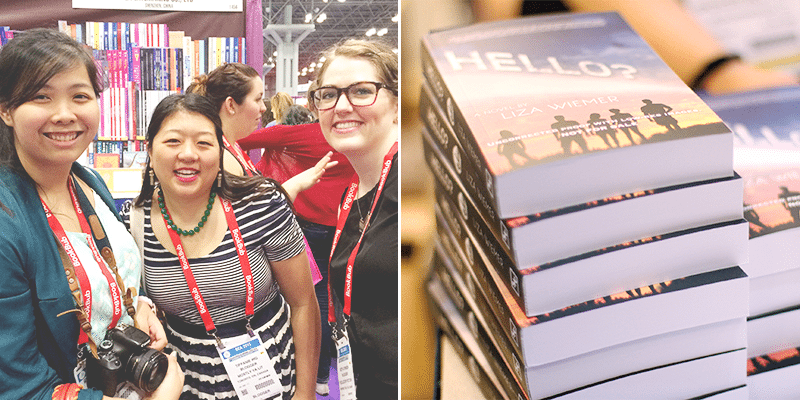 Upon getting our own galleys of A Whole New World, Louisse and I went to Midpoint, where the Hello? signing was happening. While in line, we met the lovely Tiff of Mostly YA Lit and Beth of Fuelled by Fiction. It was so fabulous to chat with these two ladies!
As I headed for lunch, I stopped by the Penguin truck and then I ran into Youtuber Joey Graceffa!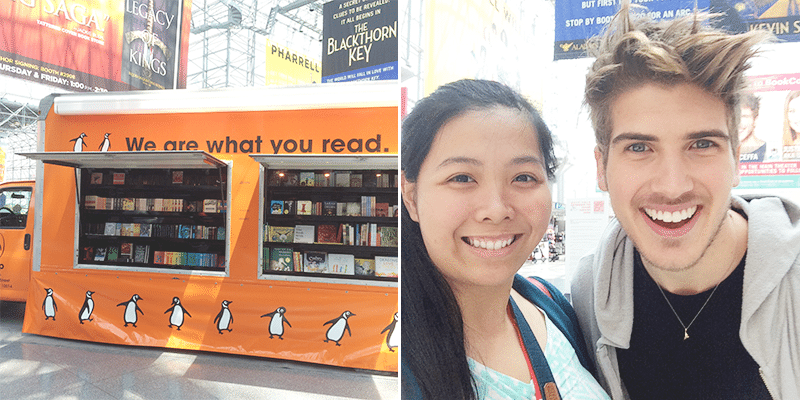 Though I missed some fun BEA parties, being a part of the Penguin Blogger Luncheon with Sarah Dessen and Carrie Ryan really made up for it. The event felt very intimate- probably around 20 bloggers were present more or less. I sat with these fabulous bookish chicas:
Hanging with these ladies! #bea15 @laurayjames @gonewiththeword @brokeandbookish @alexalovesbooks @staybookish pic.twitter.com/H8sx5BcqBu

— Andi (@andiABCs) May 29, 2015
Alexa also introduced to me to Layla, a blogger at The Midnight Garden, who talked to me about Uprooted which I now NEED to read. Awhile after we got our food, the Q&A with Sarah and Carrie began.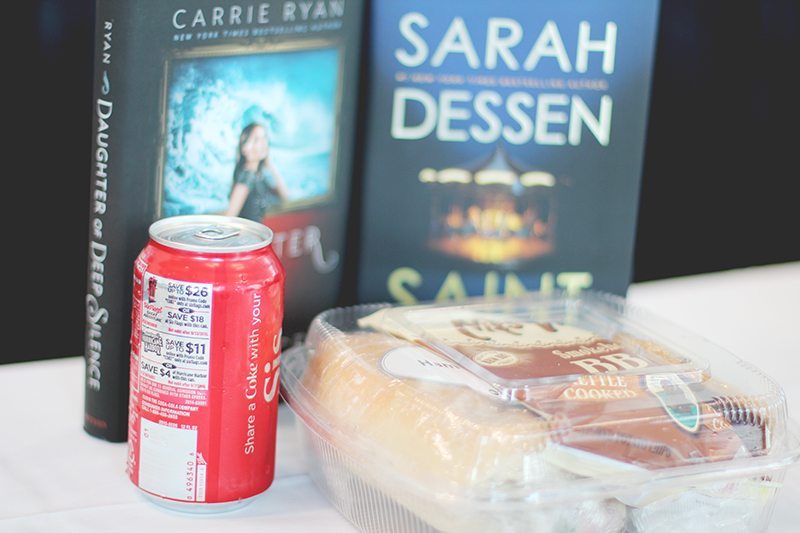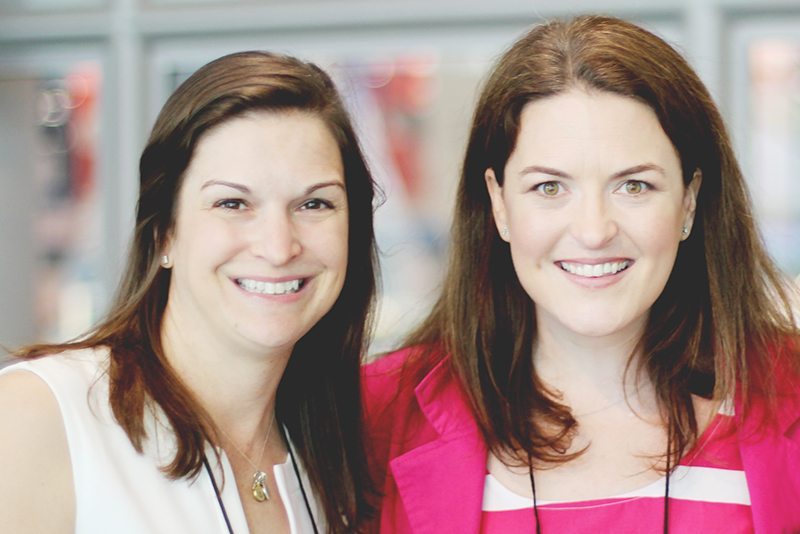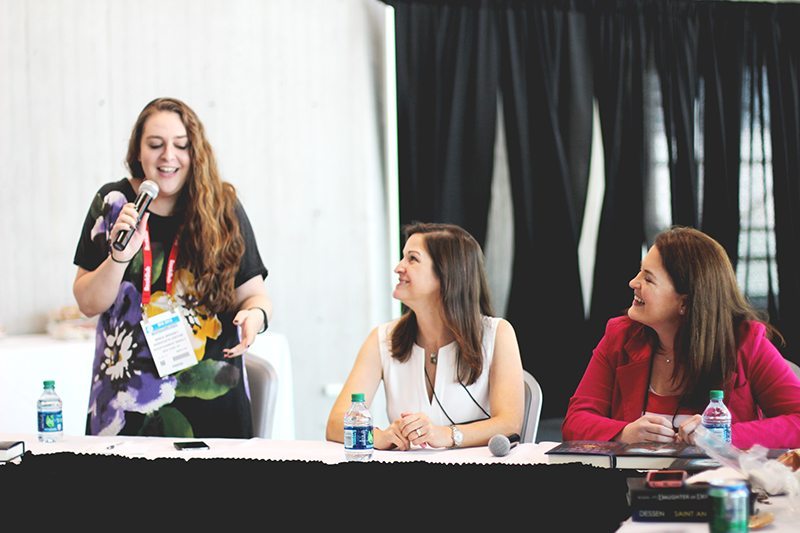 Both authors talked about the research that went into their books (none for Sarah, lots for Carrie, including some pretty horrible trivias she learned through researching that she shared with us), their TV/music favorites (Sarah was currently digging Taylor Swift who once favourited her tweets and Carrie loved Broadchurch), what they would be doing if they weren't authors (Sarah joked about probably still working at a burrito place and shared her touching thoughts on how blessed she was to be making a living out of her passion while Carrie would still be a lawyer) and their YA crushes (Sarah felt disturbed about her huge crush on Jamie Blackley because of the If I Stay movie and Carrie liked Jace, played by Jamie Campbell Bower, from The Mortal Instruments movie). The two were just so fun to listen to!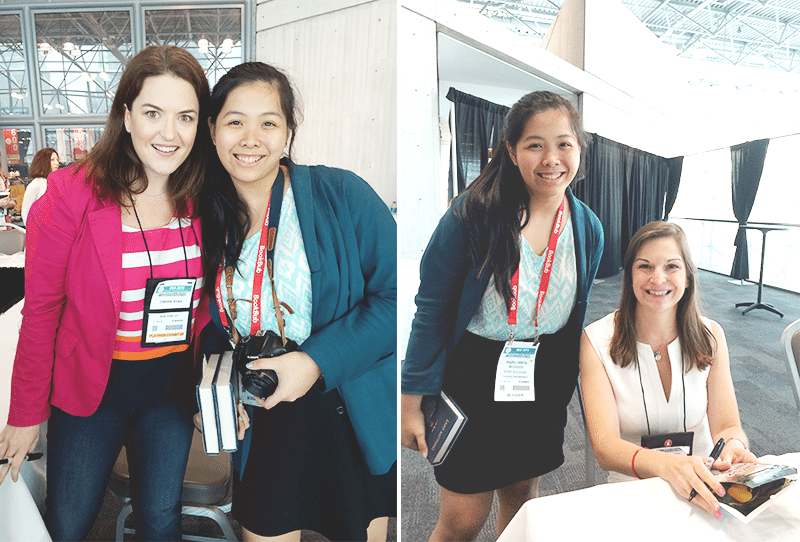 Us bloggers got the chance to have our books from the lunch signed and chat/take photos with the authors. Although I haven't read Carrie Ryan's books yet, it was really lovely to meet her. And of course, when I met Sarah Dessen upclose and gave her some Filipino goodies, I was definitely mentally hyperventilating. She's been on my authors to meet bucket list forever and it was her books that made me fall in love with YA contemporary. It was just such an honour to meet her finally and she was so sweet and amazing. We talked about her coming to the Philippines and she said she definitely wanted to visit one day. I hope it happens!
After the signing, I took some selfies with Jon of Bookish Antics and Jamie of the Perpetual Page Turner, who were both at the luncheon.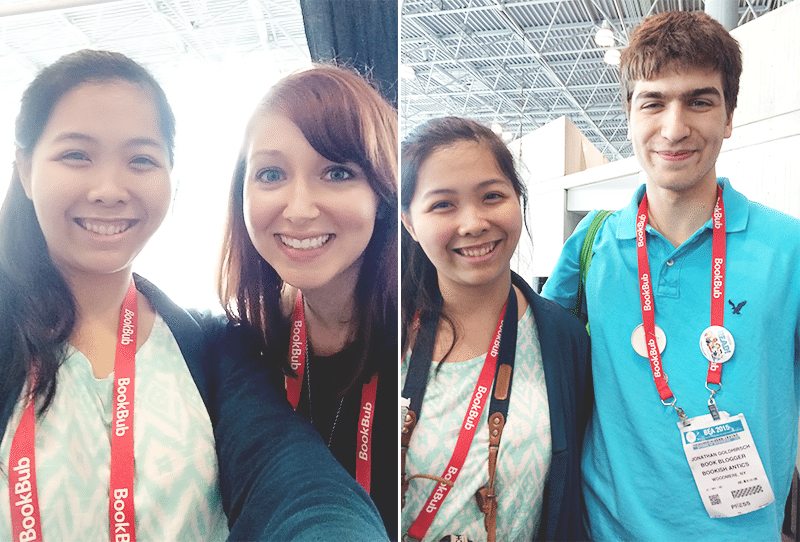 I rushed back to the show floor to attend Dahlia Adler's signing for Under The Lights, which I've been excited to read since finishing the first companion novel, Behind The Scenes. Look at Dahlia and her book being all adorable: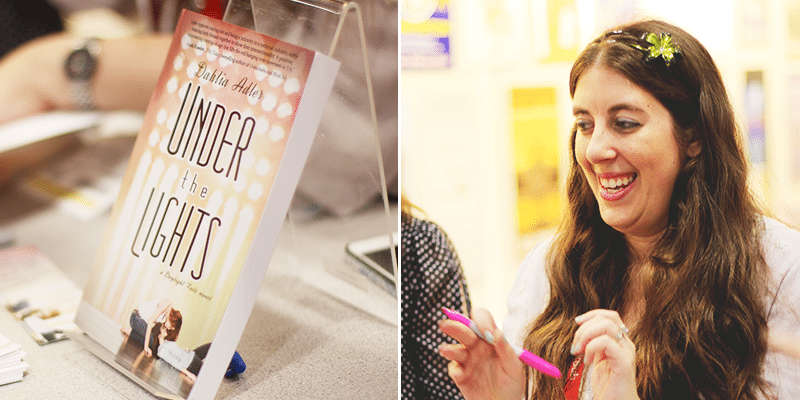 I ran into Estelle of Rather Be Reading after and it was just so wonderful to meet her! I only wish we got to chat. Still, she's one of my fave book bloggers so I'm really glad we saw each other!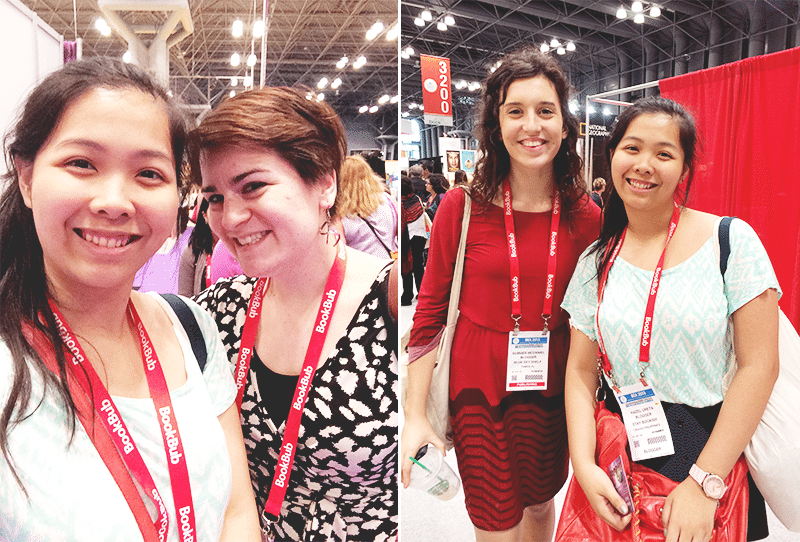 After that, Louisse and I hung out at the Bloomsbury booth with Alexa, who wanted me to meet Summer of Blue Sky Shelf (who I recently worked with for her blog design)! She is super pretty! Alexa also introduced us to the Bloomsbury team and Emily introduced Murray to us!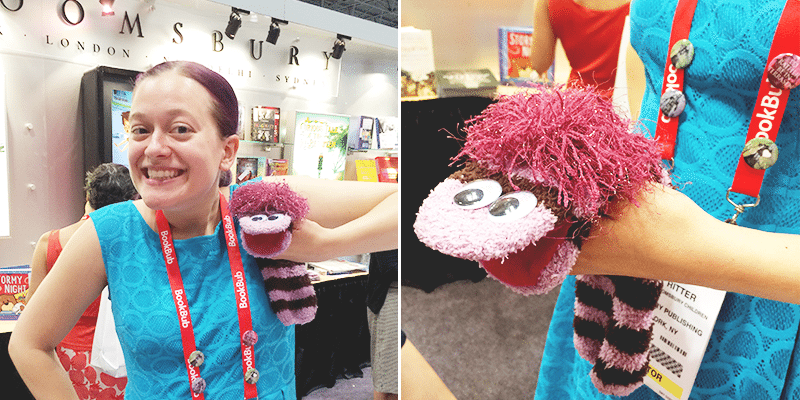 We were later on joined by Lizzy Mason (also from Bloomsbury), and other fellow bloggers- Kelly of Belle of the Literati and Brittany of Book Addicts Guide. It was just so amazing to meet all this wonderful people from the bookish community! Really wished I'd taken photos with them but I left after awhile to check out Mindy Kaling's signing.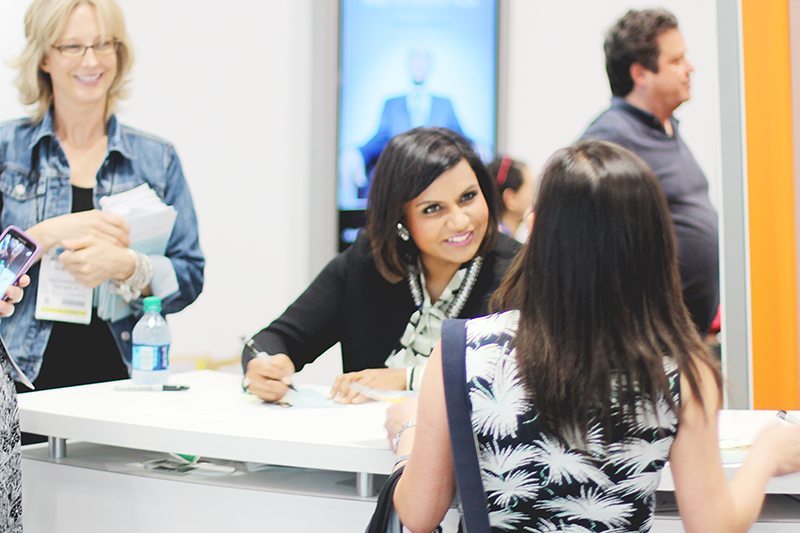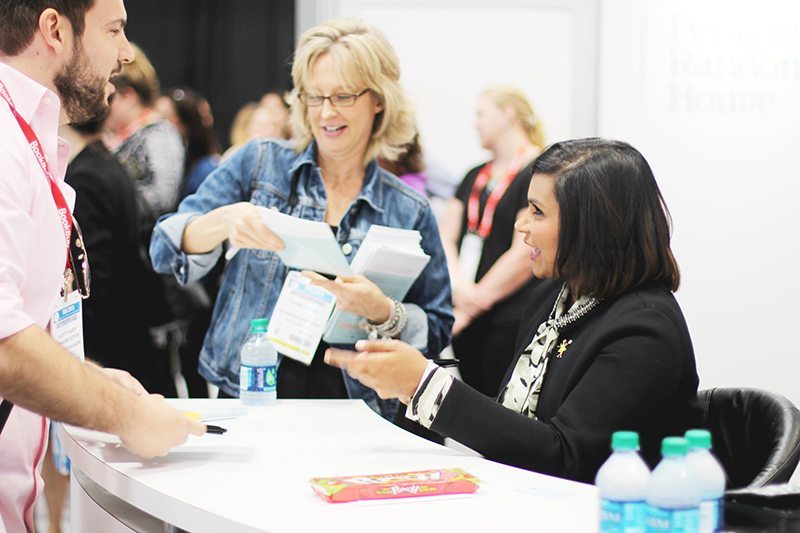 There were so many paparazzis around her (me included I guess) and even though I didn't get to say hi or have her sign her a copy of her upcoming book, it was great seeing her upclose still. Mindy Kaling is so very fabulous in person. I dropped by the Little Brown booth after and they were doing a raffle for their books and the ladies over there were just being adorable so I had to take a picture!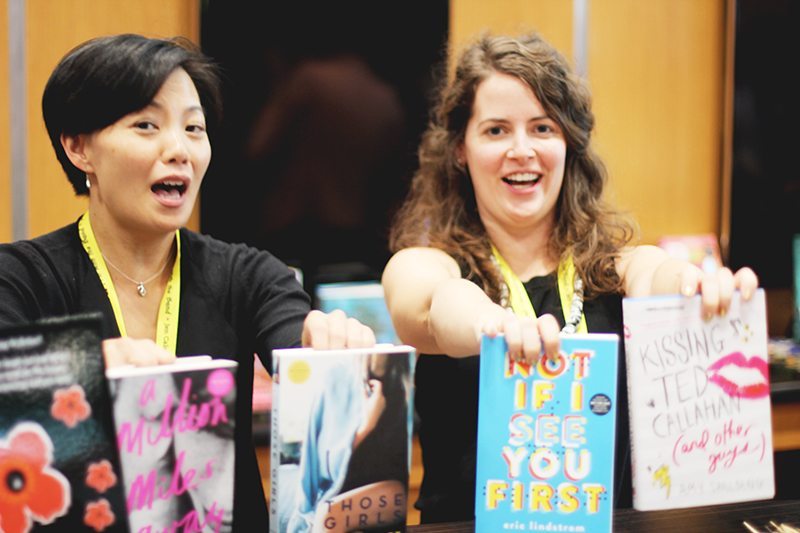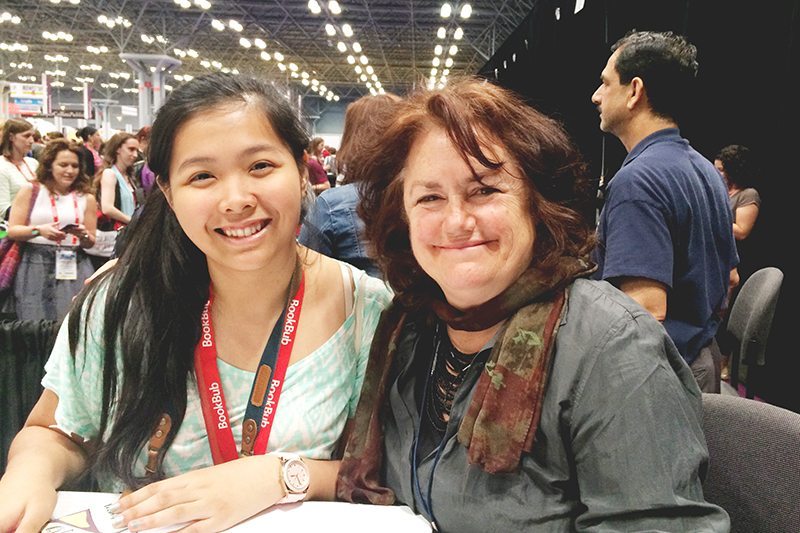 Mid-afternoon I attended Cammie McGovern's signing for her sophomore novel, A Step Toward Falling. Cammie, who I worked with for Ah-MAY-zing Reads last year remembered who I was and she was so sweet and thanked me for inviting her to guest post on the blog. She told me she remembered I was from the Philippines and I affirmed this and she was amazed when I told her I flew all the way from Manila to New York. Came was seriously wonderful and I loved loved meeting her.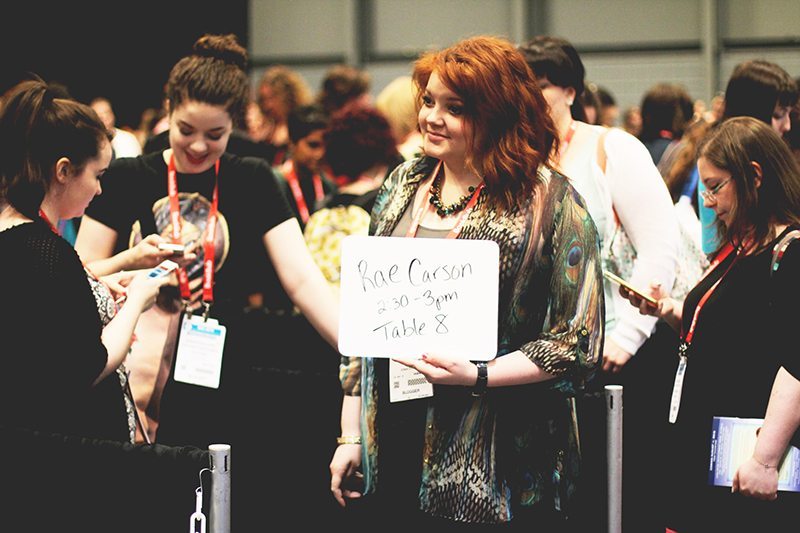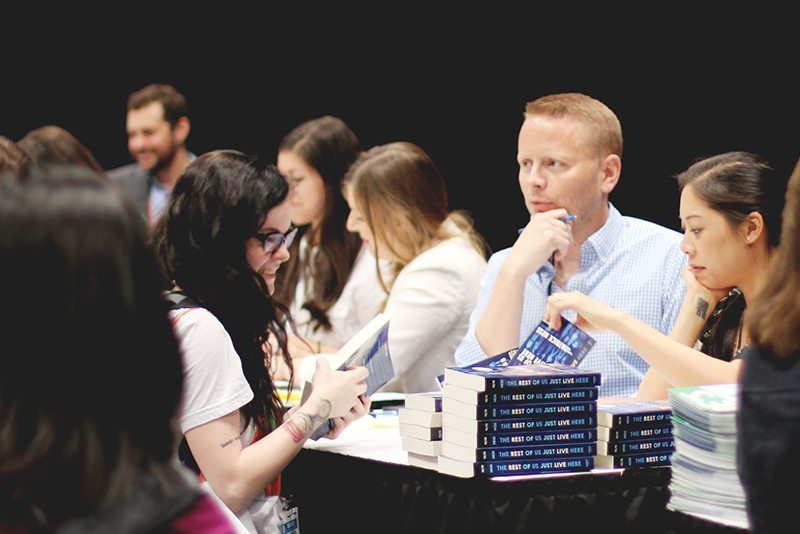 Funny story: I lined up for Rae Carson's signing even though I actually wanted to line up for Patrick Ness' but was disheartened because I thought the line was closed already. Louisse actually wanted to line up for Rae but ended up the on the wrong line for Patrick Ness instead. We agreed to swap signed books which was convenient for both of us. When Louisse met Patrick Ness and told him to sign the book to me, I was standing in line at the table right next to his, Louisse pointed me out and Patrick Ness mocked hurt- "You couldn't even be bothered to wait in my line?" He actually wrote this on my copy of The Rest of Us Just Live Here. He was being funny of course and I admired him even more for having such a great sense of humour! (Those who met him can atest to this.) Totally won't ever forget that adorable moment!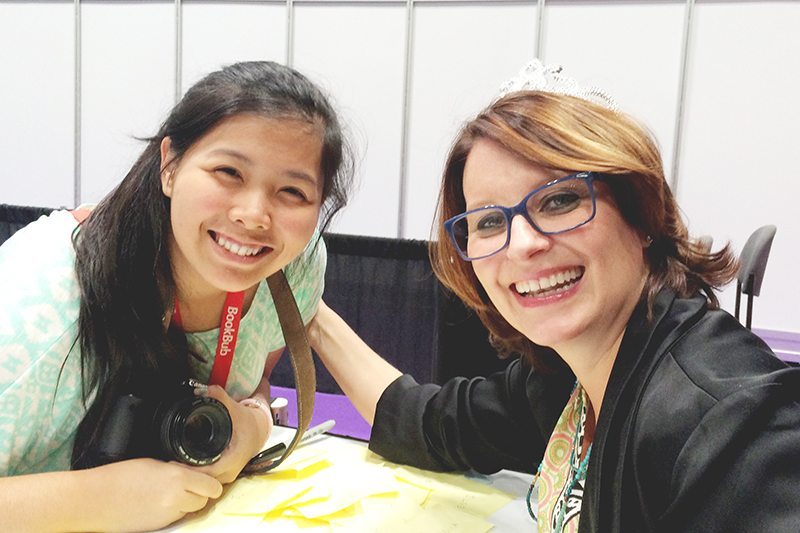 The last eventful and unforgettable moment of BEA 2015 was when I met Meg Cabot. Her signing was also very long but I got in line early so I managed to secure a good spot. Meg was looking fantastic, sporting a shiny tiara, and she was also super friendly to everyone. I read her books before I even knew about YA so meeting her will surely be memorable. Just like my entire awesome-crazy-tiring-fun experience at this year's BookExpo America!
Even though I had the chance to attend BookCon the next day, I skipped it. I was still feeling overwhelmed by BEA even after it was over. And truly, BEA felt like the ultimate bookish event experience and I was so happy with how my first time went that I felt just so contented already.
Will I be going to BEA next year? I'd love to visit Chicago but I really don't know- it's highly unlikely. I do know that I will attend again, maybe in the next few years. I just loved meeting so many amazing people who love books, write them and support them. I don't think I could ever get enough of such a feeling.
And for that amazing giveaway I mentioned- y'all can win an ARC of Illuminae!!!!! Open internationally. Just enter the rafflecopter giveaway below: