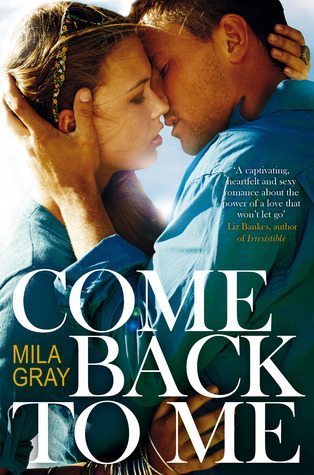 Come Back to Me

by Mila Gray

Book #1, Come Back To Me

Published by Pan Macmillan on June 19th 2014

ARC from Author

373 pages

Purchase on

Amazon

・

Fully Booked
Synopsis
Home on leave in sunny California, Marine and local lothario Kit Ryan finds himself dangerously drawn to his best friend's sister, Jessa - the one girl he can't have.

But Kit's not about to let a few obstacles stand in his way and soon Jessa's falling for his irresistible charms.

What starts out as a summer romance of secret hook-ups and magical first times quickly develops into a passionate love affair that turns both their worlds upside down.

When summer's over and it's time for Kit to redeploy, neither Kit nor Jessa are ready to say goodbye. Jessa's finally following her dreams and Kit's discovered there's someone he'd sacrifice everything for.

Jessa's prepared to wait for Kit no matter what. But when something more than distance and time rips them apart they're forced to decide whether what they have is really worth fighting for.

A breathtaking, scorchingly hot story about love, friendship, family and finding your way back from the edge of heartbreak.
I was very lucky to have been able to read Come Back To Me early but I was a little speechless about it when I first finished, thus the overdue review. I was speechless mostly because I thought Oh crap how the hell do I write a review that does justice to this book– it was that amazing. But then I listened to a certain song and it made me cry because I remembered this book and I knew then I had to share my feelings for this lovely novel to all of you.
"Come back to me," I whisper.
"Always," he answers, kissing me for the last time.
I had zero expectations when I started to read Come Back To Me. I hadn't read anything by Sarah (Mila) before so I wasn't familiar with how she writes and develops her stories. I was kind of blown away when I fell hard for this book. This could have been just another New Adult book, but it wasn't.
I'm scared. Not of Kit, but of what's about to happen between us. It feels like I'm about to take a step off a cliff and into a void and I have no idea whether I'll land safely or end up smashed to pieces on some jagged rocks I can't yet see. This could be reckless, stupid, dangerous. Or it could be the best thing I ever do.
Come Back To Me is the classic falling-in-love-with-your-brother's-best-friend (for Jessa) and falling-in-love-with-your-bestfriend's-sister (for Kit) and there's always a little hint of forbidden-ness (if there's such a word) when it comes to these kind of romances. Especially since Kit is very much a ladies' man that even his bestfriend, Riley, probably wouldn't want him for her little sister- right? But Jessa and Kit has shared a mutual crush for sometime already and it heightens when Kit comes back from Marine duty, temporarily on leave.
"Does he make you see stars?" he asks in a low voice. "Does he call you his north star? Because that's what you are to me. You're the reason I made it home."
Kit charms Jessa, because he's kind of a wonderfully irresistible guy, and soon they find themselves unable to stay away from each other. Their love grows with such intensity as you can see from both sides (yes, we get a double POV!) and I was pretty much head over heels for their romance. What I loved about their relationship was how good they were for each other. Kit inspired Jessa to be braver and Jessa inspired Kit to man-up as well. (Because really, there's no other option when the girl you're dating is the daughter of Colonel Kingsley Sir.) I also loved how smitten Kit was with Jessa- just so completely in love. I want a Kit, pretty please. Someone explain why he's a fictional character.
"That kind of love, Jessa," Kit continues, "doesn't just disappear. It doesn't just fade. I still love you. I'll always love you. And I think you feel the same way about me. And hell, I know I don't deserve it. I know all I deserve is your hatred. But if there's a chance, a single chance that you might still love me, then I'm not going to throw it away. Because I've been through hell and you're the only reason I'm still standing."
All that said, I wasn't ready for my heart to be broken into tiny little pieces. That prologue basically screamed WARNING: HEARTBREAK AHEAD but no, I had to go and get my feelings torn apart. As days pass by and Kit has to go back to duty, things get angsty. And after that there's just devastation. There was definitely sobbing and tears on my part. But all's good because I happen to love these kind of books.
"You asked me once to come back to you and I told you I always would. I'm working on it. It might take me a little while, and I know I have no right to ask you to wait for me after everything I've done, but I'm going to anyway because the truth is I don't know how to live without you."
Come Back To Me was a fantastically heart-rending novel. It pulls you in entirely and shows you how beautiful love is- and also how painful. Definitely worth reading. I can't wait to read more Mila Gray books!
Story Soundtrack:
When it comes to these soundtracks, I usually remember a song while I'm reading a book. This time, I was reminded of a book while listening to a song. I was listening to Taylor Swift's new album and found this gem- it is so perfect for Come Back To Me, I can't even.
[sc_embed_player fileurl="https://www.staybookish.com/wp-content/uploads/2014/11/11-This-Love.mp3″]
"This Love" by Taylor Swift
This love is good, this love is bad
This love is alive back from the dead
These hands had to let it go free
And this love came back to me
This love left a permanent mark
This love is glowing in the dark
These hands had to let it go free
And this love came back to me
Nope, I'm not crying- there's just something in my eye. Anyway, if you've read Come Back To Me, what songs do you think fit the book? What do you think of This Love? Do share your thoughts! xo