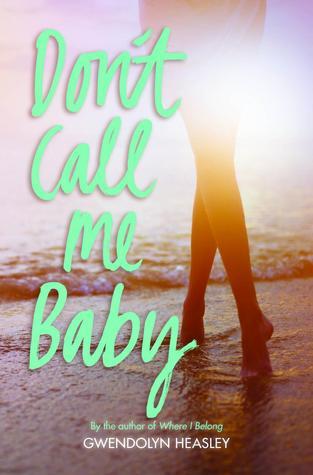 Don't Call Me Baby

by Gwendolyn Heasley

Published by Harper Teen on April 22nd 2014

ARC from Edelweiss

Purchase on

Amazon

・

Fully Booked
Synopsis
All her life, Imogene has been known as the girl on THAT blog.

Imogene's mother has been writing an incredibly embarrassing, and incredibly popular, blog about her since before she was born. Hundreds of thousands of perfect strangers knew when Imogene had her first period. Imogene's crush saw her "before and after" orthodontia photos. But Imogene is fifteen now, and her mother is still blogging about her, in gruesome detail, against her will.

When a mandatory school project compels Imogene to start her own blog, Imogene is reluctant to expose even more of her life online...until she realizes that the project is the opportunity she's been waiting for to tell the truth about her life under the virtual microscope and to define herself for the first time.
People don't know what it's like to be a daughter of a blogger. Imogene, widely known by her mom's blog readers as Babylicious, is tired of being the subject and focus of MommyliciousMeg.com. She's sick of people reading about her every move and every experience through her mom and is especially sick of having zero privacy. Don't Call Me Baby is Imogene's side of the story- the story that should have only been hers to tell to begin with.
It's rare for me to see a YA book that shows exactly how our generation is dominated by social media nowadays and even rarer to find one that centers on the blogosphere. Don't Call Me Baby's prologue grabbed my attention easily and it's safe to say that I was truly interested in the author's take on blogging. Despite the fact that the main character, Imogene, dislikes the idea of blogging due to her situation, I'm glad that Heasley shows how blogging and social media affects lives in different ways.
It's funny how you want to separate events in your life into either good or bad piles, but sometimes, the same thing fits into both categories.
I can't say that I was able to connect on a deep level with Imogene at all or that I was totally invested in her story but I liked how realistic her voice was, as a teenager who's struggling to get to control her own life. She hates that her classmates know her as That Girl On That Blog instead of her actual self and resents her mother for it. Seeing everything through Imogene's eyes- I could see why she felt the way she did. Her mom posts about the most embarrassing things, as in kill-me-now embarrassing, from her period to the fact that she has no date yet to a school dance, and the thing is- her mom's a really successful blogger, meaning thousands of people got to read about all this. If I were in Imogene's place, I'd be just as mortified, so in a way, I did kind of understand her.
Loving once is easy. Loving twice is harder, but love any time is always worth it.
When Imogene discovers that she's required to start a blog of her own for a school project, she's against it at first. Then, she realizes, along with her BFF, Sage, who also happens to be the daughter of a Vegan blogger and is the only one who really gets Imogene, that this is the perfect opportunity to change her image as Babylicious and finally get her mom to stop posting about her. Don't Call Me Baby features both Imogene's and Sage's blog posts, collectively known as Mommy Blogger's Daughters, as well as MommyliciousMeg's posts, which I thought was quirky. Aside from this, I like that the book is well-rounded, not only revealing Imogene's thoughts, but also showing dynamic relationships with her family, friends and people from school. We get various opinions on blogging through these characters that Imogene interact with, which was nice to read about. Imogene's Grandma Hope, who happened to be an ace golfer, was my favorite character- I just adored her!
Sometimes you have to disconnect to reconnect.
If you've ever wondered about why people blog, Imogene's story might help you answer that question. While I wasn't head over heels with Don't Call Me Baby, I did enjoy it quite a lot. I liked that it tried to understand and comprehend blogging, social media, and the internet. I also liked that it encourages us to get in touch with reality and disconnect once in a while from our virtual lives. For a quick, fun read about the age of the internet and a story of a girl hoping to get through the awkward stages of being a teenager without it being blogged by her mother, you might want to pick this one up.