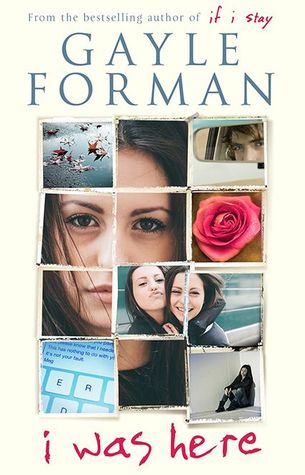 I Was Here

by Gayle Forman

Published by Simon & Schuster UK on January 29th 2015

ARC from Blog Tour

Purchase on

Amazon

・

Fully Booked
Synopsis
Cody and Meg were inseparable.
Two peas in a pod.
Until . . . they weren't anymore.

When her best friend Meg drinks a bottle of industrial-strength cleaner alone in a motel room, Cody is understandably shocked and devastated. She and Meg shared everything—so how was there no warning? But when Cody travels to Meg's college town to pack up the belongings left behind, she discovers that there's a lot that Meg never told her. About her old roommates, the sort of people Cody never would have met in her dead-end small town in Washington. About Ben McAllister, the boy with a guitar and a sneer, who broke Meg's heart. And about an encrypted computer file that Cody can't open—until she does, and suddenly everything Cody thought she knew about her best friend's death gets thrown into question.

I Was Here is Gayle Forman at her finest, a taut, emotional, and ultimately redemptive story about redefining the meaning of family and finding a way to move forward even in the face of unspeakable loss.
Before anything else, let me tell you right here right now that I am a huge Gayle Forman fan. It goes without saying that reading a Forman novel in itself gives me great joy and that I was utterly excited to have been able the chance to read this newest novel of hers earlier than most. Despite my predisposition, I can say, quite impartially, that I found I Was Here captivating.
For one, Gayle's writing is as fluid and incredible as it always has been. There's something about her words that just dynamically demands my attention. Reading anything by Gayle, I Was Here in particular, is like watching magic happen- you're completely unable to look away. So yes, I was easily immersed with the story. With the way suicide- its actualisation and aftereffects- is explored through such an authentic voice, how could I not be?
Cody's best friend, Meg, drank some poisonous chemicals and died in a motel room with only a vague email to explain her choice to self-destruct. Meg's family left greatly distressed, Cody takes it upon herself to visit Meg's college to sort through her things for them. What she finds there instead are revelations that may just lead to finally understanding Meg's decision to end her life. As Cody uncovers all that Meg has left untold, she deals with her grief, hoping to mend her heart from the unimaginable loss of her best friend.
I can't say I identified with Cody as much as I did with Allyson from Just One Day or Mia from If I Stay for that matter, but I still connected with her on some level. Her heartache, for one, was something I empathized with. Cody's desire to answer the ever-haunting question why was also understandable. More than that, she was a striking character whose flaws and inhibitions were unabridged. It wasn't hard to feel for her.
I grew more invested in I Was Here as I was taken by the other characters: Ben, Tricia, Meg's family, Alice, Richard, Harry. All of them were significant to the story in their own little way and I was struck again by how circumstances, especially tragic ones, can tie up so many people together. The way Gayle links such concrete characters continues to leave me astounded. I also adored that I Was Here had a good mix of family, friendship and romance.
Speaking of romance, I enjoyed watching Cody and Ben's relationship slowly unravel. I honestly was a little irresolute about Ben McAllister at first but he totally weaseled into my heart. Ben is quite like Adam Wilde from If I Stay, what with both being musicians and swoony. Anyway, his chemistry with Cody was obvious from the start and I rooted for the two little by little. The last chapter, right before the epilogue, totally won me over though and I will smile to myself every time I remember it because it was just so sugar sweet.
Finally, I just want to say that I loved I Was Here. The subject matter is grittier than any of Gayle's other books but I think, for her fans especially, that this will be a book worth experiencing.