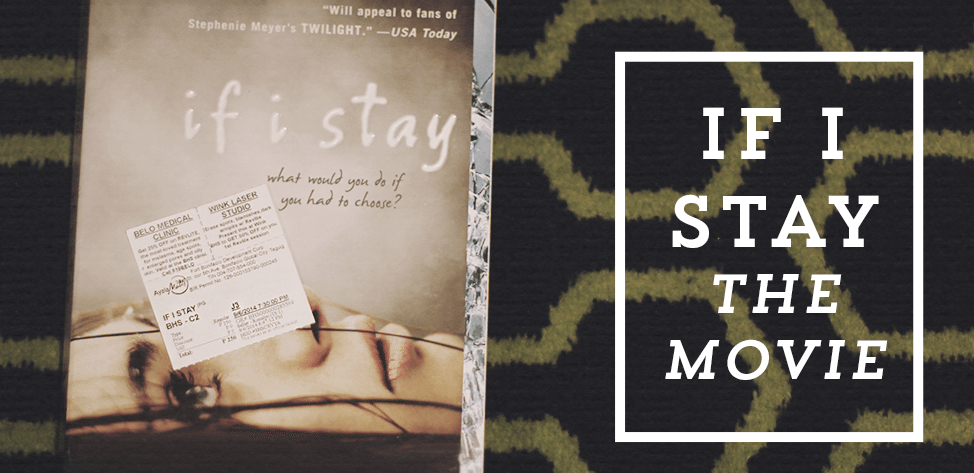 To say I was thrilled that If I Stay was going to become a film would be an understatement. If I Stay is one of the YA books closest to my heart and Gayle Forman, the author of the novel, is on the top of my list of beloved authors. I wanted to see and experience her beautiful story, alive before my eyes. I finally did, just last week.
Did I have expectations? Yes. Were those expectations met? Yes. What were my expectations, anyway? I expected to get all the feels and expected there to be sobbing. And trust me, there were definitely feels and quite a river of tears.
Chloe Moretz portrayed Mia Hall well. It was nice to see her diverge from her usually younger role (like in 500 Days of Summer) as she did with Carrie, and also see the way she brings emotion to her acting in this one. As for her love interest in the film, Jamie Blackley also did a good job as Adam Wilde. In case you didn't know, Adam Wilde is one of my favorite fictional boys because sa-wooon! Truth be told, I was a little disappointed when the casting was announced because I couldn't see Jamie Blackley as Adam. However, watching the movie convinced me otherwise. Jamie was able to embody the musician that I fell in love with in the book and while some lines turned out sappier than swoony when he said them, I still think he was a great Adam. (He even had Adam's I'm-heartbroken-so-I'll-be-a-douchebag side down. I didn't think I'd see that here since it was mostly prominent in the second book. I kinda wanted to wack the guy on the head when he was fighting with Mia.)
However, my favorite aspects of the If I Stay movie weren't really the main characters or their romance (surprise, surprise) but the way the movie portrayed Mia's closely-knit family, the way it incorporated music and the way it packed an emotional punch. The supporting actors were amazing. Honestly, I probably loved Mia's parents more than everyone else in the movie, save for her Grandpa who still made me cry a bucket. Mia's parents made the movie comical and just adorable and through Mia's memories with them, you see why staying would leave her broken. But at the same time, the movie was able to show how precious music was to her and why staying might be worth it. Those parts really gripped at my heart. Not to mention that I just absolutely love it whenever the soundtrack plays. I'm so happy I got to hear Willamette Stone's songs and see them (mostly Adam) perform these in the movie.
Everything allowed the film to stay very much true to the book. Whether it was because of Gayle's enthusiastic involvement with the production, or the talented abilities of the screenwriter and director in transforming the novel to a movie, If I Stay was a lovely adaptation.
Based on my own experience, I believe that those who've read the book will be able to really appreciate the movie. That said, whether you were a fan of the novel or just the usual movie-goer, I think If I Stay is worth seeing on the big screen!