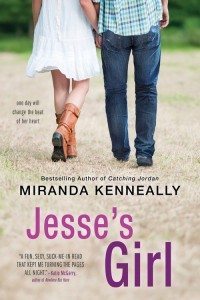 Jesse's Girl

by Miranda Kenneally

Book #6 - Hundred Oaks

Published by Sourcebooks Fire on July 7th 2015

ARC from Publisher

304 pages

Purchase on

Amazon

・

Fully Booked
Synopsis
Practice Makes Perfect.

Everyone at Hundred Oaks High knows that career mentoring day is a joke. So when Maya Henry said she wanted to be a rock star, she never imagined she'd get to shadow *the* Jesse Scott, Nashville's teen idol.

But spending the day with Jesse is far from a dream come true. He's as gorgeous as his music, but seeing all that he's accomplished is just a reminder of everything Maya's lost: her trust, her boyfriend, their band, and any chance to play the music she craves. Not to mention that Jesse's pushy and opinionated. He made it on his own, and he thinks Maya's playing back up to other people's dreams. Does she have what it takes to follow her heart—and go solo?
Miranda Kenneally just keeps hitting sweet spots with her fabulous Hundred Oaks series and its latest installment- Jesse's Girl. I finished it in one sitting and totally enjoyed reading! I mean, how could I not? I have that much faith in anything written by Kenneally. She didn't disappoint because this one turned out to be awesome.
"Maybe the best day ever can develop into a lot more. Maybe it can become life where I'm friends with Jesse Scott, where I can sing solos on a regular basis, where I can take chances. I'm going to work for it."
For one, Jesse's Girl was really refreshing. It was so nice to have the series shift its focus from sports for a change (not that I didn't like it because I did)- this time, music. We get a spunky aspiring rockstar as a female lead, Maya Henry, and a sexy famous country star, Jesse Scott, as her love interest. Maya hangs out with Jesse for 'Shadow Day'- where you shadow someone who works in the field you want to be in someday. While the rest of Hundred Oaks High students' career mentors are basically a joke, Maya, despite her bad first impression of Jesse, finds herself enjoying and learning a lot from him about. After one amazing exhilarating day together, Maya realizes she needed to take chances not only with going solo and pursuing her dreams, but also with Jesse.
"It sucks to have a once-in-a-lifetime day, a day that changes you, only to hear the same old song repeated on the radio over and over. I don't want yesterday to wither away and die."
I liked Maya's personality a lot. She's passionate about music and had so much spunk. She had a sweet side too, a caring girl who had a big heart. I connected with how she was working really hard to believe in herself, to believe that she could make it in the music industry. I couldn't help but root for her dreams to come true and I was proud of her growth and achievement in the story. I also grew to really like Jesse, even though he came off as a country jerk initially. Upon reading further, we discover that he's the way he is because of the baggage he carries around- the reason why he's pulling quitting. I understood him more and my heart melted as he slowly learned to trust and find happiness. In a lot of ways, Maya and Jesse were perfect for each other and I was fond of the adorable, heartwarming and romantic moments between them.
"I used to think trust means 'never let you down', but really, it's about love. Family can't always help fix a difficult situation, and everybody makes mistakes. We shouldn't expect perfect. But we can hope that the people we love love us enough to try to make it right."
The cameos from past characters in the series were also definitely a highlight in Jesse's Girl. It was such a joy to see Jordan and Sam from Catching Jordan as well as watching  the Henry family dynamics and seeing how Sam was such an overprotective annoying but completely loving brother to Maya. Of course, there are fun new characters to meet, like Dave and even the principal, Dr. Salter. Aside from that, the Nashville setting was also great to read about and we even get a bit of New York in several of the last few chapters. The way the story was separated in Side A, Side B and Bonus Track like a playlist was also a nice touch!
"I might have missed a beat, but my performance isn't over."
I personally think that Kenneally's mastered the art of writing these charming contemporary companion novels and I will never stop wanting for more. If you haven't read any of the first five books, you're seriously missing out. Go read! (You can start with any of them but reading chronologically is still the best.) If you've already read the other books, go right into this one and enjoy yourself with Maya and Jesse's sweet and musical story.