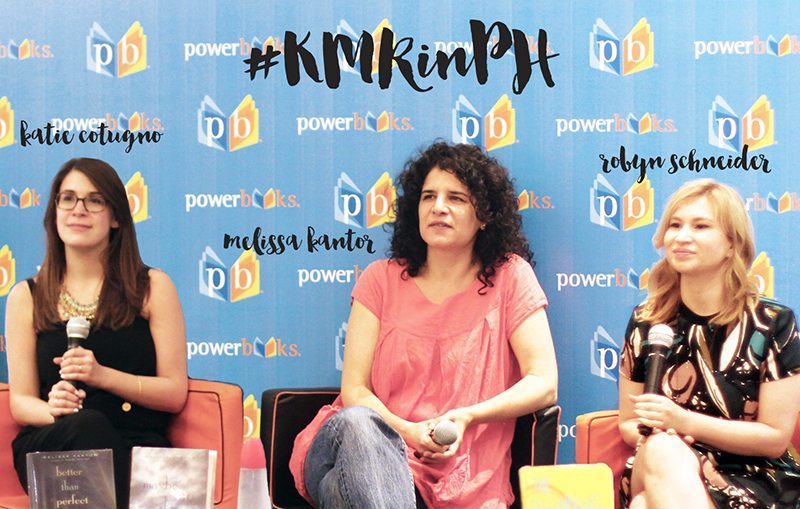 Being a die hard fan of YA Contemporary, I was so excited when National Bookstore announced that they were bringing not one but three YA Contemporary authors to the Philippines: Katie Cotugno, Melissa Kantor & Robyn Schneider. I've read one or two books from each one of them that I really liked (and loved!) so there was no way I could miss their book signing!
Well, I was just there today and it was beyond awesome. Like way-too-excited-so-I'll-share-my-recap-ASAP awesome. Let me tell you all about it! 
The Q&A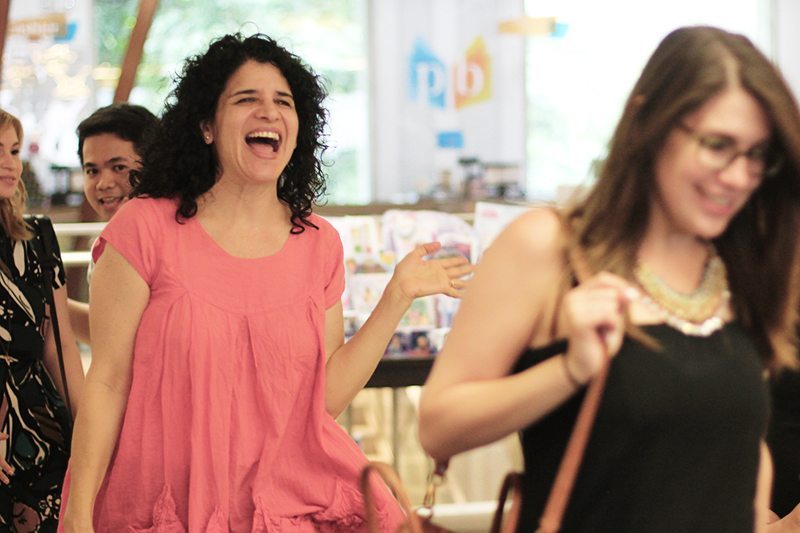 After a fun arrival, in which the bloggers cheered for the three authors, the Q&A hosted by Chad Dee of National Book Store started. Some of the bits shared by the authors: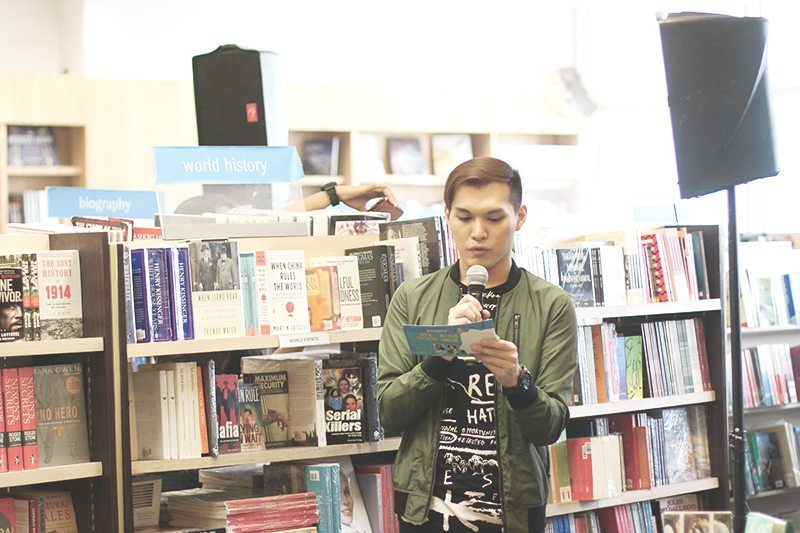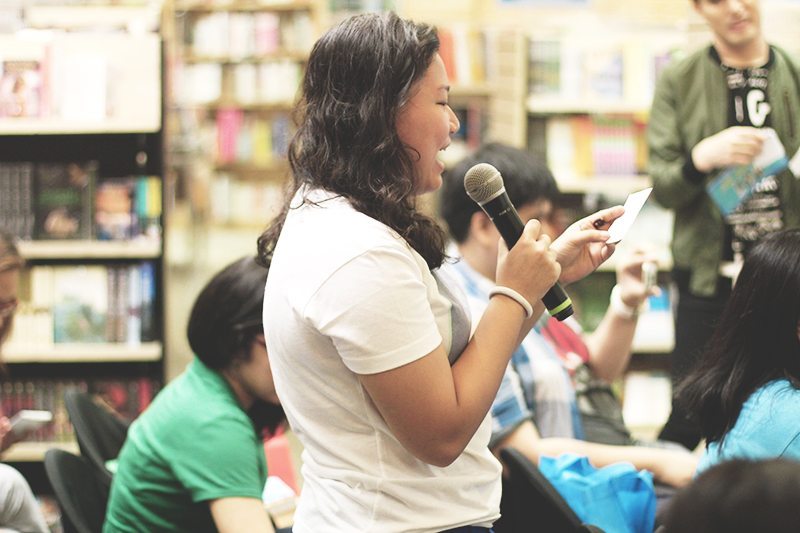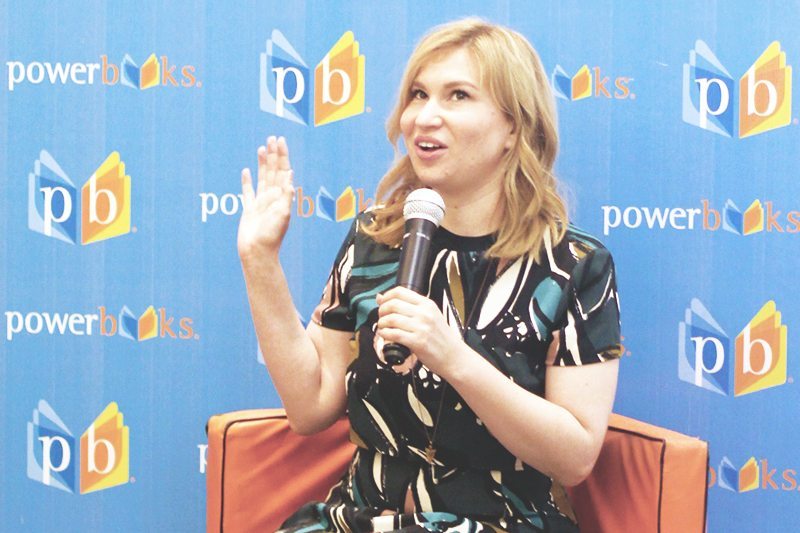 Some people thought that Robyn's Extraordinary Means was dystopian but it's not- it was just set in alternate present. While she's interested in them, she'd like to write a realistic contemporary with horror fantasy scary moments (like Buffy the Vampire) that's set in our world.
With How To Love, Katie's readers either loved the story or hated it so much. In 99 Days, her character Molly is a very polarizing character who makes a lot of bad decisions over and over and just doesn't learn. Having her own share of mistakes and bad decisions, these are the kinds of characters that felt real to Katie and that she's interested in telling stories about. She isn't interested in telling stories about perfect people with perfect lives because she didn't know anyone like that.
"Everyone's life, no matter how unremarkable, has a moment when it will become extraordinary – a single encounter after which everything that really matters will happen." – Based on this quote from The Beginning of Everything, Robyn used to think she knew what that moment was for her, and the book came from realizing that what she thought was her big moment- the realization that she wanted to become a doctor and change what she was studying and work really hard to accomplish that- didn't feel like the best idea in hindsight. She thinks that maybe her new life changing moment was deciding to finish her first book, which she'd thrown away before. Robyn explains that in retrospect, these moments are like small everyday decisions- and picking up her manuscript again was one of them.
The biggest challenge for Melissa was making Zoe from Maybe One Day likeable. The things she thought and said that Melissa didn't think were mean apparently were mean. Zoe was much nastier in the original draft and it didn't read well so a part of Melissa's process was softening Zoe and finding her sweet spot. Writing about Olivia's illness wasn't also typical for her books. Melissa's father had had Leukemia so the things that happen to Olivia were drawn from this.
Katie started to write How To Love when she was sixteen. At the time, she wanted to write a story about a cute boy and a girl who was her age then and going through what she was, having the same kind of emotions like the feelings of not being seen and watching this guy from across the room and knowing you're not on his radar at all. She fell into YA this way but what kept her writing it was how when you're a teenager, everything feels so important and intense. It's a great ground for storytelling and these are the kind of stories she loves.
Melissa agreed with Katie on this and added that what others would disregard as teenage puppy love, are actually some of the strongest emotional stuff that will happen to you.
Robyn writes YA because it's a chance to write really impactful firsts and she thinks every book she ever writes is secretly (or not so secretly) about the first boy she ever kissed. There's such a great opportunity to remember what it was like and try and find that part of herself in a book or a song or a line of text. She points out that you don't get adults writing quotes on their notebooks and are just reading books to pass the time. Teenagers read to find themselves and to find answers about who they are and the world. (Also, she thinks she's not mature enough to write an adult novel.)
It took a long time for Katie's debut novel to get published because she started then put it down several times. It became kind of a patchwork quilt of her experiences in the ten years it took to write it.
Melissa's creative process consisted of outlining the story once she had her initial idea. For her, it's really really important to figure out a writing process that works for you. She didn't want to sit down and not know what's going to happen while other people start writing and like to discover what's next.
An idea of what will happen is what Robyn starts with and only then does she figure out who it's going to happen to. She believes you're not who you are without knowing who your bestfriend, sister, mom is so just knowing the character is not enough for her- she has to go figure out what their day is like, who they call on the phone, who they had a crush on since they were ten until she knows how they move through the story. A lot of time this is trial and error or getting sneaky with her friends and asking them about particular things that could help her know her character's experiences. Simply put, she gathers her materials and fills in the fine lines of her characters and then writes the story. It's usually different than what she thought because people are usually different than you think they are when you first meet them and she thinks this is true for characters.
Robyn's leading guys are very much portraits of herself. Ezra was very much like how she was in high school and Lane is a lot like how she was in college. The male character she is currently writing makes her wonder, "Why is my psyche coming out fictionally male??"
In Melissa's The Break-up Bible, the male character was based on her ex-boyfriend (who she tells was such a jerk). She learned that people will attribute names to your characters and whether or not you meant to do that, people assume you did.
Katie and her husband have been together since high school so how she portrayed the experience of falling in love in her books was based on her own life.
As for why Melissa writes contemporary, it's because she loves writing romance, kissing scenes and I-saw-him-from-across-a-crowded-room scenes. For Katie, it makes her understand the world because a big part of writing is figuring out things about it. Robyn enjoys contemporary because she likes to write pop culture references. As for managing to inspire her readers through her words, Robyn doesn't set out to do this- she just sets out to write her characters authentically and answer the questions they have about what it means to grow up and figuring out who you are.
Katie was at first afraid to write messy, complicated characters because they kind of feel like your child until your book comes out and people are not crazy about them. She's learned that she should just write people she wanted to read. Finally, she also shared that she's currently writing a pop star romance!!!!!
Melissa's newest releases are much different from her older books, which were mostly romantic comedies. Now, she's writing unlikeable characters and edgier stories.
With Ezra, Robyn was mostly writing for herself but with Lane, she had her fans to think about. She found it harder to relate to him but Robyn says she likes the double challenge of writing male characters and writing teenagers.
Whew! Katie, Melissa and Robyn shared such great insights on their books and on writing contemporary romance. Props to PH YA Bloggers for also asking really great questions. ;) Moving on…
The Signing
 
Melissa Kantor and Robyn Schneider signing books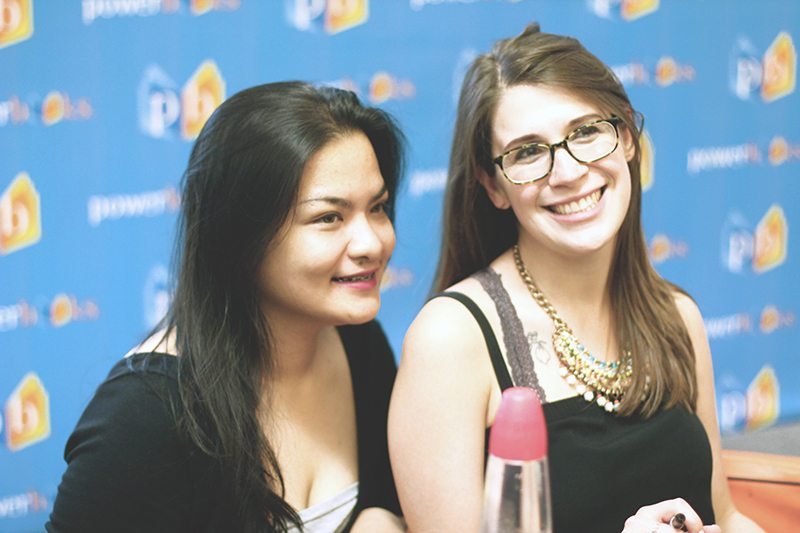 Katie with Kate of The Bookaholic Blurbs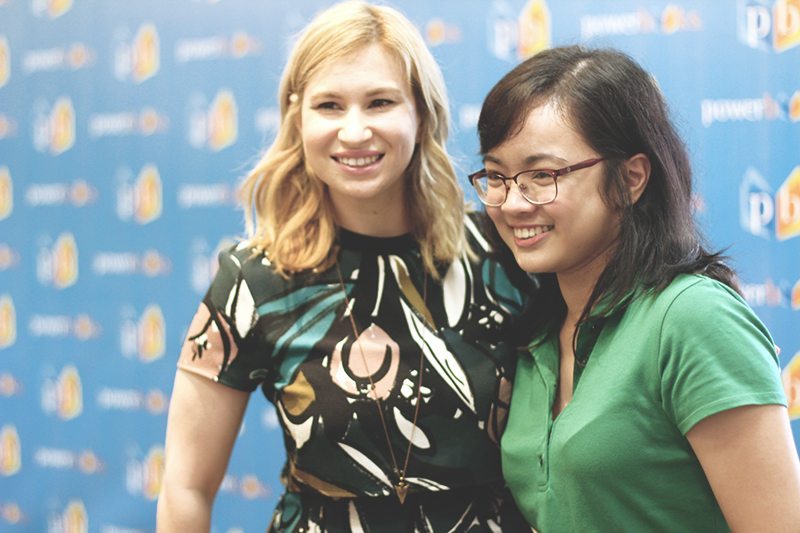 Robyn with Sab of Sab The Book Eater
These ladies are just so lovely!!!!! ♡♡♡

And these bloggers are the best company!!!! ♡♡♡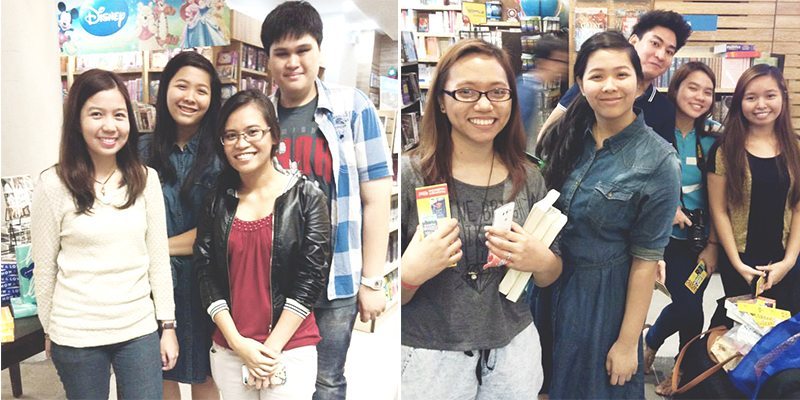 L- with Jesselle, Leslie, Kevin // R- with Kazhy, Jello, Mary Ann, and Dea (Photos from Kai of Amaterasu Reads)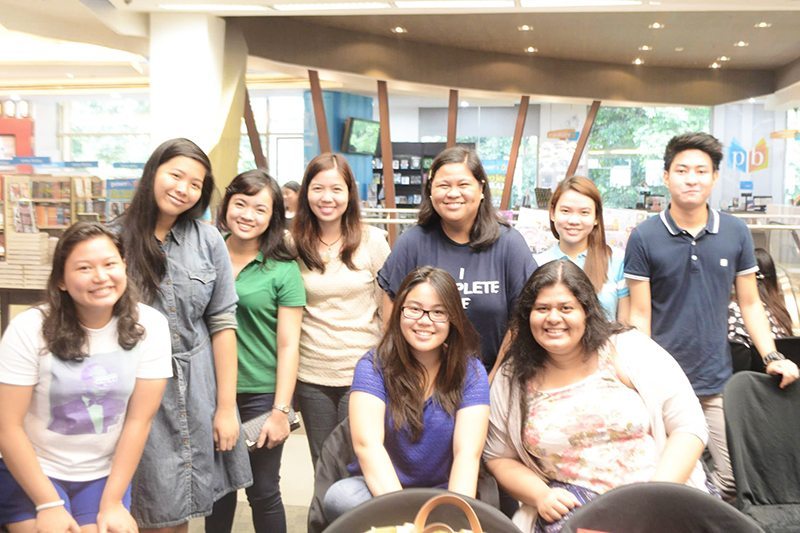 (Photo from Kate of The Bookaholic Blurbs)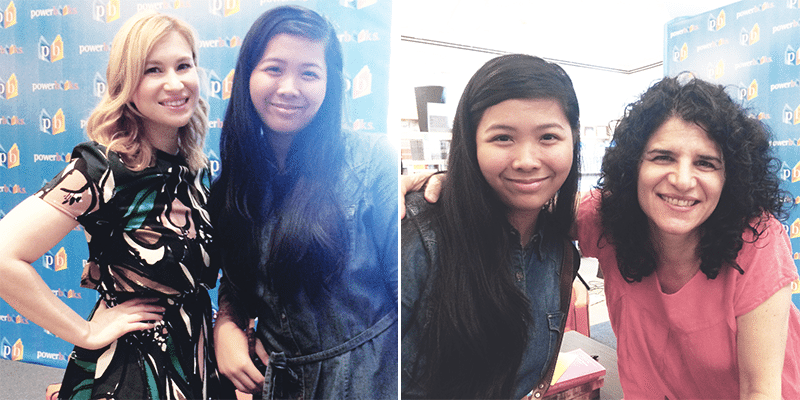 With Robyn Schneider & Melissa Kantor!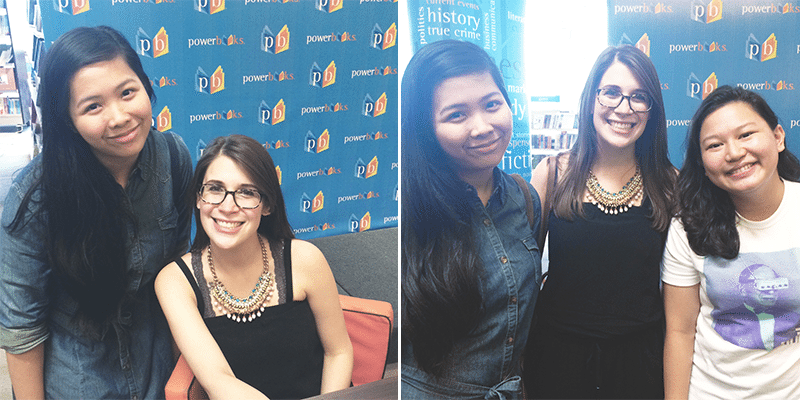 With Katie Cotugno, who made me want to read more about complex characters and emotions with How To Love, one of my top reads of 2013! (also with Dianne of Oops I Read A Book Again and KatieCotugnoPH)
 The Signed Books + Swag
Final Note
Today was all kinds of awesome!!!!!! 💗 Thank you, @nbsalert!! #KMRinPH pic.twitter.com/mHgPKyI2Fj

— Hazel (@staybookish) July 5, 2015