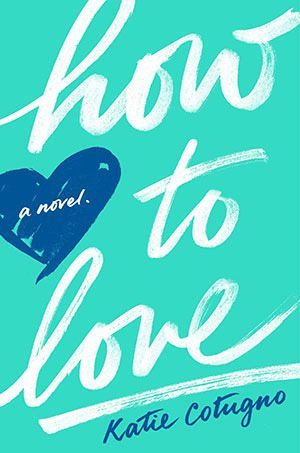 How to Love

by Katie Cotugno

Published by Balzer + Bray on October 1st 2013

Finished copy from Publisher

389 pages

Purchase on

Amazon

・

Fully Booked
Synopsis
Before:
Reena Montero has loved Sawyer LeGrande for as long as she can remember: as natural as breathing, as endless as time. But he's never seemed to notice that Reena even exists until one day, impossibly, he does. Reena and Sawyer fall in messy, complicated love. But then Sawyer disappears from their humid Florida town without a word, leaving a devastated—and pregnant—Reena behind.

After:
Almost three years have passed, and there's a new love in Reena's life: her daughter, Hannah. Reena's gotten used to being without Sawyer, and she's finally getting the hang of this strange, unexpected life. But just as swiftly and suddenly as he disappeared, Sawyer turns up again. Reena doesn't want anything to do with him, though she'd be lying if she said Sawyer's being back wasn't stirring something in her. After everything that's happened, can Reena really let herself love Sawyer LeGrande again?

In this breathtaking debut, Katie Cotugno weaves together the story of one couple falling in love—twice.
How To Love? How about 'How To Review'  because honestly- I'm a little speechless about this one and I'm not sure what words to use or how to say them. Well, here goes. *takes deep breath* I loved this book. I really really did. It captured my heart in unexpected ways and I found myself admiring the lovely writing and the even lovelier story. It shows how love is truly such a complex feeling and makes the reader ultimately believe in second chances.
This beautiful debut is all about imperfection, and that's what makes it so perfect as a contemporary. It captures how messy human emotions are, how we make many mistakes in our lives but it tells us that there is hope and there is love and that's what matters.
"I wondered what it was like to be that kind of person- the kind that wasn't always worried about what might happen, about what people might think or every disaster that could potentially befall him a dozen steps down the road."
Katie Cotugno's characters are flawed and just so real. So human. Reena, the main character, is certifiably good; she's intelligent, nice, and witty. She has dreams, of leaving town and going places. She isn't good with crowds as she's reserved and would rather keep to herself or spend time with her best friend. Sawyer, is the opposite; he's a bad boy who screams 'trouble'- likes to party, booze it up, and attracts a handful of girls. He can come off as obnoxious and he's not exactly the best influence for Reena. Yet the two are drawn together and they fall in love- a messy, tangled love. Never have the words 'sweetest downfall' been so perfect for a couple. Their romance, broken and distorted as it was, really could not have been more true and tangible for me.
Reena's story was told in before and afters of her pregnancy. I was doubtful at first whether this kind of writing style would fit the book but it did. The alternate chapters were expertly done, and I found that the before was so distinct from the after. Both Reena and Sawyer had become more mature and you understand how time and experience have changed them. Still, Reena had a heavy heart, after going through so much. Her angst and bitterness over being left by Sawyer was all too present. Despite never having gone through what she had, I felt her emotions and understood her confusion. Her feelings were so honest that it was so easy to connect with her and her inability to let Sawyer back inside her heart. We are left wondering whether the two will ever find their way to fall back in love for the second time. This had me turning pages constantly- I couldn't put the book down. I rooted for Reena and Sawyer so so much and despite sometimes being frustrated with both of them, I wanted, more than anything, a happy ever after for the two.
Aside from the main characters, I loved Shelby, Reena's best friend. The two shared an irreplaceable, genuine friendship and Shelby is awesome, supportive, and such a good friend. She had a sense of humor, which was enjoyable, but more importantly, she brings Reena back to earth, pointing out the mistakes she made or was about to make. I also liked Aaron, Shelby's brother, and a part of me was rather upset for him because he was a really sweet guy. The characterization of Reena's family was portrayed really well too, specifically her relationship with her dad. While they weren't a highly dysfunctional family, they had issues, the kind of issues you get when you deal with a teenage pregnancy. I liked how these were present, because again, the story was made more real by these problems. Lastly, I liked reading about Reena with her daughter, Hannah, and I found myself admiring Reena more as I saw how she bravely raised her daughter alone.
"And still just the sight of him feels like a homecoming, like a song I used to know but somehow forgot."
This book is definitely one of the cases where in I wish there was a sequel, because I just fell in love with the characters so much and wanted more. Nonetheless, I treasured the ending- it was promising, heartening and it was a great resolution. How To Love was a stunning read. The writing was truly amazing but the story and the characters are what did it for me. It's wonderful as a YA novel but I'd recommend it to anyone who enjoys a lovely, touching contemporary.
Rating: