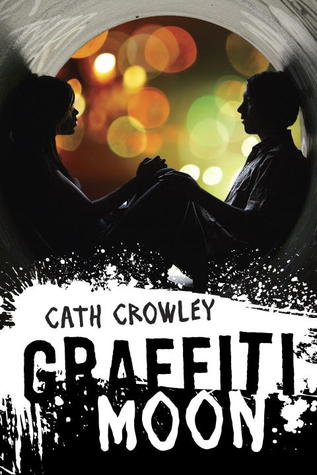 Graffiti Moon

by Cath Crowley

Published by Ember on December 26th 2012

Purchased copy from Fully Booked

272 pages

Purchase on

Amazon

・

Fully Booked
Synopsis
Senior year is over, and Lucy has the perfect way to celebrate: tonight, she's going to find Shadow, the mysterious graffiti artist whose work appears all over the city. He's out there somewhere—spraying color, spraying birds and blue sky on the night—and Lucy knows a guy who paints like Shadow is someone she could fall for. Really fall for. Instead, Lucy's stuck at a party with Ed, the guy she's managed to avoid since the most awkward date of her life. But when Ed tells her he knows where to find Shadow, they're suddenly on an all-night search around the city. And what Lucy can't see is the one thing that's right before her eyes.
We never really know how endless the possibilities are until we take chances on a whim. This is how it felt like to read Graffiti Moon. It was an impulse move, I just saw it and picked it up and decided to read. It was my first time to encounter Cath Crowley's writing but I was strapped down and unable to stop reading! I did not expect to be so taken by this amazing, one-night-only, adventurous novel!
"In the dark she could be a different girl and I could be a different guy. We could be two people swimming through painted music."
Lucy is looking for a graffiti artist, someone whose art speaks to her. If she could only find Shadow, she knows knows he could be the kind of guy she could fall for. While her friends are out to party and boy-hunt on the night of graduation, Lucy is determined to find Shadow more than ever. Thing is- the only person who could point her to the mysterious artist is the same guy whose nose she almost broke before. Their disastrous date led Lucy to believe that Ed wasn't her type at all. But as the night stretches before them, their little escapade becomes more than just about finding Shadow.
There's something about books like Graffiti Moon that I can't seem to get enough of. I loved how the author pulled off the dual POV perfectly. Getting to read both Lucy and Ed's thoughts was awesome and I really loved how their voices were so distinct and well-defined. The narration style was engrossing and easy-flowing. The writing, oh the writing! I. LOVED. IT. The way the author weaved art imagery and poetry into a slice-of-life kind of story was just glorious for me.
"If my like for you was a football crowd, you'd be deaf cos of the roar. And if my like for you were a boxer, there'd be a dead guy lying on the floor. And if my like for you were sugar, you'd lose your teeth before you were twenty. And if my like for you was money, let's just say you'd be spending plenty."
Despite how whimsical a single night adventure seems to be, I loved how real everything felt like. Ed and Lucy could come to life and jump out of the book anytime and I wouldn't even be surprised. In fact, I'd love that because I really loved those two. I really was fond of their friends as well- Leo, Jazz, Dylan, Daisy. Heck, I even appreciated the antagonist, Malcolm Dove, not that I would want him to jump out of the book or anything though. I loved how witty the characters were, how they had their own little subplots. I loved their ramblings, especially Ed's and Lucy's thoughts. The whole story felt unplanned, almost as if the author just went with whatever flow, but I loved how everything fell in the right place.
I know I said 'loved' infinite times already but I cannot stress enough how good this book was! Graffiti Moon was wonderful, artistic and marvelous- I recommend it to everyone!
Rating:

Get a chance to win Graffiti Moon or any of my top 2013 YA reads! Join here!