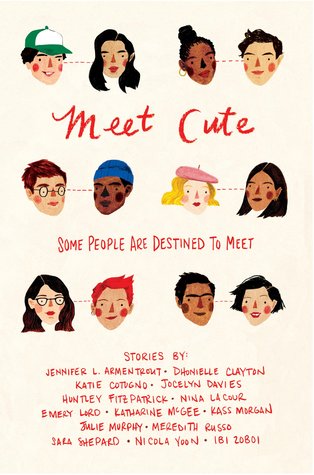 Meet Cute: Some People Are Destined to Meet

by Jennifer L. Armentrout, Sona Charaipotra, Dhonielle Clayton, Katie Cotugno, Jocelyn Davies, Nina LaCour, Emery Lord, Katharine McGee, Kass Morgan, Meredith Russo, Sara Shepard, Nicola Yoon, Ibi Zoboi, Julie Murphy

Published by HMH Books for Young Readers on January 2, 2018

Genres: Contemporary

Finished copy

320 pages

Purchase on

Amazon

・

Fully Booked
Synopsis
Whether or not you believe in fate, or luck, or love at first sight, every romance has to start somewhere. MEET CUTE is an anthology of original short stories featuring tales of "how they first met" from some of today's most popular YA authors.

Readers will experience Nina LaCour's beautifully written piece about two Bay Area girls meeting via a cranky customer service Tweet, Sara Shepard's glossy tale about a magazine intern and a young rock star, Nicola Yoon's imaginative take on break-ups and make-ups, Katie Cotugno's story of two teens hiding out from the police at a house party, and Huntley Fitzpatrick's charming love story that begins over iced teas at a diner. There's futuristic flirting from Kass Morgan and Katharine McGee, a riveting transgender heroine from Meredith Russo, a subway missed connection moment from Jocelyn Davies, and a girl determined to get out of her small town from Ibi Zoboi. Jennifer Armentrout writes a sweet story about finding love from a missing library book, Emery Lord has a heartwarming and funny tale of two girls stuck in an airport, Dhonielle Clayton takes a thoughtful, speculate approach to pre-destined love, and Julie Murphy dreams up a fun twist on reality dating show contestants.

This incredibly talented group of authors brings us a collection of stories that are at turns romantic and witty, epic and everyday, heartbreaking and real.
RATING: 3 STARS
For someone who is a hopeless romantic, I really thought this book would be my cup of tea. However, after reading it, it was more like a very lukewarm cup of tea. In other words, it was an average read for me. I didn't hate it, but I also didn't love it.
Meet Cute is my first anthology, so I didn't know how to go about reviewing this, but I ended up sorting the stories into three categories. One for my favourites, one for my least favourites and lastly, one for the stories that didn't wow me, but did interest me enough to want a longer story.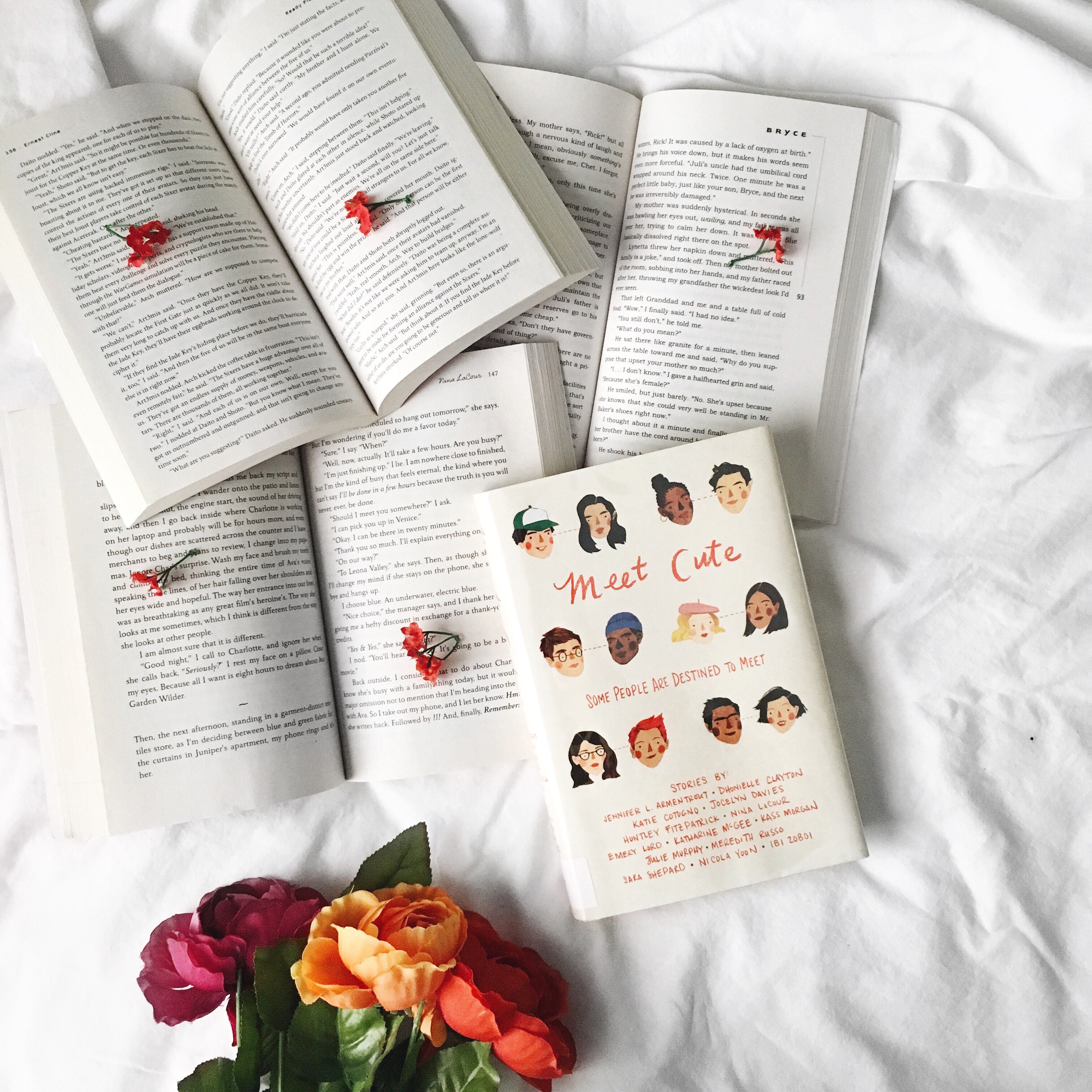 Favourites: Click (my favourite of the whole bunch!!!), The Dictionary of You and Me, Oomph, The Unlikelyhood of Falling in Love, The Department of Dead Love
These ones gave me a lot of feels and I found them to be extremely cute in my opinion! They left me smiling ear to ear and wanting more, especially, The Department of Dead Love! I would LOVE to see that one as an actual book. The plot is so intriguing that I think it would be such a great read! (please Nicola Yoon! please write it as a full length book!!!)
Least Favourites: Siege Etiquette, Hourglass, The Intern, Somewhere That's Green, Something Real
These fell flat for me. Not only did I find the meet cutes to be forced (I cringed at some of them tbh), but I also found the plots and characters to be unforgettable and structured poorly. I just had a hard time believing in the romances.
The ones that I liked, but didn't wow me were The Way We Love Here, The Print Shop, 259 Million Miles and Say Everything. 
These ones I liked, but I think I would prefer to see them as actual books or longer stories! They all had intriguing plots, but I think they would fit better as their own novel or some sort. The short amount of pages made it hard to unpack everything, so it kind of limited the potential they had. All in all, these stories were okay reads.
Overall, although I expected more, I still enjoyed the diversity of these love stories and the variety of all the meet cutes! If you're into cutesy romance and contemporary reads, I would definitely say try this anthology out. Everyone has different tastes, so you never know if you'll end up loving it more than me! (or not haha)
"Some people you want to get to know and some people you want to know you…. For whatever reason, there are people that you want to tell your weird, secret thoughts to. You want to show them your pimples and tell them about your braces. You want them to love you because of those things, not in spite of them. 'Some people make you want to be known,'" – Nicole Yoon, The Department of Dead Love
Have you read Meet Cute? Tell me your thoughts below!