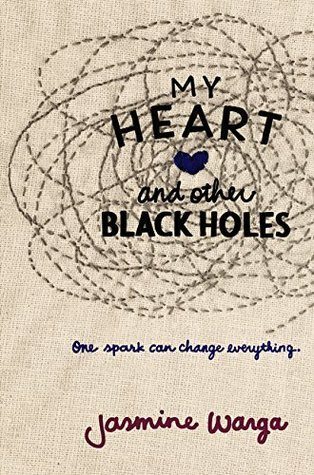 My Heart and Other Black Holes

by Jasmine Warga

Published by Balzer + Bray on February 10th 2015

ARC from Author

320 pages

Purchase on

Amazon

・

Fully Booked
Synopsis
Sixteen-year-old physics nerd Aysel is obsessed with plotting her own death. With a mother who can barely look at her without wincing, classmates who whisper behind her back, and a father whose violent crime rocked her small town, Aysel is ready to turn her potential energy into nothingness.

There's only one problem: she's not sure she has the courage to do it alone. But once she discovers a website with a section called Suicide Partners, Aysel's convinced she's found her solution—Roman, a teenage boy who's haunted by a family tragedy, is looking for a partner.

Even though Aysel and Roman have nothing in common, they slowly start to fill in each other's broken lives. But as their suicide pact becomes more concrete, Aysel begins to question whether she really wants to go through with it. Ultimately, she must choose between wanting to die or trying to convince Roman to live so they can discover the potential of their energy together.
There's something about sad beautiful hopeful books that I can never shake off- Jasmine Warga's debut novel, being one of them. Maybe it's because it somehow makes me think about life and humanity among many other things. Maybe it's because the characters and the words crawl into my heart, light it up with a spark and remind me that it isn't a black hole after all.
"Sometimes, for me, it feels like my grief is eating me alive. I always thought the hardest moments would be when I remember things about her, but that's not true. The hardest moments are when I miss her in the future."
For a contemporary novel, My Heart And Other Black Holes is dark, delving on issues like depression and suicide. Aysel and her suicide partner, Frozen Robot/Roman, both are haunted by their tragic lives and the people lost to them. Both own unbearable grief that vibrated through the pages and I kept thinking to myself while I was reading how much I wish I could take away their pain. In several ways, I really felt their hurt and their sadness. I think a large part of that was because Aysel's narrative and voice was so genuine. As the main character, I connected with her a lot and I loved her Physics geek personality and her dark sense of humour. Moreover, the growth and development I saw in Aysel was very inspiring.
"I once read in my physics book that the universe begs to be observed, that energy travels and transfers when people pay attention. Maybe that's what love really boils down to- having someone who cares enough to pay attention so that you're encouraged to travel and transfer, to make your potential energy spark into kinetic energy."
While My Heart And Other Black Holes leaves a heavy feeling to the reader, I really really loved how Jasmine kept everything so honest- not once disguising the characters' melancholy thoughts or romanticizing suicide. That said, there is romance in the book. As Aysel and Roman plan the end of their lives together, they grow a connection so strong and exquisite. All through out the story, I was amazed by how their relationship and their feelings for each other became more solid and definitive. It honestly had me crying at 3am but I regret nothing.
"He squeezes my hand so tight, I can't feel it anymore. I wish someone would do that to my heart."
I firmly believe it takes guts to write a novel like this one and I admire Jasmine so much for carrying it out brilliantly with her elegant and thought-provoking writing. As it pierced through my heart completely, I can attest that My Heart And Other Black Holes is poignant and moving and worth the read.