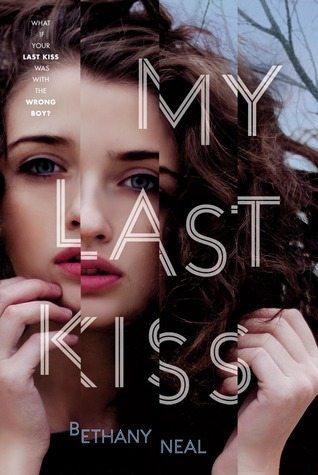 My Last Kiss

by Bethany Neal

Published by Farrar Straus and Giroux on June 10th 2014

ARC from Blog Tour

Purchase on

Fully Booked
Synopsis
What if your last kiss was with the wrong boy?

Cassidy Haines remembers her first kiss vividly. It was on the old covered bridge the summer before her freshman year with her boyfriend of three years, Ethan Keys. But her last kiss—the one she shared with someone at her seventeenth birthday party the night she died—is a blur. Cassidy is trapped in the living world, not only mourning the loss of her human body, but left with the grim suspicion that her untimely death wasn't a suicide as everyone assumes. She can't remember anything from the weeks leading up to her birthday and she's worried that she may have betrayed her boyfriend.

If Cassidy is to uncover the truth about that fateful night and make amends with the only boy she'll ever love, she must face her past and all the decisions she made—good and bad—that led to her last kiss.

Bethany Neal's suspenseful debut novel is about the power of first love and the haunting lies that threaten to tear it apart.
My Last Kiss was a pleasant surprise! Truthfully, when I first started reading the book, I felt like the plotline has been done so many times. I mean- out of body experiences of a dead girl who has a mission to accomplish? It's not exactly a very original story. Having said that, I was taken aback by how much I didn't want to put this book down! Here are the level of likes I felt with My Last Kiss:
I really liked…
The mystery. When Cassidy Haines, the main character awakes, she doesn't know what happened to her. She doesn't know how she died- if she was pushed into the river or if she jumped from the bridge. She doesn't know who her last kiss was with. She doesn't even know why she was there, a spirit on earth left to watch the aftermath of her death. The curiosity I felt because of the mystery was such a driving force for me to constantly flip pages and really get into the book.
I also relatively liked…
How the book was unpredictable. I love guessing what's going to happen next, who's the culprit, etc.. But I don't love it that much when I'm too right. I like books better when they surprise me or make it hard for me to guess who's guilty or not. My Last Kiss made me second guess my theories here and there! I liked how puzzling it was.
Ethan. He's Cassidy's first kiss and her fantastic boyfriend. I liked how dedicated he was to Cassidy. It broke my heart how he loved her so so much.
Aimee. She's Cassidy's best friend, and I just adored how determined she was to find out what happened to Cassidy. She wouldn't rest until she got some answers and she believed in her best friend (mostly that she would never commit suicide) more than anything else.
The way the book got intense. The story build-up was great and the pacing was good too!
However, I didn't quite like…
Cassidy. It's not that I hated her, I just didn't connect with her. I get that the point is to reveal her flaws, her mistakes, but man, what she did made it really hard for me to like her. At the same time, there were some moments I felt for Cassidy, like when she found her mangled body, like how confused she was, and how hard it must have been to see her people she loved grieve for her. Still, I can't say I was fond of her.
Cassidy as a ghost. I felt so weird reading some parts.
The other secondary characters. Caleb, Drew, Madison, etc. I think these characters were supposed to be rather complex, especially with the roles they play in the story. But to be honest, I thought them to be feeble.
The weak explanations. Cassidy's actions, for example. Her love for Ethan is always stressed and yet she goes to Caleb just because 'he gets her'. Like I said before, I like that the story raised many questions and got me curious, but some of the answers didn't sit right with me.
While I had my apprehensions, I'd still recommend My Last Kiss, especially to contemporary mystery fans! The book is compelling to read, and while it may not be outstanding, My Last Kiss really captures a reader's attention.
Giveaway:
a Rafflecopter giveaway