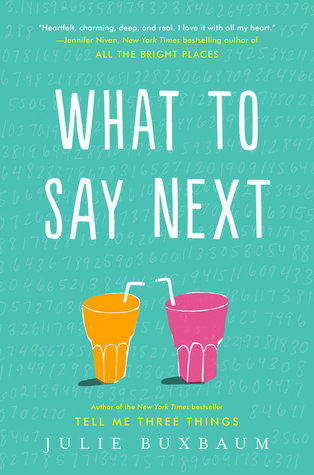 What to Say Next

by Julie Buxbaum

Published by Delacorte Press on July 11th 2017

Genres: Contemporary, Romance

Advanced copy from Netgalley

272 pages

Purchase on

Amazon

・

Fully Booked
Synopsis
From the New York Times bestselling author of Tell Me Three Things comes a charming and poignant story about two struggling teenagers who find an unexpected connection just when they need it most. For fans of Sophie Kinsella, Jennifer Niven, and Rainbow Rowell.

Sometimes a new perspective is all that is needed to make sense of the world.

KIT: I don't know why I decide not to sit with Annie and Violet at lunch. It feels like no one here gets what I'm going through. How could they? I don't even understand.

DAVID: In the 622 days I've attended Mapleview High, Kit Lowell is the first person to sit at my lunch table. I mean, I've never once sat with someone until now. "So your dad is dead," I say to Kit, because this is a fact I've recently learned about her.

When an unlikely friendship is sparked between relatively popular Kit Lowell and socially isolated David Drucker, everyone is surprised, most of all Kit and David. Kit appreciates David's blunt honesty—in fact, she finds it bizarrely refreshing. David welcomes Kit's attention and her inquisitive nature. When she asks for his help figuring out the how and why of her dad's tragic car accident, David is all in. But neither of them can predict what they'll find. Can their friendship survive the truth?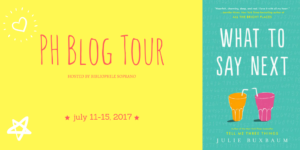 What do I say next? What do I want to say about a book that effortlessly made me experience what it is like to read a good contemporary book again? Well, here's what I have to say.
I was accepted to review this book, but I was hesitant at first. For the past few months, I had a ridiculous war with contemporary romance. I was as bitter as a gourd, or what is better known as an "ampalaya" in Tagalog. But then, this blog tour came along so I jumped at the opportunity given to me. I could finally have a way end the deep, underlying bitterness that resided within me. And fair enough, I did get out of that black hole. Lo and behold, a converted human being that is capable of feeling real and raw emotions. I did not feel any hindrance or jealousy. Instead, I felt a sense of hope while reading a blossoming story.
It was undoubtedly honest. Honest, in the way that it portrays grief and mental illness without any hindrance through an unlikely pair. This comes in the form of Kit and David. David says it like it is, and Kit found solitude with the truth. Kit lost a father, and she isolates herself from the world. David, on the other hand, has led a low-key high school life because others find him odd. Together, they form a friendship in an open loop. Kit treated David like he did not have something that other people thought made him weird. And David became a support for Kit while she faced a tough time in her life.
Our characters have been set on a well-paced stage. David Drucker now belongs on a candidate spot next to the many boys in YA that I have adored more than real guys. Whenever he talks about physics, I could just stare at the page all day. Until now, it still boggles my mind how I manage to swoon every time he mentions quantum physics, mass, acceleration, speed, and velocity. On the other hand, I do not know where to begin to describe Kit Lowell. I mean this in a good way because she was a kind of character that resonates with me well. She is humble, sweet, and anyone who has been through grief can understand why she acts the way she is. She felt real. It is very clear why David would like her, and it is easy to see why Kit could like David.
This probably just the otaku in me, but I cannot help but compare What To Say Next to a slice of life anime. Like every contemporary, heartbreak is present. Bittersweet moments are there to make sure that we are human. So that we can see if our emotions are still in check. But in perspective, trust me when I say that this book will grip you from start to end. Julie Buxbaum has this uncanny ability to write prose that will make you smile, break your heart, and then build it back up again. And that is what I loved about What To Say Next. It can be described simply as a story about a boy and a girl, and how life turns everything around through a chain of events that will ultimately shape their relationship.
I highly recommend this book for everyone to read. If you're going through a tough time, go ahead and read this. If you're looking for a light contemporary read, you need to read this. If you're feeling extra cynical about love like me, read this. If you're not doing anything and you can't choose what to read, read this. Yes, just read it.
Huge thanks to Fay at The Bibliophile Soprano for hosting this wonderful blog tour and to Penguin Random House for approving my e-galley request. Fay is also doing a giveaway for this lovely book, so if you want to have the chance to win a copy, proceed here.
So… what do you say?
(Please let it be, "Bianca, I want to read this book right now. I'm crying.")
Are you excited to read What To Say Next?
P.S. Just a subtle reminder that the only people that David Drucker is allowed to marry are: Kit Lowell and me. (Of course, I'm joking. Maybe. Who knows? Hahaha.)