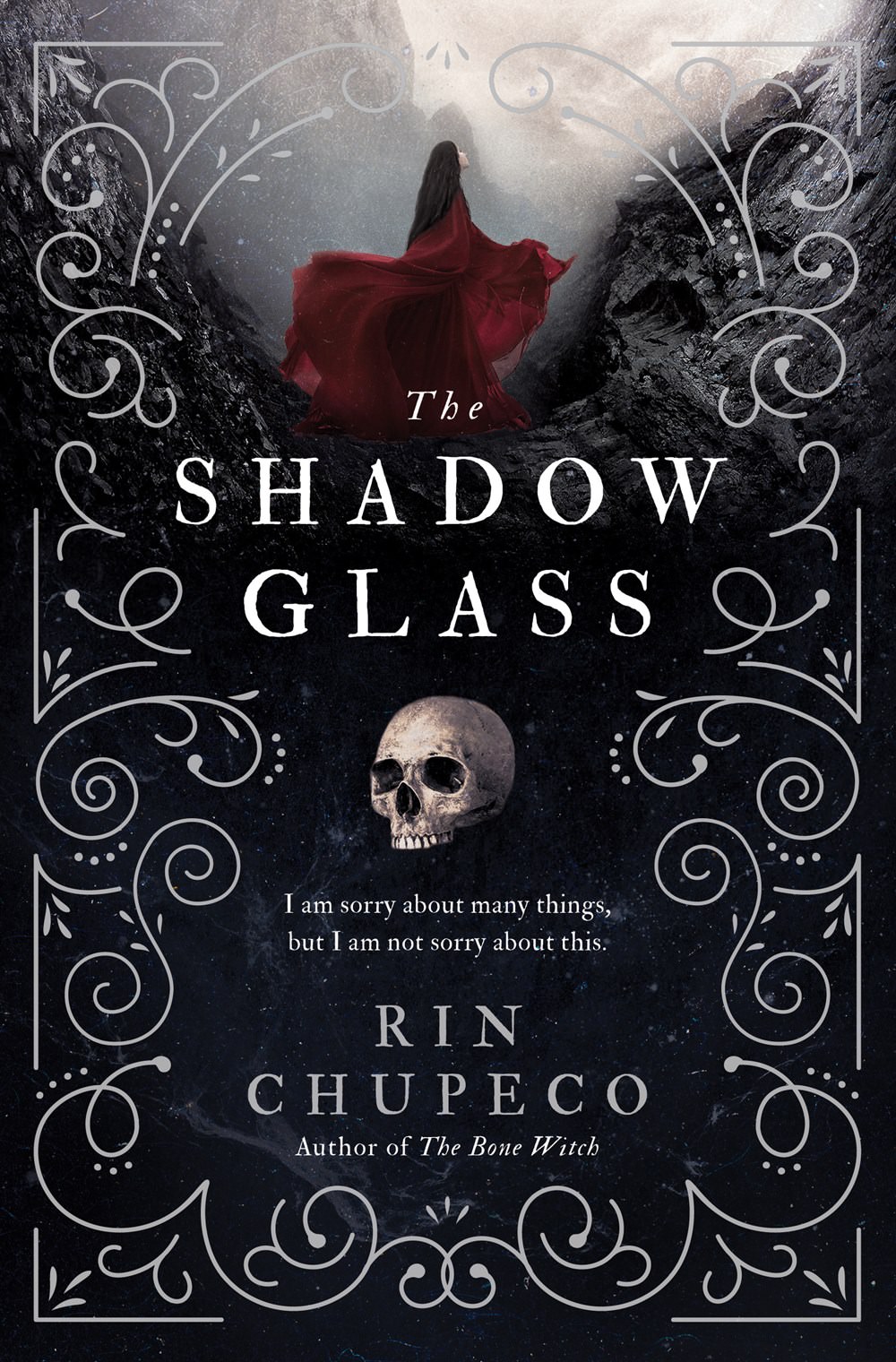 The Shadow Glass

by Rin Chupeco

Book #3, The Bone Witch

Published by Sourcebooks Fire on March 1, 2019

432 pages

Purchase on

Fully Booked
Synopsis
In the highly anticipated finale to the Bone Witch trilogy, Tea's life—and the fate of the kingdoms—hangs in the balance

Tea is a bone witch with the dark magic needed to raise the dead. She has used this magic to breathe life into those she has loved and lost…and those who would join her army against the deceitful royals. But Tea's quest to conjure a shadowglass—to achieve immortality for the one person she loves most in the world—threatens to consume her heart.

Tea's black heartsglass only grows darker with each new betrayal. And when she is left with new blood on her hands, Tea must answer to a power greater than the elder asha or even her conscience...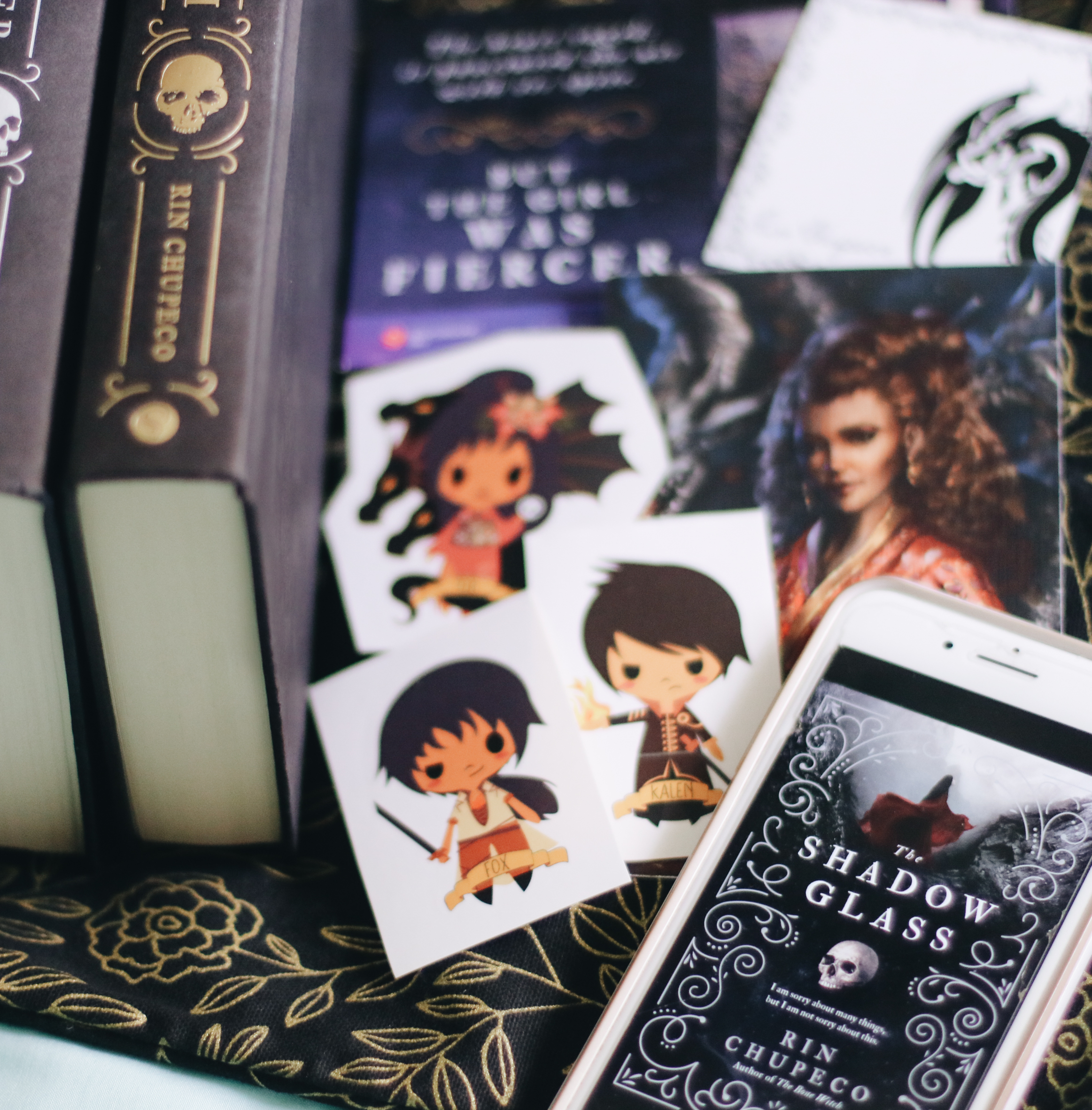 "A life worth dying for is a life worth living after all."
Likewise, a book worth dying for is a book worth reading. I would die for this book, for this series, for these characters. I trust Tea Pahlavi to raise me from the dead that much.
SEVEN HELLS, THIS CONCLUSION GAVE ME ALL THE FEELS!!!! I don't know how Rin did it, but I was still blindsided by emotions time and time again even though I knew what was going to happen given the format of Tea's narrative. The shocking twists and revelations had me turning pages like a madwoman and the betrayals left me aching.
Like The Heart Forger, The Shadow Glass is excitingly fast paced without losing any depth or needed exploration. In fact, I fell more in love with the Rin Chupeco's fantasy world here as Tea traveled to find answers and unraveled secrets about the true history of the kingdom. It felt like I was traveling right along with the whole gang and I particularly enjoyed visiting Istera's magnificent manuscript library and meeting the fun thrill seekers from Yadosha. I also grew invested in the monstrous daevas encountered in different parts of the kingdom. It blows my mind how incredibly rich and intricate the world of The Bone Witch series is and I'm astonished by Rin's ability to create such a complex but one-of-a-kind/memorable setting. I'll never forget my time in the Eight Kingdoms.
In the same way, these characters and their stories will stay with me forever. Fox and Tea will always be one of my fave fantasy siblings. Even though their relationship is the most strained in this last book, it touched my heart how much they cared and wanted the best for each other still despite how much things between them were wrenched because of Tea's darkening heartsglass. It is with these two siblings that the story began, just a girl whose dark magic awakens to raise her dead brother, and it was beautiful that the familial love between them remained the most powerful/life-changing of all til the very end.
Of course, the romantic pairs made me just as emotional. Tea and K = one of the best YA OTPs ever. They honestly melted me into a puddle every time and the epic drunk scene will be inked in my memory like a tattoo, I still flail whenever I think about it (which is a lot, even though it has been weeks since I've finished the book as I write this review). They also made me sob a lot due to bone-deep feels.
Meanwhile, Fox and Inessa's HEA was sweet, and I adored the wonderful queer couples. I wish we could have novellas just for Zoya and Shadi, and Khalad and Likh because I love them soooo much. Likh in particular I have loved from the very first book, was excited to see a romantic potential in book two, but just seeing her finally get the pronouns she deserves in this conclusion made me cry in absolute joy. We rarely see transgender characters in fantasies, much less see them given a really uplifting hopeful arc with a lovely romance at that.
Seriously, it is such a pleasure to have been able to accompany these characters on their journey. Of course, Tea's is the most important of all, and I love how the themes of her story come together in this book. The Shadow Glass is all about what you would sacrifice for the people you love and learning to let go. I won't lie—I was worried for my faves, but even though I was devastated by the book's events (mostly because Rin's writing really hits you hard), every choice/outcome felt right to me.
Still, I'm in tears just thinking about how I will no longer be able to follow Tea's story now that it's concluded with The Shadow Glass. She has been such a force of a character from page one and I was absolutely moved and amazed by how her story ends.
Without a doubt, The Shadow Glass is everything readers can ask for in a final book. It's glorious and legendary and perfect, even when it hurts.
Are you looking forward to the final book of The Bone Witch series?