Synopsis
In The Bone Witch, Tea mastered resurrection―now she's after revenge...

No one knows death like Tea. A bone witch who can resurrect the dead, she has the power to take life...and return it. And she is done with her self-imposed exile. Her heart is set on vengeance, and she now possesses all she needs to command the mighty daeva. With the help of these terrifying beasts, she can finally enact revenge against the royals who wronged her―and took the life of her one true love.

But there are those who plot against her, those who would use Tea's dark power for their own nefarious ends. Because you can't kill someone who can never die...

War is brewing among the kingdoms, and when dark magic is at play, no one is safe.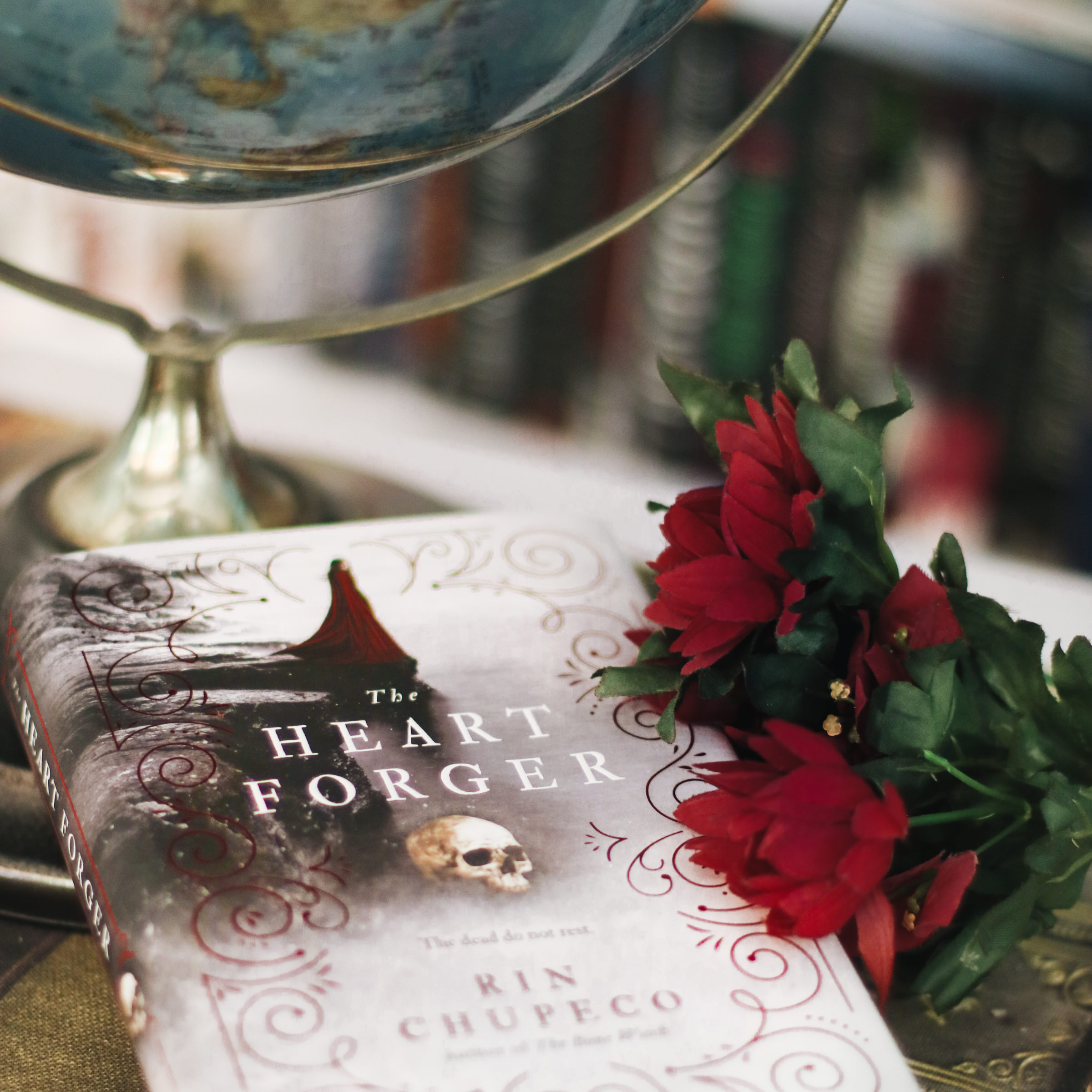 To say I was excited to read The Heart Forger after finishing The Bone Witch would be the understatement of the year. The first book's ending left me in a limbo of having trouble trying to sleep because I was still reeling from what I'd just read and wanting to fall asleep immediately so I could get up early in the morning (only a few hours after finishing Book One really) and read the sequel as soon as I was awake.
Did I even take my coffee and breakfast when I finally rose to read Book Two? Who knows. The Heart Forger was the only sustenance I needed. I spent the whole day reading it and I regret nothing.
"The dead do not rest," she told me, "only the living believe the grave can bring you peace."
I stand by how much I love and wouldn't change a thing about The Bone Witch because I don't think The Heart Forger would've worked as well as it did for me (how much did I love the second book you ask? infinitelyyyy) if the first book had not laid such strong world-building foundations and character natures/motivations.
I felt easily immersed into the world and easily connected to Tea. And because of this, I was able to keep up with my fave dark Asha as her story picks up a faster pace and launches from one action-packed event to another. No unpleasant whiplash here, just pure adrenaline rush! And also, hormones and feelz!
Aside from a modest infatuation, there's not really a substantial romantic arc to fall in love with in the The Bone Witch (unless you're like me and know from the very start who to root for because of a certain recognizable trope) but The Heart Forger absolutely delivers what it only hinted at and quickly revealed in the first book. The romance in this sequel is just utter WOWWWW.
"It felt so wonderful and strange to know you are your own person but begin to understand how you could also belong to wholeheartedly to someone else."
It has been a while since a YA fantasy romance completely consumed my entire being but it's official: MY SHIP HEART IS BACK FROM THE DEAD THANKS TO TEA AND K!!!!! But Rin Chupeco isn't satisfied making readers swoon over one couple––Fox and Inessa, Zoya and Shadi, Likh and Khalad ALSO GAVE ME LIFEEEE.
Following this, I love that The Bone Witch world not only has queer characters, but actual queer romantic pairings. I've been dying for more of them in this genre. What I admire most though is the complete acceptance and support from the people in the main cast for these queer characters.
Aside from the romantic relationships in the series, another dynamic I absolutely adore is Tea and Fox's. Their sibling relationship totally melted my heart. They're my favorite YA fantasy brother-sister duo so far.
I was always fond of Tea and everyone but this stellar sequel deepened my attachment to the characters. The cast chemistry really shone here and I lived for all the sassy and entertaining moments! I also worried and cried during the hard and challenging moments. Through it all, Rin masterfully maintains the dual narrative to keep me intrigued and develops Tea's excellent character arc.
"You talk like a recipe exists to accustom one to death," I said, bitter.
"Oh, but there is," she responded. "Take a girl and remove her heart. Add a touch of tragedy and a thirst for vengeance. Divide her into equal parts of grief and rage, then serve her cold."
The continuation to The Bone Witch does not disappoint! With writing and plot that keeps you on the edge of your seat and emotions and themes that leave you rapt and with much to think about, The Heart Forger is a spectacular follow-up that will make you clutch at your heartsglass and want to offer it to all of the wonderful characters in the book.
Have you read The Bone Witch or The Heart Forger?