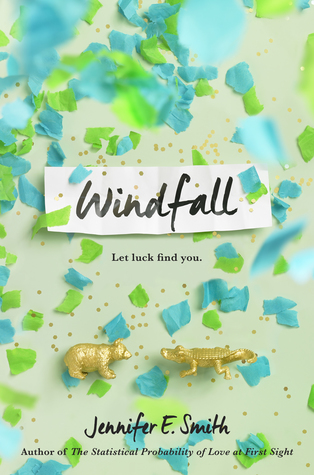 Windfall

by Jennifer E. Smith

Published by Delacorte Press on May 2, 2017

Genres: Contemporary, Romance

ARC from Blog Tour

Purchase on

Amazon

・

Fully Booked
Synopsis
Alice doesn't believe in luck—at least, not the good kind. But she does believe in love, and for some time now, she's been pining for her best friend, Teddy. On his eighteenth birthday—just when it seems they might be on the brink of something—she buys him a lottery ticket on a lark. To their astonishment, he wins $140 million, and in an instant, everything changes.

At first, it seems like a dream come true, especially since the two of them are no strangers to misfortune. As a kid, Alice won the worst kind of lottery possible when her parents died just over a year apart from each other. And Teddy's father abandoned his family not long after that, leaving them to grapple with his gambling debts. Through it all, Teddy and Alice have leaned on each other. But now, as they negotiate the ripple effects of Teddy's newfound wealth, a gulf opens between them. And soon, the money starts to feel like more of a curse than a windfall.

As they try to find their way back to each other, Alice learns more about herself than she ever could have imagined . . . and about the unexpected ways in which luck and love sometimes intersect.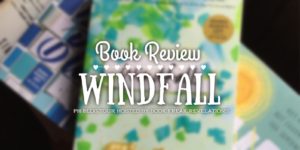 Windfall is my first Jennifer E. Smith book, and I am glad that it was because I would not have chosen another story to read first than Alice's and Teddy's (mainly Alice, but we will get to that.) Reading Windfall is windfall in on itself. You cannot help but to feel lucky if you have read it. Swirling emotions can be felt throughout the entire book, and every single person is as lovely as they can be.
I cannot help myself because I absolutely adored Alice, because she is truly a main character that anyone who is struggling can relate to. She is selfless, kind, and has the biggest heart. Despite all of the hardships that she went through, she still kept her feet on the ground. I cannot help but admire characters that have a sense of humility in them and still managed to grow in the process of the story. She is a true Windfall. I adored Leo, Alice's cousin and brother, as well and honestly, I NEED MORE OF HIM. I love reading about him and his boyfriend, like the story goes from angsty to fluffy and there is no in between. The family dynamic is quite strong in the novel, too. The adults are truly a gem, and they really stood out like stars that will guide our leads to the right path. You can see why Alice and Leo act like they do because the role models that they have are amazing.
Teddy, on the other hand, did not quite meet what I had in mind. He was a bit arrogant, obnoxious, and can be dense sometimes. But again, I understand why Alice stuck by him. Despite having mixed feelings, he has his good sides. Don't lose hope on Teddy, because he might just sweep you off your feet. His character may be a bit ore-sama (a me character), but he's nice.
I genuinely liked Windfall as a whole. I love how it reminds readers that we are human, and we can make mistakes. But it does not mean that we cannot pick ourselves up and change for the better. I also especially loved the advocacy that it was trying to get through its reader, because it is somehow similar to what I believe in. A random act of kindness goes a long way if you think about it. And Windfall is a sure way to get you to feel that warm bubble of sunshine when you create that ripple effect that will not only brighten up your day, but others as well. Pick up this book on a rainy day, and it will probably plaster a smile on your face.
My huge thanks goes to JM from Book Freak Revelations for inviting me to join this tour. He gave me the chance to read a Jennifer E. Smith book even if I haven't read one yet. Rest assured, I will give her books a try and a special place on my book stack. We would also like to thank Penguin Random House for providing the ARC for the tour.
Now, question time:
Have you read Windfall? Have you experienced a Windfall?
Does Leo deserve his own spin-off?
What Jennifer E. Smith book would you recommend me to read next?