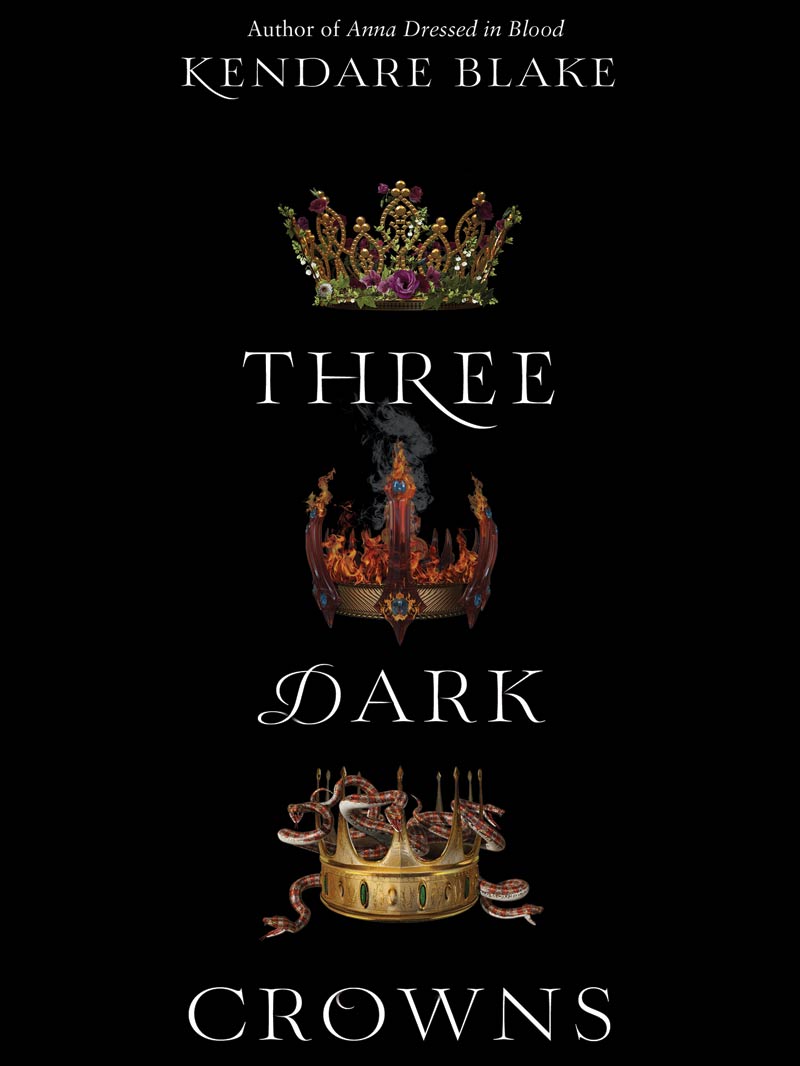 Three Dark Crowns

by Kendare Blake

Book Three Dark Crowns #1

Published by HarperTeen on September 20, 2016

Genres: Fantasy, Romance

Finished copy

Purchase on

Amazon

・

Fully Booked
Synopsis
Three dark queens
are born in a glen,
sweet little triplets
will never be friends

Three dark sisters
all fair to be seen,
two to devour
and one to be Queen

Every generation on the island of Fennbirn, a set of triplets is born: three queens, all equal heirs to the crown and each possessor of a coveted magic. Mirabella is a fierce elemental, able to spark hungry flames or vicious storms at the snap of her fingers. Katharine is a poisoner, one who can ingest the deadliest poisons without so much as a stomachache. Arsinoe, a naturalist, is said to have the ability to bloom the reddest rose and control the fiercest of lions.

But becoming the Queen Crowned isn't solely a matter of royal birth. Each sister has to fight for it. And it's not just a game of win or lose…it's life or death. The night the sisters turn sixteen, the battle begins. The last queen standing gets the crown.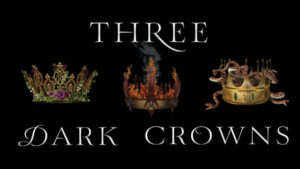 I picked up Three Dark Crowns after finding it at the bookstore — I remember being really intrigued by the premise and I'd read Kendare Blake before (Anna Dressed in Blood) so I had pretty high expectations. Three Dark Crowns did not disappoint.
Three Dark Crowns focuses mostly on the characters/relationships, which is actually what I look for in books, or at least what most (if not all) of my favorites are centered on. The characters are complex and the story, already with an interesting premise, is more compelling because of them. The relationships are pretty complicated — the whole plot is based on three sisters who are, essentially, born to kill each other for the throne. I don't want to spoil anything but I would honestly recommend this book for the sisters alone.
Considering the plot, it probably shouldn't come as a surprise how dark the story actually is. For those of you who are like me and can't handle thriller/gore/heavy violence, it's not that bad (like, I got through it and I'm the most easily frightened person I know) but there is a considerable amount re: three sisters who are being taught to kill each other.
It's also a fantasy book and the thing I love about fantasy books is always the worldbuilding. That said, I can't help wishing that there was more (and I'm not usually one to look at those maps in the inside covers of some fantasy books, but it would've been helpful here) even though there's enough to give you everything you need to know for the story. The magic is interesting and I feel like a lot more could have been done with it (fingers crossed for One Dark Throne!!), especially with Arsinoe.
One thing that struck me was that most of the characters are female (and how much does that happen in fantasy YA, honestly). The main cast is composed of three sisters and their friends and mentors (all female) with a handful of males making up the love interests and side characters, and is set in a matriarchal society. Just a side note, but it was pretty nice to see so many complex female characters.
Also, the book does move pretty slowly for the first part. The POV is all in third-person, but transferred between the three sisters, so you get a lot of new, different characters that sometimes overlap as the story continues and can be hard to keep track of. The ending is great, but the beginning might take some commitment to getting through (for me, I was reading it after a standardized test and didn't have much else to do, but I can say that it was compelling enough for me to pick it up again afterwards). Also, there are multiple scenes of self-harm towards the middle/end of the book (for magic purposes). Might be a bit of a spoiler but if that's a squick or trigger you might want to be careful when reading.
All in all, I'm definitely looking forward to One Dark Throne. I can't wait to see where the characters end up, and this was one of the best books I've read in a while.
Three Dark Crowns has been out for a few months now, so have any of you read it? If so, what did you think? There's a lot to talk about and I didn't cover a lot of it in this review (a consequence of having been a shell of a person the past two weeks for AP exams, otl) but I'd love to talk about it with y'all!!