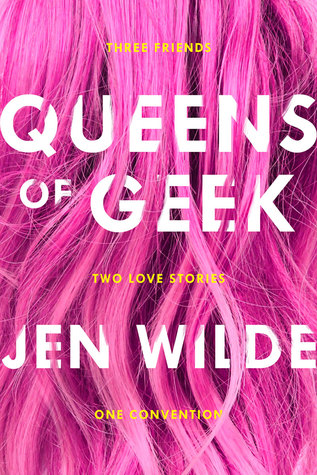 Queens of Geek

by Jen Wilde

Published by Swoon Reads on March 14th, 2017

Finished copy

Purchase on

Amazon

・

Fully Booked
Synopsis
When BFFs Charlie, Taylor and Jamie go to SupaCon, they know it's going to be a blast. What they don't expect is for it to change their lives forever. Charlie likes to stand out. SupaCon is her chance to show fans she's over her public breakup with co-star, Reese Ryan. When Alyssa Huntington arrives as a surprise guest, it seems Charlie's long-time crush on her isn't as one-sided as she thought. Taylor likes to blend in. Her brain is wired differently, making her fear change. And there's one thing in her life she knows will never change: her friendship with Jamie—no matter how much she may secretly want it to. But when she hears about the Queen Firestone SupaFan Contest, she starts to rethink her rules on playing it safe.
RATING: 4.5 STARS 
If there ever was a book award for Most Representation, Queens of Geek would easily win. This book has so much rep in it, I almost don't believe it's real.
The story is split into two POVs of our main characters, Charlie and Taylor. Charlie is a bisexual and Chinese Youtuber/breakout actress who is promoting her new movie alongside her terrible costar ex. She also grows closer to her longtime crush and fellow vlogger, Alyssa, when they bump into each other at the Con.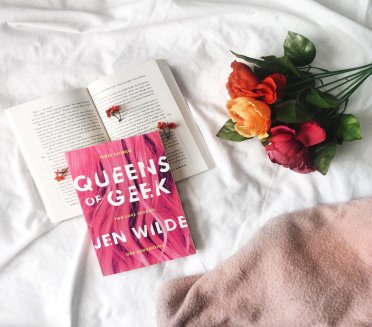 Taylor is plus-size, on the autistic spectrum and has anxiety, but throughout the story, she continuously faces her fears to achieve her dreams of meeting the author of her favourite book series all while dealing with her feelings for her best friend, Jamie.
It was not hard to love both characters, but I definitely felt more connected with Taylor because of her social anxiety, which is something that I deal with as well. I also really liked Jamie!! He is such a cutie! And a total sweetheart. The moments between him and Taylor were so cute. Even Alyssa and Charlie were cute, despite being insta-love. The romance in this book is so perfect for those who like fluff. 👌🏼
Charlie and Taylor are complete opposites, but their support for each other is so so nice. One of my fave parts was when Charlie tells Taylor that there is no set definition of what it means to be a girl. :
"Besides, there's no one way to be a girl, Tay. You don't need to fit yourself into what society tells us a girl should be. Girls can be whoever they want. Whether that's an ass-kicking, sarcastic, crime-solving FBI Agent or a funny, gorgeous, witty beauty queen–or both at the same time." She swings an arm around me and pulls me in. 

"Are you happy the way you are? Are you comfortable? Do you feel like yourself?"

The corner of my mouth lifts into a half smile. "Yes. Yes. And yes."

"Then that's all that matters. Fuck everything else." 
This is just a small example of the many empowering themes this book has. Queens of Geeks also touches upon intersectional feminism, women supporting women, CUTE ROMANCES, fatshaming, biphobia, breaking out of comfort zones and SO SO much more. There are so many beautiful quotes that I want to share, but I would be quoting the whole book. 😅
You'd think the crazy amount of representation is the only good thing about this book, but it's not! Queens of Geek is essentially a love letter to all things geek and a celebration of what it means to be yourself. I instantly fell in love with the convention setting and found it really easy to feel like I was there with Charlie, Taylor and Jamie at SupaCon. Jen Wilde does a great job at creating a setting where the reader can feel at home, especially if you consider yourself a geek and fangirl.
One thing I do have to say though is that because there was so much rep in it, the dialogue did feel a little unnatural and cheesy sometimes. It was as if there was a checklist of things the author wanted to put in the story and she was just trying to cram everything into one quick story. But it was still enjoyable nonetheless.
Queens of Geek is a fun, light and adorkable read that touches upon so many important topics in a way that doesn't take the lightheartedness of the story away. I'll leave you with my favourite quote from the book.
''You can't pick and choose whose equality you support. That's not equality.''
Has anyone else read Queens of Geek? Tell me your thoughts below if you did or if you plan on reading it!