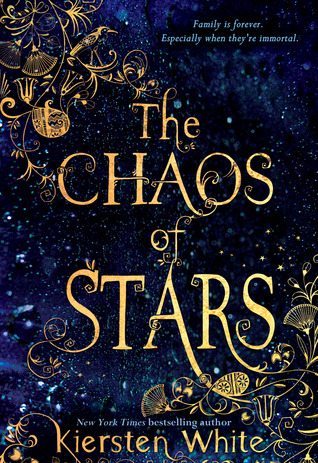 The Chaos of Stars

by Kiersten White

Published by Harper Teen on September 10th 2013

Finished copy from Publisher

Purchase on

Amazon

・

Fully Booked
Synopsis
Isadora's family is seriously screwed up.

Of course, as the human daughter of Egyptian gods, that pretty much comes with the territory. She's also stuck with parents who barely notice her, and a house full of relatives who can't be bothered to remember her name. After all, they are going to be around forever—and she's a mere mortal.

Isadora's sick of living a life where she's only worthy of a passing glance, and when she has the chance to move to San Diego with her brother, she jumps on it. But Isadora's quickly finding that a "normal" life comes with plenty of its own epic complications—and that there's no such thing as a clean break when it comes to family. Much as she wants to leave her past behind, she can't shake the ominous dreams that foretell destruction for her entire family. When it turns out there may be truth in her nightmares, Isadora has to decide whether she can abandon her divine heritage after all.
Having immortal Egyptian gods as parents is tough. Especially when you're sixteen and a complete mortal. Being the daughter of Isis, goddess of motherhood, and Osiris, god of the Underworld, Isadora has always believed that she is easily replaceable. Proof: her mother is having another baby. So when Isis senses bad omens and hesitantly suggests that her daughter leave for awhile, Isadora, who has always wanted to be free of her overbearing mother, sees this as a chance to escape. As Isadora starts living a normal teenage life, she learns about friendship, family, love and the chaos of it all.
While I probably won't file this book as a definite favorite, I can say that I enjoyed The Chaos of Stars. It's my first time to read a book by Kiersten White and I was generally fond of the experience. Her writing was good- there was humor, angst, drama, and even a bit of mystery. It blended well with the mythology aspect, which is what initially drew me in, alongside the pretty cover. It's rare to see Egyptian mythology in the YA genre, but White puts a creative spin around this particular element, making it unique and fun.
Isadora was the type of protagonist who grows on you. She was hard to like at first. She sounded bratty, immature, and self-centered. But the more you read about her, she becomes less annoying and more understandable. You kind of get why she hates her parents and why she detests love so much. It's vexing, yes. But Isadora redeems herself as she realizes (very) slowly that she's disillusioned. Isadora is a complicated character, and while some may love or hate her rebellious, closed-off attitude, I think most of us will appreciate her occasional sarcastic cynicism. Aside from this, I liked Isadora's interest in interior design. I don't think I've ever read a character who liked this particular hobby. The author details it well too, and I found myself admiring Isadora's passion.
"I didn't fall in love with you. I walked into love with you, with my eyes wide open, choosing to take every step along the way. I do believe in fate and destiny, but I also believe we are only fated to do the things we'd choose anyway. And I'd choose you; in a hundred lifetimes, in a hundred worlds, in any version of reality, I'd find you and I'd choose you."
One other reason why you should give The Chaos of Stars a try: the other characters. Mostly, I'm talking about Isadora's new found friends, Tyler and Scott. They were laugh out loud awesome. Don't even get me started with Isadora's love interest, Ry. Oh swooooooon. Okay, this guy had me squeeing, blushing and crushing on him. He writes epic poetry, he has beautiful eyes, he's a foodie (he knows the best restaurants), he likes Greek mythology and he's a romantic at heart. What's not to love? His and Isadora's attraction happened quick, but it was so cute and sweet. I loved their debates on love, and their usual banter. It felt natural to see them grow closer and closer.
I wouldn't dare call this book chaotic- it was a really good read. Ultimately, the mythology and the romance reeled me in, but I liked that it touched family problems and Isadora's own issues. If you want a quick, light-hearted, enjoyable book mixed with mythology, you should pick up a copy of The Chaos of Stars.