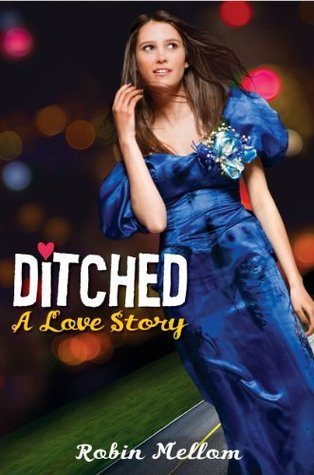 Ditched: A Love Story

by Robin Mellom

Published by Disney-Hyperion on January 10th 2012

Purchased copy from Fully Booked

277 pages

Purchase on

Amazon

・

Fully Booked
Synopsis
There's a girl. Justina Griffith was never the girl who dreamed of going to prom. Designer dresses and strappy heels? Not her thing. That said, she never expected her best friend, Ian Clark, to ask her.

And there's a boy. Ian, who always passed her the baseball bat, handle first.Ian, who knew exactly when she needed red licorice.Ian, who promised her the most amazing night at prom.

Then there's a ditch. But when Justina is ditched, figuratively and literally, she must piece together--stain-by-stain on her thrift store dress--exactly how she ended up dateless...with only the help of some opinionated ladies at the 7-Eleven.

To get the whole story, Justina will have to face the boy who ditched her. Can losing out at her prom ultimately lead to finding true love?
If there's one way to my heart, it's by being fun and adorable. Ditched was just exactly what I wanted. Compelled by its fun plot, I took a chance and read it, finding myself totally contented with the book after. A story of prom, 7-eleven conversations, tragic luck and ultimately, love, Ditched had me smiling, laughing and clutching my heart.
Justina was literally ditched. On prom night. By the guy she's in love with, who also happens to be her best friend. She's had it rough and her iridescent blue dress is full of stains. She recounts the story to two strangers at the local convenience store, trying to figure out how the supposedly most amazing prom night ever turned out to be a complete disaster.
"I had to face reality: my dress attracted flying liquids."
There are so many things that makes this story one-of-a-kind and amusing but one of my favourites is the way Justina retells her unfortunate prom mishaps. Every stain on her dress leads to a story- incredibly funny ones at that. I found this, as well as the flow of the book, very wacky and creative. I could easily imagine this story as a romantic comedy movie!
Justina herself contributed to the enjoyment of the book. Her character was very bright and her voice was very clear. She entertained me to no end! Justina is obsessed with kissing and I found this little tidbit comical. We get to see her other flaws too- the way she's always thinking about what other people think of her and the way she seemed to always assume the worst, and of course, there's her rotten luck! She kept getting herself in foolishly funny situations and they're so worth the LOLs! While I wished there had been more depth to her, I really liked Justina.
"I'm alway The Girl At That Party, never The Girl."
The rest of the main cast were such hilarious additions to the story. Stoner Mikes plus their dates, as well as Gilda and Donna from the store had me laughing quite often. Ian Clark, the boy Justina is secretly hoping to kiss sooner or later, was a good love interest. His personality screams 'nice guy' and I utterly understood why Justina was into him. I loved reading about how close the two were and I was definitely rooting for them.
The story wrapped up wonderfully. The ending had me grinning from ear to ear- I loved it! Ditched was such a sweet contemporary read. If you're looking for something to make you laugh and go 'awww'- I recommend reading this one.
Rating: